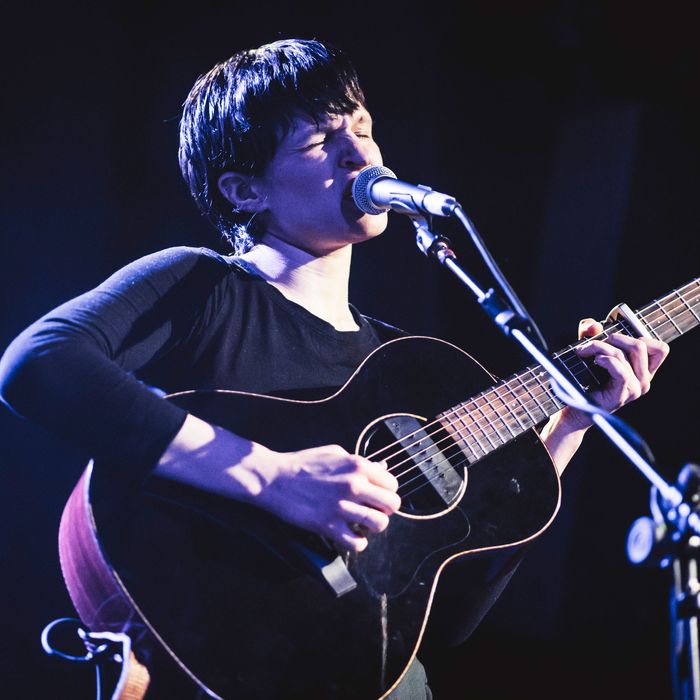 Her new music forces you to confront loneliness and guides you there, with Lenker figuring it out for herself right alongside you.
Photo: Mariano Regidor/Redferns
When the beginning of the COVID-19 pandemic cut off folk-rock band Big Thief's European tour, front woman Adrianne Lenker's mind went to songwriting — a surprise to no one, considering she's spent the past few years first emerging, then quickly establishing herself as one of music's best and most prolific working writers. In 2017, her band Big Thief made its first great album, Capacity; then, Lenker quieted down on her solo album abysskiss in 2018. When Big Thief returned last year, their two resulting albums sounded intimately personal and emotionally massive. So, as Lenker spent the first weeks of the pandemic living next to her sister in the Massachusetts mountains, she got an urge to document her time in songs. She invited her friend and audio engineer Phil Weinrobe out, and they built a makeshift studio. Then, they spent their days cooking on a wood-burning stove, bathing in a nearby creek, and writing and recording songs. What more could you need?
The products reflect that simplicity: one album called songs and another instrumentals. Dive into songs first and you'll be rewarded with hushed folk missives that feel sometimes comforting, sometimes devastating, but always special. But it's instrumentals that truly reflects the circumstances of her quarantine, where Lenker channels her isolation into something beautiful.
Lenker has always challenged us to listen, even down to her technique, often singing just above a whisper. Songs lead single "anything" meditates on listening as an act of love. "Wanna listen to the sound of you blinking / wanna listen your hands soothe," Lenker sings. Turn to the A-side of instrumentals, "music for indigo," to practice it. It's a 21-minute acoustic guitar rambler, a composite of some of Lenker's improvisations that would open and close each day. The ambient noise of Lenker's cabin — wood burning and birds singing outside — ground you in her environment. If the music on songs was contained, shared like a secret between Lenker and the listener, then instrumentals is vast, like Lenker is sketching the mountains with each guitar strum, pick, and slide. Yet there's a lonesome undertone that never gets lost in the piece: As dynamic and spacious as "music for indigo" gets, Lenker's guitar remains at the center, a totem of her solitude.
The B-side of the album, "mostly chimes," is even more firmly rooted than "music for indigo." Like the other instrumental, it begins with Lenker's guitar, deliberate and circular. But as the title suggests, it gives way to a soundscape of wind chimes, with the whistling wind and bird calls in the background once again. At times, it's hard to tell if Lenker is the active participant or passive observer — if this is a creation, like her other pieces, or a document. And does it matter? Would it make the noise any less beautiful?
Talking to The New Yorker about her song "zombie girl," on songs, Lenker teared up as she wondered, "Am I just hollow and empty? Or is emptiness actually something beautiful?" She was talking about breaking up with her girlfriend, which inspired much of songs and instrumentals. It's a question that this lonely year has left many of us with, though. Lenker's new music, instrumentals in particular, forces you to confront it and guides you there, with Lenker figuring it out for herself right alongside you. Amid days filled with monotony, technology, and anxiety, instrumentals comes as a gift, asking you to be present and listen. Then it pulls the beauty from the emptiness — what it was full of all along.