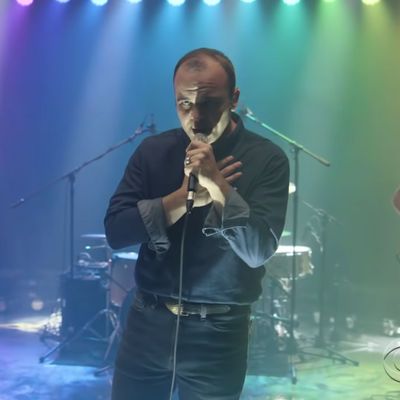 "For Sure" is a clear descendant of "Seasons," but the Future Islands' style still works.
Photo: YouTube
Has a late-night performance from the past ten years been more consequential? It didn't matter that Future Islands had been refining their music for a decade, making a name for themselves organically in the Baltimore and North Carolina scenes — those four uninhibited minutes on Letterman six years ago made them into overnight breakout stars on the indie circuit, whether they wanted to be or not. The song they performed, "Seasons (Waiting on You)," was named the top song of 2014 by Pitchfork and the Pazz & Jop poll. Dispelling early criticism that the song's success and acclaim were a fluke, it stuck around on best-of-the-decade lists. Two albums removed from "Seasons," we're still talking about that performance — in part because Future Islands was back on late-night this week, performing new single "For Sure" on Colbert to promote their sixth album, As Long As You Are.
If you somehow only ever experienced Future Islands through late-night performances, then watching Samuel T. Herring sing "For Sure" on Colbert would confirm that, yes, this guy meant it when he went all-out on Letterman six years ago, becoming a bit of a meme in the aftermath. Actually, Herring told The Independent, reflecting on the performance, "I was dancing like I knew everyone was watching … I was actually holding back." But when it really comes down to it, all the dancing, bellowing, or emoting wouldn't have taken his band anywhere if not for the song. That's the thing: Future Islands' brand of synth-rock on "Seasons" was fresh and exciting in 2014. It was a sharp interpretation of New Wave synthesizer music, filled with heart thanks to Herring.
"For Sure" doesn't have sounding new on its side. That doesn't make it a bad song; yes, it's a clear descendant of "Seasons," but the Future Islands' style still works. The atmospheric synthesizers whisk you away into the song, until Herring's voice comes in, flexing his ability to still captivate an audience. He's become a more dynamic singer — here, he sings the verses with comforting familiarity; elsewhere on the album, his dark growl recalls goth figureheads like Nick Cave. The chorus is an arena-ready earworm that grows on you with each listen, as Herring pleads with some unidentifiable friend or lover. Just like his live performances, it wouldn't work if not for his total sincerity.
It's kind of heartening to watch Future Islands give their all on a national stage once again when live music is largely on pause. It's clear that this is a band that didn't set out to be viral, but rather just write some good songs and perform the hell out of them. The fact that they're still doing it, and doing it well, really puts the joke back on the people who laughed the first time.