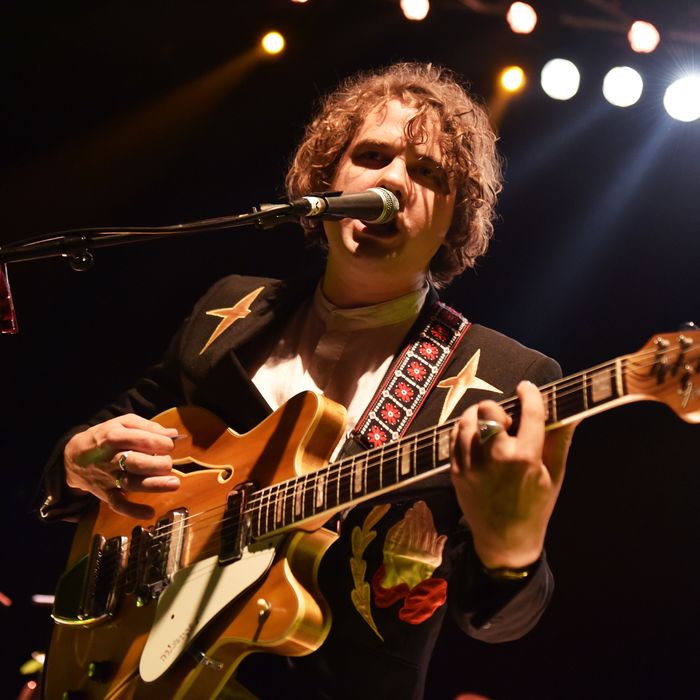 Photo: C Brandon/Redferns
The sun defines life in the Midwest: from the dry summers to the quiet nights to the weekends at the lake. I learned this over time growing up in Kansas, after my parents picked up from the East Coast and quickly fell in love with a slower, spaced-out midwestern life. For my mom, it was even about the sun itself — many nights, we'd have a clear view of the Western sunset from the dinner table, and she could never help but remark on how beautiful it was.
So there's something touchingly Kansan about Kevin Morby's new album Sundowner. In an essay announcing the album, Morby calls it his "attempt to put the Middle American twilight — its beauty profound, though not always immediate — into sound." Morby builds his albums by mining significant personal settings: first, in past homes like New York City on Harlem River and City Music and Los Angeles on Singing Saw; then the transitional spaces of touring life on last year's Oh My God. As he finished writing that album in 2017, he moved back to the Kansas City suburbs where he grew up, hoping to settle down after a breakup in Los Angeles. Sundowner's songs started as a means to fill the time, and thus reflected the sun that defined Morby's days of recording in his shed. As the best songs stretch out, change, and linger, it feels like listening to those sunsets I could see over the field behind my house.
"Don't Underestimate Midwest American Sun" is the album's unassuming centerpiece. It's one of the sparest tracks, with Morby strumming his acoustic guitar just to fill the space. Morby talks about using space as a Cageian tool on the record — structuring songs around its sonic qualities, almost like it's an instrument. As such, he recorded Sundowner without a full band; "Midwest American Sun" is barely polyphonic. It drags and drives at Morby's own pace, largely held together by his voice, evocative and haunting in its weariness. Listen to the way the sounds hang in time, and "Midwest American Sun" feels as expansive as Kansas fields.
As Morby worked on Sundowner, it took on new meaning as an elegy to three of his lost heroes: Those Darlins singer Jessi Zazu, City Music producer Richard Swift, and TV icon Anthony Bourdain. Yet "Midwest American Sun" pivots from mourning to life-affirming. Morby pleads in the verses: "Don't go," "Don't run so fast," "Don't outrun me." Stay back, take it slow, enjoy the view. We've got time. It's an epiphany born from the same midwestern qualities that make people like my parents thrive there.
Morby says he was wary of returning to Kansas. "Can't wait for the sun to go down," he sang just a few years back on "Come to Me Now," the scene-setter for City Music. Now, on "Midwestern American Sun," he's changed his tune. "Try as you might, but you will not outrun the burn," he warns. That sun has a hold on some of us, like it did him. "I think like the Midwest itself, it takes patience," he told Stereogum of the song. "But if you have the patience, I think there's a beautiful payoff." Back home during this prolonged quarantine, my days mirror Morby's when he wrote Sundowner, ticking by one sunset at a time. Just last week, I found myself on the back porch with my mom, marveling at another sunset. Lit by the orange and purple glow, I noticed a bush of flowers in that field across from the house, one that I used to regard as barren and boring. It was a moment of the Midwest rewarding patience, just like in Morby's new music. So I sat and took it in.