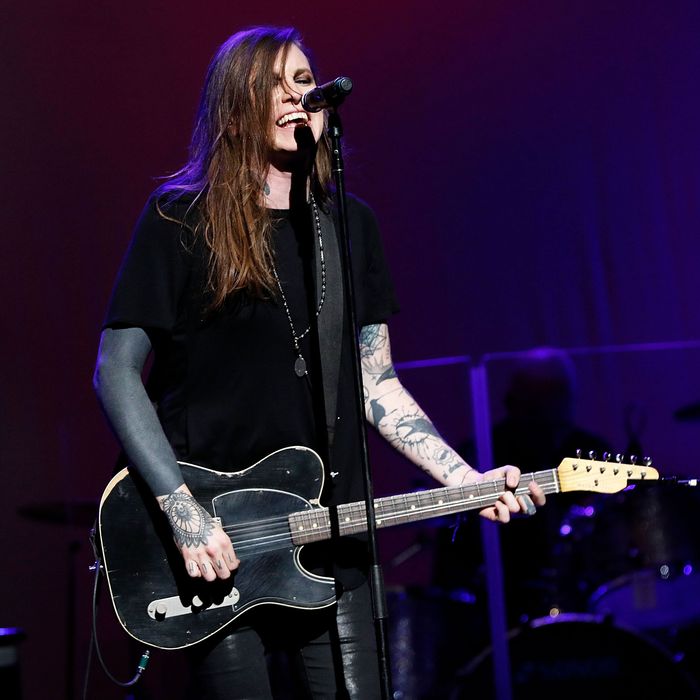 They're simple, largely acoustic tracks, recorded in analog in just a few takes — music for music's sake.
Photo: Taylor Hill/Getty Images
For those of us working right now, the refrain over the past seven months has been that it's unreasonable to expect yourself to work normally during a pandemic — that it's okay to not get as much done, get distracted more, and take more time off. Yet after the music industry put touring on hold, fans largely expected musicians to, well, carry on as normal: to push ahead with releases and film livestreams all while making contingency plans for their usual work. Many independent musicians had no choice but to keep moving, with their incomes riding on a new project. And most of the high-profile albums made during quarantine rank highly in their artists' discographies, from Charli XCX's sublime how i'm feeling now to Taylor Swift's pensive folklore. That makes Laura Jane Grace's quarantine music on her surprise new album Stay Alive all the more refreshing: It's spontaneous, purposeful, and imperfect, everything that we should expect quarantine music to be.
The leader of bold Gainesville punk band Against Me!, Grace released the 14-track Stay Alive with little warning on October 1. (She's also been working on new Against Me! music, but couldn't bring the band together to record during the pandemic.) The album's closer and title track, "Old Friend (Stay Alive)," is her thesis for the project: These are survival songs for disastrous times. The message carries weight coming from Grace, who's never shied away from confronting loss in her songs with her band. The title "Old Friend" recalls the full-throttle elegy "Dead Friend" on the band's masterwork, Transgender Dysphoria Blues. On the surface, that album served as Grace's confident coming out; underneath, it stared down a list of losses, from death and divorce to Grace's inability to pass as a woman. Her gift is addressing it all with a punk-minded simplicity. Lines like "Goddamn, I miss my dead friend" feel like passionate cries when words fail during tragedy, and so does her chorus on "Old Friend.: "Stay alive, please don't die!" What else is there to say?
Grace recorded Stay Alive across just four days in Chicago with star producer Steve Albini, formerly of Big Black. It's a collection of missives from the past few years, with the songs that seem the most topical, like "Shelter in Place" and "The Calendar Song," actually predating the pandemic. They're simple, largely acoustic tracks, recorded in analog in just a few takes — music for music's sake. "Show up practiced and then sing it and it doesn't have to be any more than representative of exactly that — the way you think and the way you play the song," Grace explained to Rolling Stone. "Try to make it more of a document than a production." But Grace is formidable even when armed with just a guitar, and has been since Against Me!'s early folk-punk days. She can sing with more force than some full bands, and Stay Alive features her best vocal performance in years. On "Old Friend," her voice is raw, strained, and determined, fitting for the struggle she sings about. That final note sounds like everything she had left in her.
Grace said she released the album in part to support her team and label, as a tangible effort to fund others' livelihoods. That spirit only adds to the sense of necessity inherent to the songs — there's a vitality pulsing through Stay Alive that's been missing from some of quarantine's biggest releases. These songs feel alive.