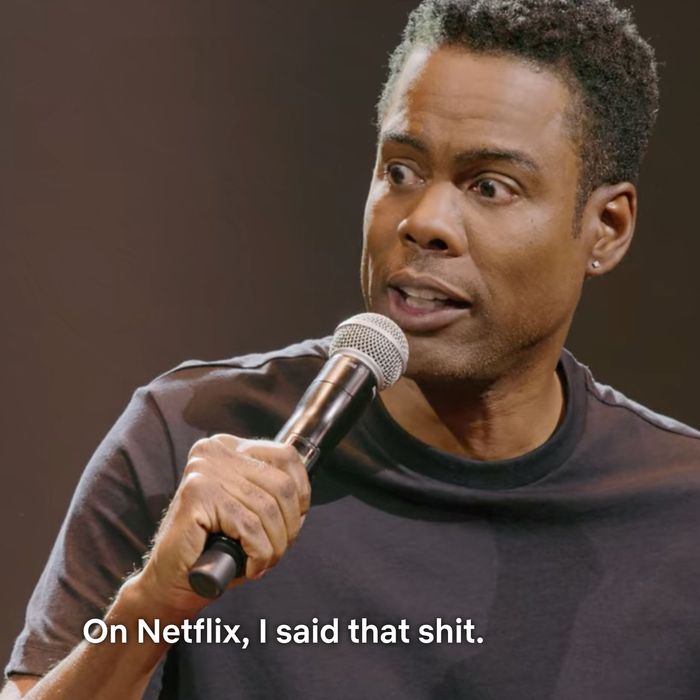 Chris Rock saying "Netflix" in his Netflix special
Tamborine,
which is on Netflix.
Photo: Courtesy of Netflix
This article was originally published on August 3, 2017. It has been updated.
The statement "Everyone has a Netflix special these days" isn't far from the truth. In its attempt to become a full-blown stand-up monopoly, Netflix went from releasing an average of ten specials per year from 2012 to 2017 to an average of 50 specials per year since then — and that doesn't even include numerous stand-up series like The Standups and The Degenerates. That's a lot of comedy by a lot of different comedians. But there's one fascinating trend that most, if not all, of these specials have in common: Almost every comedian mentions Netflix in their act. 
These awkward mentions of Netflix, more often than not, occur early on in specials, shortly after the comedian takes the mic. The early ones are usually to the effect of "This is my Netflix special" or "We're going to be on Netflix," which seems like an amateur move, an odd proclamation for a professional comic. On other occasions, the reference is wedged in at the very end, as if the comedian almost forgot to mention it. A couple of comedians even wait until the credits to mention Netflix, like a junior-high student hurriedly filling in the final circle of a multiple-choice test as the teacher says "Pencils down." A select few comics are a bit more subtle, massaging "Netflix" into a joke or in a recap of a bit from an earlier Netflix special. But no matter where they say it, after the final credits are done, we're left with dozens of comedians with Netflix specials reminding the Netflix viewing audience that they are, in fact, watching a Netflix special. It's a truly bizarre phenomenon.
Is name-dropping Netflix during a Netflix special some kind of low-key brag on the part of the comics? Or is the big-box store of streaming comedy content forcing its talent to "say my name" in some kind of contractually required product placement? With how stingy Netflix is about releasing internal secrets, we'll probably never know the truth. But a review of the evidence is, at the very least, quite disturbing. To save you time and crippling mental exhaustion, we've combed through numerous specials to assemble all the proof you need that something strange truly is going on.
Vir Das, Abroad Understanding (2017)
Ray Romano, Right Here, Around the Corner (2019)
Jimmy Carr, Funny Business (2016)
Middleditch & Schwartz (2020)
Pete Davidson, Alive From New York (2020)
Ken Jeong, You Complete Me, Ho (2019)
Hasan Minhaj, Homecoming King (2017)
Maz Jobrani, Immigrant (2017)
Jo Koy, In His Elements (2020)
Iliza Shlesinger, Unveiled (2019)
Eric Andre, Legalize Everything (2020)
Jim Norton, Mouthful of Shame (2017)
Neal Brennan, 3 Mics (2017)
Jen Kirkman, Just Keep Livin'? (2017)
Adam Devine, Best Time of Our Lives (2019)
Chris Rock, Tamborine (2018)
Tom Segura, Mostly Stories (2016)
Aziz Ansari, Right Now (2019)
Adam Sandler, 100% Fresh (2018)
Dave Chappelle, The Age of Spin (2017)
Jim Jefferies, Freedumb (2016)
Seth Meyers, Lobby Baby (2019)
Patton Oswalt, I Love Everything (2020)
Nate Bargatze, The Tennessee Kid (2019)
Ali Wong, Hard Knock Wife (2018)
Maria Bamford, Old Baby (2017)
Jim Gaffigan, Cinco (2017)
Anthony Jeselnik, Fire in the Maternity Ward (2019)
Whitney Cummings, Can I Touch It? (2019)