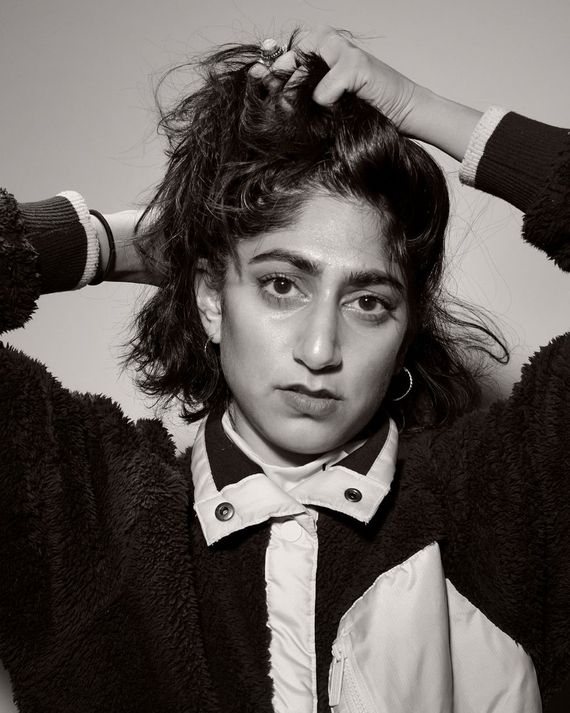 Photo: Philip Montgomery for New York Magazine
Sunita Mani is a big fan of "the pouffes," the vengeful alien race that descends upon Earth in her latest film, the farcical sci-fi comedy Save Yourselves! Written by longtime friends Alex Huston Fischer and Eleanor Wilson specifically for Mani, the movie gently skewers and roasts old millennials over a low flame. The plot is embarrassingly familiar: A 30-something Brooklyn couple, Su (Sunita Mani) and Jack (John Reynolds), realize they're suffering from the sort of low-key brain damage caused by spending far too much time doom scrolling on Twitter, so they spontaneously flee to a friend's cabin in upstate New York and turn off their phones in an attempt to reconnect with each other and the natural world. While the hapless duo tend to a fledgling sourdough starter and fail to build campfires, the pouffes arrive and begin murdering everyone in sight, inexplicably sucking up both whiskey and motor oil. The aliens inflict this world-destroying chaos while maintaining the shapes of useless, floofy pieces of décor, the kind you'd find on Apartment Therapy's Instagram, or, as Su puts it to a confused Jack, "like, an ottoman, a fuzzy footstool." The Save Yourselves! version of the end of the world is hilarious and freaky and utterly dumb — almost as humiliating as our own slow-mo 2020 apocalypse.
"I feel like the pouffe is the embodiment of the tone of the film," laughs Mani when she FaceTimes me from her own Brooklyn apartment a few weeks before the October 2 premiere of Save Yourselves! "I was so happy they were practical effects. There was an actual feeling you got from looking at its very fine furs moving in the breeze. It's sweet and weird, and you can't stop staring at it and then it's dangerous but then it's cute again. It's a very wholesome experience."
She could easily be describing her own screen presence. When given the right opportunity, Mani — a comedian-actress-dancer-writer and erstwhile clogger who came up in the Upright Citizens Brigade improv scene and is best known for her supporting roles on Glow and Mr. Robot and for twerking so violently that she busts through drywall in the music video for DJ Snake and Lil Jon's "Turn Down for What" — projects both a childlike innocence and a sardonic adult's sense of the absurd. She wields her dance background like a comedic weapon, resulting in performances that are equal parts exuberantly kooky and deliciously deadpan. It's a huge factor in what makes Save Yourselves! work: Mani is at turns winkingly serious and slapstick funny, her long limbs pinwheeling as she flees from her furry foes, sings goofy songs about travel-size toiletries ("You put the big soap in the little soap"), and banters with the himbo-ish Reynolds, a perfect foil whom Mani befriended while improvising in various Brooklyn basements over the years.
That ability to vacillate quickly between extremes, all while throwing her whole body into it, is a big reason why Fischer and Wilson wrote Mani directly into the part of Su, her first leading role. Fischer, who met Mani during a speech class in their freshman year of college, was a self-professed fanboy at Mani's university improv shows, intrigued by her wit and natural presence. "She just looks incredible in a close-up; she's so captivating," he says. They were also electrified by the idea of showing Mani off to a larger audience. "She's so charming and so natural. It was a no-brainer; we never thought of anyone else for it," says Wilson. "It was exciting for us to be able to show the world what she can do."
But it took some time for Mani to settle into the idea that, for the first time, she (and Reynolds) would be carrying an entire movie. "I was so nervous, and I got more nervous the closer it came," she says. "I was really questioning, Can I do this? I'd never been in every scene before." It helped that she was surrounded by her friends. "I'm most comfortable being super-big and joyful," she says. "I was taking a lot of swings in directions I felt were my comedic strengths — absurdity and stuff — but it was a real collaboration with John and Alex and Eleanor to find the tone. It's not about bits or super-big comedy moments. There's so much nuance. It's on the spectrum of being really small and weird and then going to full-on clown."
This sort of showcase for Mani's elastic full-body comedy is, in many ways, long overdue. For much of her career, Mani has been cast in, as she puts it, rather diplomatically, "shows that have made a mark by having interesting diversity." In other words, Mani, who's Indian American, has often been typecast as women of color whose ethnicity is central to their character, which was a little jarring to her after coming up in "live, absurdist comedy, where I could play anything or do anything." On Mr. Robot, she played Trenton, a hijab-wearing Iranian hacker with a deadly seriousness that kept the unreserved Mani relatively hemmed in as a performer. "It was something that hadn't been seen before — a Muslim character who's a hacker, who's not really the good guy," she says of why the series appealed to her. "You don't normally see a brown person in that role." On Glow, she's Arthie, an Indian pre-med student and small-screen wrestler who grapples with being cast on the titular series-within-a-series as "the Beirut Bomber," a profligately racist Muslim stereotype with a malevolent cackle and glittery unibrow. Mani is effusively grateful for both experiences but says she's also still working to unlearn the idea that "there is limited space for people of color onscreen. That mentality is still there."
Growing up in Tennessee, Mani never imagined she'd be onscreen at all. She was always "a ham, quite a class clown," the sort of 14-year-old who planned out intensive pranks and wore her sports bra backward in the locker room because it gave her friends "so much joy, and it gave me a lot of joy." But she never really considered doing comedy or acting. Instead, she threw herself into sports and all manner of group dance classes, including Bharatnatyam, competitive jazz and ballet, and clogging, which she expounds upon at delightful length. "It's not like the Swedish kind — it's like Appalachian folk dancing with like, two taps on your shoes," she says. "It's very rhythmic. Super-energetic. I loved the costumes." Despite her near-religious lust for dance, "it didn't click for me that I could do that after I left the structured environment for it," she says, in large part because she didn't see any women who looked like her in those positions. "I could never truly think that far or allow that to happen in my real, out-loud dreams."
At Emerson, Mani studied writing because it seemed like something more practical, something she was supposed to do. But when she saw the on-campus improv-comedy troupe perform at a school event, she was instantly seduced by another opportunity to hurl herself around a stage. "I remember thinking, They're really smart, and they look really confident and I think that is someone I want to be," she says. Terrified but determined, Mani auditioned, got in, and spent the next four years doing variety shows, writing sketches, making strange videos with her friends, and performing in whatever school-sanctioned projects didn't require a dance major. "I just kept pursuing my closeted passion of being onstage," she says.
That's when Mani met Eleanore Pienta and Tallie Medel, who became her best friends and eventually moved with Mani to New York, where they lived in a small Sunset Park apartment, waitressed, and desperately tried to break into the comedy scene. Broke, disoriented, and overflowing with creative energy, the trio began choreographing genuinely bizarre dances in their apartment "to keep each other sane and make each other happy, and because we didn't know what else to do," Mani says. The dances became weirder and more elaborate, deeply earnest but wildly unhinged — think Center Stage meets Christopher Guest. Soon, a "choreographed dance-comedy act" called Cocoon Central Dance Team emerged from Mani, Pienta, and Medel's own Brooklyn cocoon. It's difficult to explain what, exactly, the dance team is, but Mani describes it as follows: "It's that talent-show vibe of 'Okay, let's make up a dance to Mariah Carey. And then we'll show our parents.' It was born out of just living in that fantasy we created for ourselves because the real world was getting us down. It was so sincere and not ironic, necessarily — we couldn't believe we were doing it, a little bit. But it gave us so much delight that we couldn't stop."
The troupe performed around New York at variety shows, appeared on Broad City, and eventually made a critically beloved short film titled Snowy Bing Bongs Across the Northern Combat Zone, a sort of surrealist daymare that sees the three women farting in deconstructed polar-bear suits. In her non-Cocoon life, Mani danced constantly, becoming known among her friends for "going dancing sober at 9 p.m. before it got really crowded so we had enough space to play and be stupid." In 2013, two of those friends — Daniel Scheinert and Daniel Kwan, the filmmaking duo now known as "the Daniels" — cast her in the "Turn Down for What" video to do exactly the sort of chaotic routines she did at the clubs. It completely changed Mani's life. At her waitress and wedding-catering jobs, guests would blast the song and beg her to re-create her demonic dance routine. "The whole night would go by with me feeding different parties at their tables and cleaning glasses and then by the end of the night, the song would eventually come on and then they would recognize me," she laughs. "I'd be forced to go into the middle of this circle and do a stupid twerk with the groom."
The lunatic one-two punch of the Cocoon Central Dance Team and "Turn Down for What" helped Mani land an agent as well as cameos on shows like Search Party and The Good Place and, eventually, her first full-time gigs, on Mr. Robot (in 2015) and Glow (in 2017). "I do remember Christian Slater [on Mr. Robot] watching 'Turn Down for What' and being like, 'That's you?'" she says, laughing. "And I think [Glow creator] Jenji Kohan knew of that video and connected the dots between the freak dancer I played and being a freak wrestler." Though Mani was thrilled to be a part of the two series (they allowed her to quit waitressing, for one), she had found herself, for the first time, not following her own singularly weird muse. Instead, she was playing characters where, as she puts it, "the ethnicity mattered so much." In stark contrast to her experience making the upcoming Evil Eye, in which she stars opposite Sarita Choudhury and Omar Maskati in a horror movie directed by Elan and Rajeev Dassani, Mani — often the only Indian American actor on these TV sets — says she felt pressured to "do right by my representation," to be "smart, the funniest person in the room," and to stay quiet when she didn't necessarily agree with the direction her characters were heading in.
But as she grew more comfortable with the shows' writers and her castmates, she began speaking up when she felt her characters weren't being properly dimensionalized. The Glow writers, tasked with crafting a show that deals explicitly with 1980s gender and racial stereotypes, were particularly supportive and encouraged Mani's input. She recalls filming a scene in season one, in which the female soon-to-be wrestlers are coming up with their personae and putting on a sort of pseudo-audition for the show's producer at his penthouse. The producer's original reply to Arthie's Beirut Bomber audition was "You're a type. You're Arab." Arthie, who is Indian American like Mani, replies, "I'm Indian, not Arab," and the producer explains that, even so, that's how she's perceived by the world. The original exchange ended there, but Mani bristled at that; she thought Arthie would have a "level of awareness" about that kind of remark, an understanding of where she fit in the world and how she was perceived. She wouldn't simply brush it off. Mani asked the writers to add a back and forth, wherein the producer asks Arthie, "It's not about backstory; it's about type — and your type is?" Arthie replies, "Intelligent and whimsical." The producer says, "No, it's 'terrorist' or 'genie' or some other sort of evil Arab," and Arthie says, "Oh, you mean stereotype." For Mani, adding in that small moment was significant. It taught her, she says, that "you can have a seat at the table and also use your voice, instead of just being at the table and keeping your voice in parentheses."
When Save Yourselves! came her way — a role that has nothing to do with her cultural background and everything to do with her ability to imbue a scene with mad delight — Mani was overjoyed. "When you're in the business of selling yourself, you do feel like you have to have categories or types — to be little digestible bites of personality or something," she says. "I struggle with that so much. I would prefer not to have to think in those terms." When she was offered the part of Su, she thought, Oh my God, how incredible to have range as just, like, a person. The subsequent onscreen dynamic she created with Reynolds while filming over a few weeks last summer in Woodstock, New York, reminded her of a Scooby-Doo episode: two "lanky, floppy people" falling over one another, hurling eggs into go-bags, incorrectly deploying shotguns, and stumbling panicked through the woods. Between shots, the two would bide their time by "pretending to kick each other in the nuts" or by reenacting a bit wherein Mani would feign running directly into a fridge. It all reminded her, in some ways, of the delirious happiness she found with Cocoon Central Dance Team, creating in that space where "I feel both vulnerable and totally happy and in control and in my comfort zone at the same time."
In quarantine, Mani has been writing her own show, a "character study of a woman who is learning how to dream," she says. "I know the world is burning, but I think I'm just trying to find joy and that part of myself to keep spreading and sharing with people in times of intense pain." The series, about a security guard who aspires to become a writer, is still in the early stages, but it's something she has been wanting to get down on paper for a long time. "I've been feeling this way over the past handful of years — my parentheses are getting too full. I've been sort of keeping my experience private and on lockdown because it didn't feel like it made any sense on the larger framework or something," she says. "I'm excited to just kind of be who I am a little more, without the labeling, and see what kind of space I can imagine outside of that."
Of course, she says, there'll be "a lot of dance" in it. "I'm excited to take up space in that way, just with my body, existing," she says. And even if the show flops, or doesn't happen, the experience of making it on her own terms will have been enough. "To get to carve out a space and tell my own story, I hope that some of that pressure can kind of release and just sort of … be," Mani says. "I can just be."