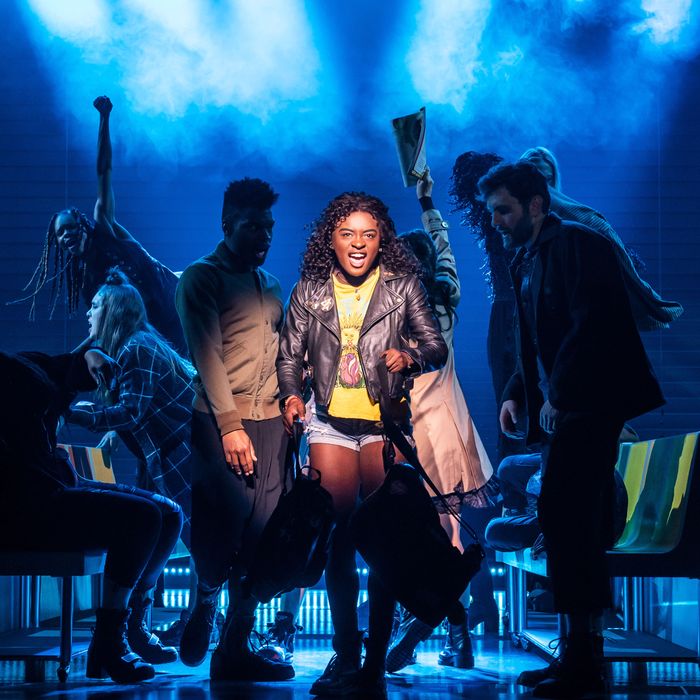 Welcome to the surreal world in which the 2020 Tony Award nominations have been announced, but we still don't know when or where or how the 2020 Tony Awards are happening. Not the biggest concern in this very strange year, when the theater industry as a whole has been zapped out by a pandemic, but a very strange footnote amid everything. Today, via an amiable livestream of James Monroe Iglehart, the American Theatre Wing and the Broadway League put out a suitably erratic list of Tony nominations, which probably should have come along with a David Foster Wallace essay's worth of footnotes to explain how we ended up here. Luckily, this is why entertainment blogs exist.
First of all, congratulations to the Alanis Morissette musical, Jagged Little Pill, and Jeremy O. Harris's eternally conversation-starting Slave Play, which earned 15 and 12 nominations apiece, the most respectively for a musical and a play. Congrats as well to Moulin Rouge!'s Aaron Tveit, who has become the only actor in a leading role in a musical nominated in his category. And sorry to The Lightning Thief, the only original musical to open on Broadway within the eligible dates, which still somehow didn't get any nominations. Here, my best attempt to make sense of how it could all shake out that way.
1. The eligibility cutoffs really trimmed down the number of musicals.
Twenty shows opened on Broadway between April 26, 2019 (the end of last season), and March 12, 2020 (when theaters shut down in the spring). But before announcing the nominees, the Tonys said it would consider only shows that had opened by February 19 of this year, for the sake of making sure that voters had seen the productions. Right off the bat, that eliminated two big musical productions: Ivo van Hove's rain- and controversy-drenched West Side Story revival (opened February 20) and the Bob Dylan Depression-era glumfest Girl From the North Country (opened March 5). Plus all the potential contenders that would have opened during the spring, including the pop musical Six (set to open the night of March 12), new plays like The Minutes and Hangmen, and play revivals like American Buffalo and Who's Afraid of Virginia Woolf? Essentially, the Tonys had to take a break from being the annual Laurie Metcalf awards.
2. But the nominating committee also decided to be picky, or maybe just petty.
After all those rules were set, the Tony Nominating Committee, a bunch of people who work in various jobs in theater, got together on Tuesday night and decided what was worth recognizing. There are some general guidelines about the number of entries that can appear per category, depending on what was eligible, but they do have a lot of leeway, as you can see from the list. The result of that abridged season is that there were plenty of plays to go around, but not that many musicals. Looking over the nominations, you'll notice there simply isn't a Best Revival of a Musical category (there weren't any to nominate) and that only original scores written for plays ended up in the category for Best Original Score.
The latter decision, however, is pretty pointed. The one musical with an original score to play Broadway during those eligibility dates was The Lightning Thief, an adaptation of the Percy Jackson books with music and lyrics by Rob Rokicki. It was essentially a touring revamp of an Off Broadway production that touched down on Broadway for the holiday season, not the typical awards fare but eligible nonetheless. Back in 1995, Andrew Lloyd Webber won two Tonys for the music and lyrics of Sunset Boulevard, since it had the only original score that year. But this time around, the Tony committee seems to have decided The Lightning Thief simply wasn't at the level of the rest. It opted to nominate music from a bunch of plays instead — compositions like that have been recognized in the past, though they don't typically win — and skip over The Lightning Thief in all its other original categories. Who can forget that beautiful melancholy humming that happens while Mary-Louise Parker spirals out in The Sound Inside?
3. Yes, Aaron Tveit, solo nominee, will probably just win.
The firm decision to say "The Lightning Thief, who?" also makes for a smaller Best Musical category and a Best Leading Actor in a Musical category that only includes Aaron Tveit. The Tonys decide who goes in what acting category before they determine the nominees, and they decided that Tina and Jagged Little Pill don't have anyone who qualifies as a male lead. Even though Lightning Thief was eligible, the nominators continued to just ignore it. (Apologies to Percy Jackson himself, Chris McCarrell, who I thought was pretty charming in the role.) According to the Tony bylaws, if the committee decides that there's only one person worthy of a nomination in a category, the category is submitted to the voters, and more than 60 percent of the voters have to agree to grant an award in that category. Tveit and his swoopy Moulin Rouge! hair could technically still lose the award, but practically that's not going to happen.
4. Get excited (?) for the Slave Play vs. The Inheritance race.
On the play side of things, there's more of a healthy competition, and the nominations point to two front-runners that may have faced off in the unabridged season anyway. Those are Slave Play, the daring send-up of sex and race that generated so much coverage it became the subject of a Good Fight episode, and The Inheritance, an epic two-part gay drama by Matthew Lopez based on Howards End that won acclaim in London but fizzled on Broadway, where it was criticized for its limited, mostly white perspective on gay history and simply didn't attract audiences. The Inheritance had, in fact, announced that it would close early, on March 15, before the pandemic shut it down by force. Nevertheless, The Inheritance earned 11 nominations to Slave Play's record-breaking 12, including a Featured Actress in a Play nomination for Lois Smith's walk-on one-scene appearance in its second half, the award it is most likely to win.
5. The Tonys still love movie stars.
Slave Play may have the edge in the Best Play category, but there's plenty of competition among the other performance awards, including a lot of appearances from movie stars in plays of the kind that sometimes lead the Tonys to hand out "thank you" certificates. Jake Gyllenhaal and Tom Sturridge both pop up for their dual monologues in Sea Wall/A Life for Leading Actor in a Play, as does Tom Hiddleston, who might just be the likely winner — if this woman exists, I hope she is celebrating appropriately. In terms of Lead Actress, Mary-Louise Parker only got to do one of her two planned play performances this year (her revival of How I Learned to Drive has been pushed back), but her delicate work in The Sound Inside, though not everyone's cup of meta-textual tea, could have the elaborate grabbiness to win her the award.
6. Of the musicals that did qualify, it's a battle of the jukeboxes.
In terms of the not-so-original musicals, we're in a big jukebox race. Jagged Little Pill, featuring the songs of Alanis Morissette, social issues, and plaid, has the most nominations and a good edge on Featured Actress considering Lauren Patten's showstopping take on "You Oughta Know." Tina: The Tina Turner musical, featuring the work of you-know-who, probably has a lock on Best Actress for Adrienne Warren's hurricane of a performance as Tina. Moulin Rouge! The Musical will obviously get a Tony for Tveit, and there is a good chance that Danny Burstein, who has written powerfully about getting the coronavirus during the spring, will be recognized for his manic Harold Zidler. The Tonys don't tend to love straight bio-musicals, so my guess would be that either Jagged Little Pill or Moulin Rouge! gets the big award, with the slight edge to Jagged for the fact that its plot, at least, is original.
Check back on all these predictions whenever, wherever, and however the Tonys actually happen, because the Tony Awards themselves haven't formally announced any of that yet.