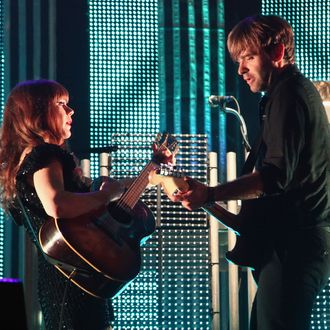 They can't return soon enough.
Photo: Taylor Hill/FilmMagic/Getty Images
You know what they say: Neither snow nor rain nor heat nor gloom of night nor breaking up ten years after your one album can keep America's favorite '00s indie-rock supergroup from doing their important work. The Postal Service, the trio of Death Cab for Cutie's Ben Gibbard, Rilo Kiley's Jenny Lewis, and electronic musician Jimmy Tamborello, is teasing something for tomorrow. The group's Twitter account tweeted a jazzy video teasing a "meeting" on October 7, which Death Cab for Cutie and Tamborello retweeted and Lewis also posted. So what do we think: new album? United States Postal Service benefit single? Endless loop of "We Will Become Silhouettes" to soothe us for the next month? Gibbard, whose quarantine performances have been the definition of a balm, dedicated a performance of the Postal Service's hit "Such Great Heights" to the struggling USPS in August; Lewis, meanwhile, just reissued Rilo Kiley's self-titled first album between tweeting quarantine poems. The band also just contributed a 2013 live cut of "We Will Become Silhouettes" to the one-day Bandcamp exclusive compilation Good Music to Avert the Collapse of American Democracy, Volume 2, raising money for the Voting Rights Lab. So the district sleeps alone again tonight, but at least with the promise of something new from the Postal Service tomorrow.