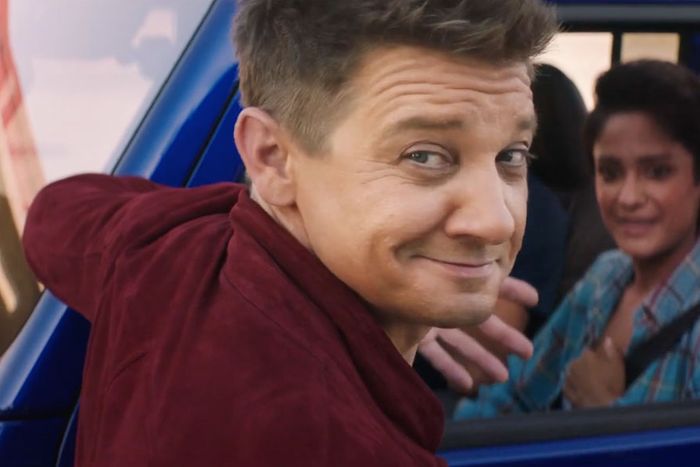 Photo: Michael Lippert/Vimeo
The comedy-podcast universe is ever expanding, not unlike the universe universe. We're here to make it a bit smaller, a bit more manageable. There are a lot of great shows, and each one has a lot of great episodes, so we want to highlight the exceptional, the noteworthy. Each week, our crack team of podcast enthusiasts and specialists and especially enthusiastic people will pick their favorites. We hope to have your ears permanently plugged with the best in aural comedy.
The Renner Files — "Renner-ssance Man"
Despite being a two-time Academy Award nominee and having leading roles in some of the biggest movie franchises of the 21st century, Jeremy Renner is an odd answer to the question "Who's your favorite movie star?" To be completely honest, I thought the Modesto, California–raised actor was Australian until this month's debut of The Renner Files, a true-crime parody that seeks to uncover what was going on with the Jeremy Renner Official app that had the internet abuzz last summer. In the second episode of this limited-series podcast, hosts Sarah Ramos and Caroline Goldfarb dive further into this modern Leonardo da Vinci's many hobbies outside of acting, from house-flipping to rock and roll–ing to selling Jeeps. Those latter two interests combined last year to produce the best content he's ever starred in: a series of "Summer of Jeep" commercials in which Renner used the vehicle's signature two-axle drivetrain to arrive at outdoor desert gigs on time. When Renner sang that "Heaven Don't Have a Name," he was wrong. Heaven has a name, and it's Jeremy Renner. —Pablo Goldstein
Listen: Spotify | Apple | Website
This Is Branchburg — "Welcome Back to Branchburg" (feat. Tim Robinson)
This Is Branchburg is back. Set in a small town in New Jersey that "has many stories to tell, whether you'd like to hear them or not," the podcast fictionalizes the township, populating it with a cast of zany characters. From a strange small-business owner to a preposterous principal, each story about one of Branchburg's most excellent citizens captures a hilarious slice of life. Serving up affable absurdity, this episode follows the Branchburg Butcher Shop's owner, who takes a risk on a new type of meat. "My son, Robert Martino III, told me about something called the dark web, and I bought my first whale on there. Got a pretty good deal, too!" exclaims the butcher. What arrives, however, is not a whale. Elsewhere, a man (Tim Robinson) describes how he "would do things differently if he were head coach of the Branchburg High School football team." While exaggerated, it might make listeners stop and ask if they've previously met this person in real life. And that's the fun of This Is Branchburg: Around each corner is a caricature so akin to small-town lore, listeners can't turn away. Pulled in by a sense of familiarity, they're guaranteed to leave laughing. —Becca James
Listen: Spotify | Apple | Website
Bald Talk — "Rob Corddry Is Bald"
On Bald Talk, all of the guests (so far) are bald, perhaps none so iconically as Rob Corddry. Talking about hair loss with men who've experienced it could be a tightrope to walk, but hosts Brian Huskey (Another Period) and Charlie Sanders (Weird City) approach their own cranium situations with a charm that immediately puts listeners and guests at ease. With Corddry, whose pate has been in the public eye since 2002, they talk showbiz, personal life, and self-care, from that infamous Daily Show–era tuft to working with fellow bald man the Rock on Ballers. Baldness is usually played for jokes, and these three guys are comedians, so of course they make jokes, but it's also a serious trigger of body insecurity for men, and one we don't usually have frank conversations about. Maybe if we had more of these conversations, baldness wouldn't cause as much unnecessary pain or inspire so many unnecessary wig-based jokes. —Kathryn Doyle
Come On, Come Out — "You Need to Get in the Closet"
New podcast Come On, Come Out is ambitious. Each week, guests tell their real coming-out stories to host Angela Rosserman. The catch is Rosserman, billed as "an inept, inappropriate narcissist who is obsessed with her ex-girlfriend," is fictional. Created by Stewart Thorndike (Lyle), the show aims to satirize "how lesbian culture and corporate feminist culture is all too often perceived and portrayed by society" as each episode builds to a conversation between Rosserman and her aforementioned ex. This week, the focus is on photographer and filmmaker Diane Russo, who gets candid about coming out and how her family and some friends reacted poorly. Rosserman, of course, responds with a wild story that uses humor to comment on how people can internalize stereotypes. "I'm talking about soft breakups, not real breakups," she quips, while Russo pushes back. It's a gentle but resonant exploration of identity with fascinating potential. —B.J.
Listen: Spotify | Apple | Website
Other Podcasts We're Listening To:
Ethnically Ambiguous — "We Are Steve Hernandez"
Listen: Spotify | Apple | Website
StraightioLab — "Wearing PJ's to Run Errands" w/ Ana Fabrega
Listen: Spotify | Apple | Website
Got a comedy podcast recommendation? Drop us a line at comedypodcasts@vulture.com.
If you like comedy and you like podcasts, we recommend you subscribe to Vulture's own Good One podcast, which releases new episodes every Tuesday on Apple Podcasts, Spotify, Stitcher, Overcast, or wherever you get your podcasts.