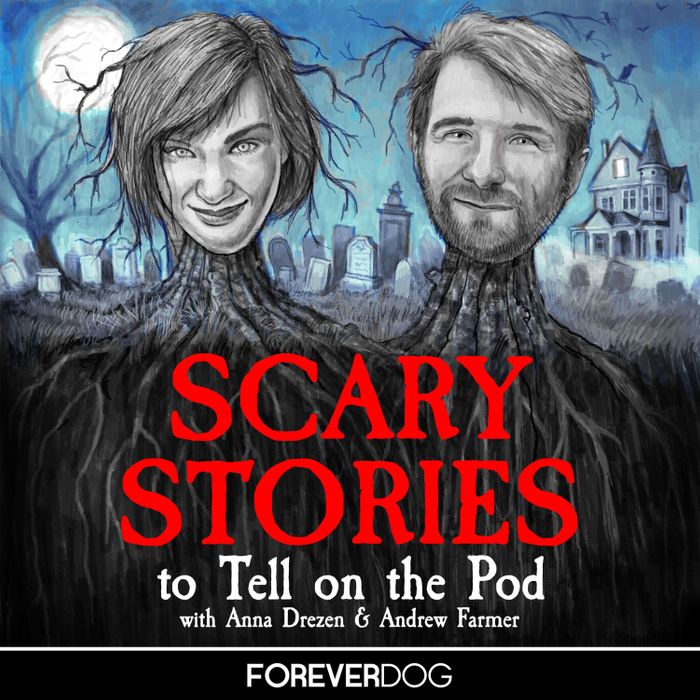 The comedy-podcast universe is ever expanding, not unlike the universe universe. We're here to make it a bit smaller, a bit more manageable. There are a lot of great shows, and each one has a lot of great episodes, so we want to highlight the exceptional, the noteworthy. Each week, our crack team of podcast enthusiasts and specialists and especially enthusiastic people will pick their favorites. We hope to have your ears permanently plugged with the best in aural comedy.
Scary Stories to Tell on the Pod - "Like Cats' Eyes" 
Scary Stories to Tell on the Pod offers a "deep dive into the terrifying world of American folklore, ghost stories, hauntings, and urban legends, through the lens of the classic children's series Scary Stories to Tell in the Dark." Hosted by comedians Anna Drezen (SNL) and Andrew Farmer, the podcast takes a silly, not serious, approach to the scary subject matter, or as Drezen puts it in this episode, "Theater types would say we're straight-up road-dog comedians." This episode focuses on "Like Cats' Eyes," an exceedingly troubling tale from the third and final installment of the Scary Stories series. When the story takes a terrifying turn, introducing a half-dozen small men hanging from the sides of a hearse, Drezen remarks that they probably rode in from East Williamsburg. Farmer continues the riff session, saying, "They call themselves the squad, but they've never talked to a woman who's not a waitress before." It's these quick takes on material that's meant to be frightening that will leave listeners laughing not only during this spooky season but year-round. —Becca James
Listen: Spotify | Apple | Website
Las Culturistas - The Meaning of Mariah Carey
Many of us, myself included, have given up on the written word, but it's still possible to encounter a physical book as recounted by a friend/podcaster who does read one. In what feels like a midseason finale for the reboot of Las Culturistas, Bowen Yang and Matt Rogers devote a nearly two-hour episode to New York Times best-selling celebrity memoir The Meaning of Mariah Carey. If you were in search of a modern-day Toni Morrison, look no further, for she is Mariah, memoirist. More often than not, if a person, place, or thing exists in pop culture, Las Culturistas will lift it up instead of tearing it down; that's what makes the show special. Mariah Carey is easy to tear down, as has happened time and time again in the public eye, and one might assume her first venture into prose would be heavy on trills and light on thrills, but Matt and Bowen find that the opposite is true. Many of us could take a lesson from their habit of approaching people, no matter how famous, with respect first, and always considering the lens through which we see others. —Kathryn Doyle
Listen: Spotify | Apple | Website
It's Been a Minute With Sam Sanders - Joel Kim Booster On Religion, Identity, and Coming Out
For those unfamiliar, It's Been a Minute With Sam Sanders is an NPR gem in which delightful journalist Sanders offers down-to-earth conversations with pop-culture guests of note in — and this cannot be overvalued — a respectable amount of time. (This episode clocks in at just under 29 minutes.) In honor of this past Sunday's National Coming Out Day, Sanders hosts a fellow gay former church kid, Joel Kim Booster. The actor-comedian is there to talk about one thing: his coming-out story. Don't expect anything about the election or 2020 in general; in fact, you might as well just pop in a Britney CD with a rerun of Quantum Leap cued up on the VHS, because this episode lives in Kim Booster's '90s upbringing. He tells Sanders about looking to Christian teen forums for answers, getting an ultimatum from his church, and how, like all of us, one fateful waft of a kid's Axe body spray in high-school choir played a pivotal role in his self-realization. Per usual, Booster's frankness is charming. His centered reflections on his own past — plus his honestly comforting parting message — are a welcome antidote to the current, well, you know. —Anna Marr
Listen: Spotify | Apple | Website
Everything Trying to Kill You - Texas Chainsaw Massacre (1974) With Special Guest Kelly Nugent
Horror and comedy are pretty perennial podcast genres but feel especially appropriate as Halloween approaches. Mary Kay McBrayer, Rachel Louise Estridge, and Mary Beyer triple-host the bimonthly offering Everything Trying to Kill You, and with this episode they serve up a look at the original Texas Chainsaw Massacre. So what can they exhume about this slasher classic — as they say, the one that pretty much started 'em all — that hasn't already been raked over? They manage to find some fresh ground with the help of actress-producer Kelly Nugent, including the fun fact that a restaurant now stands in Texas on the location where the slaughterhouse once did. They kick over some rocks trying to figure out the logic behind everything from Leatherface's motives for killing ("He doesn't enjoy it — he's just the only one who can bring home food for the family") to why his family would even exist in the first place. There is quite a dive into the "final girl" survivor motif. And they marvel over how director Tobe Hooper managed to pull off the feel of "ungendered" violence while still using incredibly phallic weapons. As Nugent puts it, "In this movie, cannibalism is a metaphor for rape, as opposed to all the other times when rape is the metaphor for anything else bad that can happen to a human." —Marc Hershon
Listen: Spotify | Apple | Website
Other Podcasts We're Listening To:
Sofia With an F - Sloot: A Short Autobiography
Listen: Spotify | Apple
Crush Fictionally - Batman with Mishka Thébaud (The Boys)
Listen: Spotify | Apple | Website
Make My Day - Grace Spelman
Listen: Spotify | Apple
Got a comedy-podcast recommendation? Drop us a line at comedypodcasts@vulture.com.
If you like comedy and you like podcasts, we recommend you subscribe to Vulture's own Good One podcast, which releases new episodes every Tuesday on Apple Podcasts, Spotify, Stitcher, Overcast, or wherever you get your podcasts.