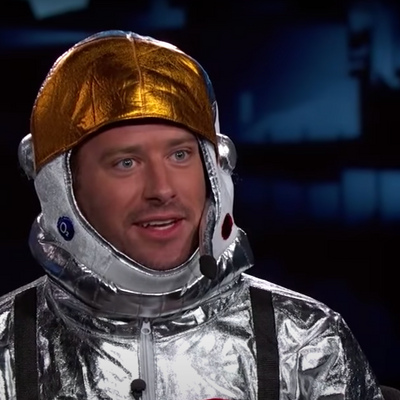 Another week, another COVID suit.
Photo: Jimmy Kimmel Live/YouTube
The fly. She really stole the show this week, didn't she? If she doesn't get nominated for Outstanding Guest Performance in a (Terrifying) Comedy at next year's three-week-long Creative Arts Emmys, then the Television Academy has gone truly insane. Obviously, other things happened this week that were non-fly-related (thank goodness), but I'm finding it difficult to remember anything that happened in the space-time continuum before that fly landed on Mike Pence's face for two whole minutes. Even so, as we hurtle toward Election Day Month 2020, late-night television continued to walk the tightrope of mixing humor with the increasingly horrifying ordeal we've come to know as "reality." Anyway, here are the top late-night moments of the week.
5. Maya Rudolph Will Punch You If You Scare Her
Yes, two-time Emmy winner Maya Rudolph made headlines this week for saying that playing Senator Kamala Harris is "her civic duty," but she said something else very important during her Tonight Show interview with her old SNL pal Jimmy Fallon: If you scare her, she'll straight up punch you in the face. "I'm not a scary Halloween person. I hate being scared," said Rudolph, who was on the show to promote her role in the surprisingly good Adam Sandler movie Hubie Halloween. "If anyone scares me, I will punch them in the face." That's it. That's the tweet. If you jump out and say "Boo!" to Rudolph when she's not expecting it? You're absolutely cruising for a bruising. "Like, don't scare me, or you're gonna get punched in the face for real," Rudolph clarified, in case she wasn't perfectly clear about what will happen if you scare her. Consider yourself warned: If you try to scare national treasure Maya Rudolph, you're gonna get clocked. Got it? Good.
4. Desus and Mero Roast Trump
"Yo, Trump-ito is out of the hospital … for now," the Kid Mero said, perfectly introducing a segment on the president leaving Walter Reed on Desus & Mero this Thursday. Truly, there is no better duo than the Bodega Boys to absolutely flame Trump for leaving the hospital despite the extremely obvious fact that he was still actively experiencing COVID-19 symptoms. "When you breathe, your shoulders are not supposed to go that high," Desus pointed out as a video of Trump gasping for air on the White House balcony played behind him. "I thought he was about to start Harlem shaking and shit," chimed in Mero, before both Desus and Mero demonstrated the dance like the uptown dudes that they are. Their attention to detail was, as per usual, on point, noting so many ridiculous things that I didn't even notice at the time. Like, why on earth would Trump do a photo op on a balcony after walking up a ton of steps while he's suffering from a respiratory illness? And you know what? Trump did kind of look like Bea Arthur reading a novel while he was signing all those blank pieces of paper (no disrespect to Bea, RIP). Also, props to Desus & Mero for accurately describing whatever's going on with zombie Giuliani. "He's dead, bro. I've seen dead bodies," said Mero. Weekend at Rudy's, coming to a movie theater streaming platform near you.
3. Larry Wilmore Asks "What the F- - -?"
Honest question: Who in God's name is still undecided between Biden and Trump? Larry Wilmore posed this question on his new late-night show, Wilmore, streaming on Peacock on Friday nights. It's a simple question, but an important one since the answer really defies logic. The decision is not a Sophie's choice, Wilmore said, even though "one of the candidates actually likes Nazis: 'Stand back and stand by.'" Wilmore continued to hit the nail on the head when he circled in on why someone might still be undecided about the election in October 2020: "Seriously, what the fuck, undecideds? Are you guys really undecided, or are you just trying to get some attention?" It looks like everyone wants to be the next Ken Bone, including Ken Bone, who has come out as an undecided voter yet again. Wilmore drove home that this isn't a normal election year, comparing Biden to a puppy (awww) and Trump to a dead puppy (ahhh!), before echoing one undecided voter who likened debating with Trump to "arguing with a crackhead." "There's your choice America: It's either an ordinary centrist career politician or a crackhead. Just pick one." Seems simple enough to me.
2. Dewayne Perkins Says "Girl" on The Amber Ruffin Show
Girl. It's an appropriate response to just about everything these days, but comedian Dewayne Perkins's delivery has turned that one word into a comedic work of art. Perkins demonstrated the myriad ways that one little word could be used in the segment "Dewayne Says Girl" on the newest late-night show, The Amber Ruffin Show, now streaming on Peacock. A spinoff of the delightful segment "Amber Says What" from Late Night With Seth Meyers, "Dewayne Says Girl" has all the fun of Ruffin's Late Night segment with twice the attitude. Using the word girl to describe a president who cares about his masculinity so much that he's willing to subject his family and staff (not to mention an entire nation) to a lethal disease will never not be funny to me. Add in Perkins's range and we truly have A "Girl" for All Seasons (now that's a remake I can get into). Standout "girl" reactions include the response to Dr. Sean Conley lying about Trump's health ("If you lying out here, he's dying in there") and Trump's COVID-19 motorcade ("If you don't get your sickly ass back in the hospital … You have COVID. What the fuck is wrong with you?"). Yes, girl.
1. Armie Hammer Brings Unbridled Energy to Jimmy Kimmel Live!
Look, we're all handling these insane times in different ways. Some of us have gotten into making sourdough and streaming '90s sitcoms on Netflix; others have divorced their wives and are making late-night appearances wearing a space suit and sandals. For better or worse, Armie Hammer would find himself in the latter category, as he turned up on Jimmy Kimmel Live! rocking said space suit, sandals, and half of what would have been a gorgeous red pedicure. Hammer had the honor (or burden, depending on how you look at it) of being Kimmel's first in-studio guest in seven months, and he absolutely did not disappoint. Although he had (unfortunately) shaved his quarantine mustache, Hammer came prepared, rocking a metallic space suit, complete with a space helmet that he immediately took off because Kimmel was eight feet away from him (which didn't stop Hammer from accidentally spitting on Kimmel during the interview). He was also rocking some white sandals, and a few toes on his left foot were inexplicably painted red. Outfit aside, Hammer's unbridled single-guy energy was another sight to behold. By the time he started talking about renovating a desert motel with his friend Motor Mike who owns a mountain bike, I truly lost the entire plot of what was happening. What am I watching? From space suits to roadrunners to spicy Cheetos, the interview was more or less incomprehensible but fascinating. Suffice it to say, Hammer is clearly going through something, and his energy throughout the interview is a testament to that fact. But you know what? We're all going through something, okay? Except maybe Motor Mike and his mountain bike, who is apparently an excellent cuddler and seems to be absolutely thriving in quarantine.