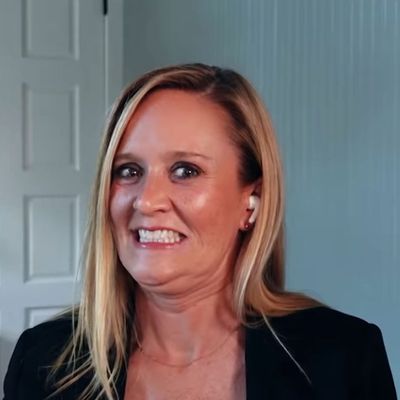 The face you make when you find out you lost the election by one vote.
Photo: YouTube
We did it. We, as a nation, have survived the debate cycle of the 2020 election. Give yourselves a round of applause. Whether society has progressed past the need for presidential debates is definitely up for debate after this election cycle, but we can answer that question when the next election cycle begins in 2021. If I'm being honest, though, the final presidential debate was small potatoes in a week that saw the fall of the Quibi empire and introduced the phrase "Zoom dick incident" into popular lexicon. With an absolutely bonkers news cycle, late-night television had plenty to chew on this week as we hurtle closer and closer to that asteroid that Neil deGrasse Tyson says might hit Earth earth before Election Day (fingers crossed). Let's see what our late-night hosts had to say during this truly bizarro week.
5. Dolly Parton Makes Stephen Colbert Cry on The Late Show
Let's kick off the list with a genuinely heartfelt and touching moment. The legend herself, Miss Dolly Parton, graced The Late Show with both her presence and her voice on October 20 to talk about her upcoming coffee-table book, Dolly Parton, Songteller and apparently make Stephen Colbert cry with the sheer beauty of her voice. About halfway though the interview, Parton broke into a little bit of "Bury Me Beneath the Willow," a folk song her mother used to sing to her when she was a little girl. Her rendition quite literally brought Colbert to tears, which in turn brought me to tears, a catalytic chain reaction that can only be caused by a voice as pure as Dolly Parton's. This is not the first time this has happened to me, as Dolly's tribute to the late Kenny Rogers makes me cry every time I listen to it (which is more often than I care to say). "So I better hush before you cry yourself to death and we can't finish the show." Dolly quipped when Colbert reached for the tissues. This was a great reminder to preorder a 12-pack of Kleenex to have on hand for when I watch Dolly's Netflix Christmas film, Christmas on the Square.
4. Desus and Mero on the Zoom Dick Incident
The cackling. I mean, the cackling truly says it all. Desus & Mero took on the "Zoom dick incident" heard round the world involving one Jeffrey Toobin, the author and New Yorker contributor who "accidentally" was caught masturbating on Zoom in front of many of his esteemed colleagues during an "election simulation" earlier this week. Just typing that out sent a chill down my spine. The internet, naturally, had a field day with this piece of salacious news and almost rung it dry of its seemingly unending well of comedy potential, but the Bodega Boys found a way to make it funny once more. "You had your whole dick on Zoom bro," The Kid Mero shouted at the camera, simply gobsmacked that the entire incident occurred. "You were making beef Stroganoff for the whole gallery view," he continued, complete with an appropriately inappropriate hand gesture. And the simulation continues.
3. Eric Andre Sits in a Lifeguard Chair on Jimmy Kimmel Live
The CDC may recommend that people stay six feet away from one another, but they never specified in which direction. On Wednesday, October 21, comedian Eric Andre stopped by Jimmy Kimmel Live and put his own spin on staying socially distant, walking into the studio with an honest-to-God lifeguard chair. (And I thought Armie Hammer wearing a space suit was ridiculous.) Andre conducted his interview with Kimmel both six feet away and six feet above him, which had the uncomfortable side effect of giving Kimmel the sensation that he was "at a MAGA rally," a sensation I wouldn't wish upon anyone (except for Trump supporters, I guess). From such great heights, Andre and Kimmel talked about the return of Andre's Adult Swim show The Eric Andre Show, which is returning to television after a four-year hiatus. Andre then shared a clip from the upcoming season in which John Cena throws him through a shelf, which resulted in a concussion so bad he landed in the hospital. "They did a CAT scan and I haven't been able to speak English since," said Andre. "I memorized this interview phonetically, actually." Wishing Andre a speedy recovery so that he can do more gonzo bits that land him on this list.
2. Tooning Out the News Takes on the Final Debate
Thankfully, the final presidential debate wasn't as much of a shitshow as the first go round, but that didn't stop CBS All Access's animated late-night program Tooning Out the News from getting in an impressive amount of jokes in the seven-minute clip that aired on Friday, October 23. A first time entry to the list, Tooning Out the News is animated political satire television series executive produced by Stephen Colbert that combines interviews with real humans like Reverend Al Sharpton and, most recently, Peabody Award–winning journalist Jessica Yellin, with animated political anchors. The result is incisive yet absurd, and I have to say I'm honestly confused as to how they combine the animation and the interviews so seamlessly and quickly. Since the debate, the writers at Tooning Out (which include Vulture 2020 "Comedians You Should and Will Know" names Rajat Suresh and Jeremy Levick) wrote whip-smart jokes about the debate, an interview with a respected political journalist was conducted, animators and voice-over artists got to work, and it all coalesced in a digital short, which is pretty impressive stuff. All I've done in that time is sleep, shower, and get an iced coffee from Dunkin'. Sigh. It's not the hours in the day, it's how you use them.
1. Samantha Bee Interviews a Zoom Full of Election Losers on Full Frontal
Losing sucks. I know it. You know it. It is not fun, and it feels very bad even if it is something you don't care about, like a bet or a sporting event. Now imagine losing something you do care about — like, say, an election that you want to win, where people vote and you've spent a lot of money and time and energy to get them to vote for you. Now imagine you lost that election by a margin 0.06 percent, or by a single vote, or you actually tied opponent and then lost due to a card draw. That's what happened to the unlucky participants who assembled for Samantha Bee's "Panel of Losers" on Full Frontal this Wednesday, October 21.
"Welcome everyone! I've brought you all here because you have one thing in common: You are losers, technically. You're winners to me, and you also lost," said Bee, cutting to the chase. Hearing people speak candidly about their experience losing an election by less people than it takes to screw in a lightbulb was incredibly enlightening about (a) how flawed most voting systems are (I mean, a tiebreak via card draw? Come on!) and (b) how important it is that everyone (and I do mean everyone) votes. Tiffany Cabán, who was a candidate in the Democratic primary for district attorney of Queens and lost by just 55 votes, laid out just how big a difference a few votes can make. Speaking of her own race, Cabán said, "The consequences for a race like that is the difference between people being caged or not, the difference between criminalizing poverty and mental health, substance use." Can't think of a better reminder that despite our busted electoral college system, literally every vote counts. So please, pretend like it's 2004 and your favorite American Idol contestant is in the bottom three, make a voting plan, and cast that ballot. Save Tamyra Gray, save the nation.