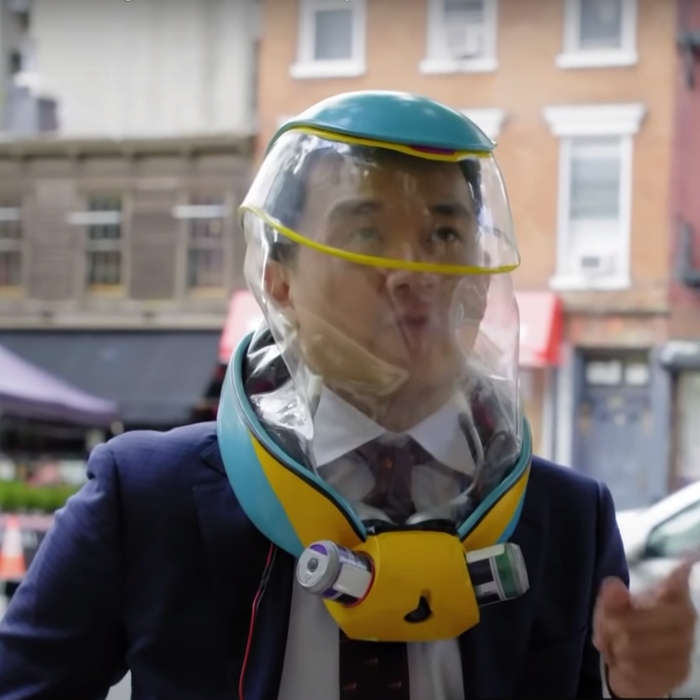 One man's trash is another man's breathable head condom.
Photo: YouTube
Trump has COVID-19. Sorry, typing that out felt so surreal that I'm going to do it again. Trump has COVID-19. If you wrote this plot twist into a novel, your editor would force you to take it out for being too pat, too on the nose. Now, whether or not you believe he has it is another question entirely, but according to the man himself, he has contracted the novel coronavirus. The wild thing about it is that he shared the news on Twitter at 1 a.m. on Friday, October 2 — well after all the Jimmys had finished taping their shows, so there was no mention of this truly earth-shattering news on late-night television this week. (To his credit, Trevor Noah did react to the news in a Daily Show clip released on Friday, saying, "I wanted to make a joke about how Dr. Fauci is probably at the White House right now, you know, prescribing Trump bleach injections and bottles of 'I Told You So, Dumbass.'") Instead, we got many, many jokes about Trump's taxes and what many pundits are calling the worst presidential debate in all of human history. So, while we round up the best late night had to offer this week, try and stay positive and remember that truly anything can happen.
5. Phoebe Brigers Knows the End Is Near on Late Night
But first, a song! On Tuesday, indie songbird Phoebe Bridgers stopped by Late Night With Seth Meyers and delivered an absolutely haunting version of her stunning album-closer "I Know The End." Bridgers began the performance bathed in red light while making her way through the basement of some haunted house, which revealed itself to be the basement of a theater. The song was filmed in one tracking shot, centering on Bridgers making her way through the halls, into an elevator, backstage, and ultimately onstage in an empty theater. It was gorgeous, eerie, and cacophonic all at the same time, and I've watched it no less than 37 times. As someone who recently got into Phoebe Bridgers by way of folkore (sad, but true), I implore the rest of you to do the same. She's the real deal.
Hillary Clinton Weighs In on the Debate on The Late Late Show
Personal politics aside, you must admit that former Secretary of State Hillary Rodham Clinton has a unique perspective on Donald Trump's presidential debate performance, seeing as she is the only other person on the planet who has faced him in a presidential debate. As such, it was interesting to see her postmortem of Tuesday night's certifiable shit show on The Late Late Show With James Corden. It's not that Clinton said anything that had not been said already, but her delivery came from a different place, the world-weary perspective of someone who is, frankly, watching history repeat itself. Her most revealing moment was when Corden asked if she ever wished that she too had told Trump to just shut up. "I think it is much more difficult, at least at this point in our political history, for a woman to say some of the things that I certainly thought." Damn. In the middle of the interview, I half expected Clinton to light a cigarette, take a puff, blow a few smoke rings, and then say, "Was I surprised? Honey, when you've lived the life I have, nothing surprises you anymore," before leaving to go make herself a stiff drink.
3. Stacey Abrams Breaks Down Voter Suppression on Watch What Happens Live!
Someone give the bookers at Watch What Happens Live! a raise. On Wednesday, a dream team of Stacey Abrams and Ilana Glazer Zoomed in with Andy Cohen to chat about all things Bravo, but also discuss the previous night's debate and the importance of voting. Abrams, who has personally experienced the harms of voter suppression, clearly and succinctly broke down exactly what voter suppression is and how to fight against it (don't panic, make a plan to vote, and try to vote as early as you can). She also shared that she doesn't drink, she plans to run for office again, and that she thinks the seventh season of Buffy the Vampire Slayer is the worst one. Like many other late-night programs, Watch What Happens Live! has become overtly political, but Cohen finds a way to mix in elements of fun, which can help the politics of it all go down easier. Cohen also seemed to indicate that he would like to moderate a presidential debate, which sounds absurd but may be crazy enough to make work. After moderating dozens and dozens of Housewives reunions, Cohen may be the only person that can handle shutting down Real Housewife of the White House, Donald Trump.
2. Stephen Colbert Tells It Like It Is in Live Monologue on The Late Show
Not everything can be fun and games. Sometimes we've got to take a cold, hard look at the mess we've found ourselves in. The Late Show With Stephen Colbert did just that with a live, 12-minute monologue that aired after the first presidential debate on Tuesday night. Colbert is no stranger to a live shows, having used the format throughout the DNC and RNC. However, this one felt different given the absolute train wreck we had just collectively witnessed, far more mind-boggling and shocking than anything that happened during either convention. As we all stood shell-shocked in the wreckage of our democracy, Colbert, passionate and intelligent, was the first late-night host to help sweep away the broken pieces and unveil whatever small morsels of humor lay underneath the heaping piles of trash. Whether it was the idea of Abraham Lincoln debating a leaf blower or trying to communicate with the great beyond to ask Herman Cain if anything bad ever happened at a Trump rally, Colbert wrung at least a few laughs out of a deeply unfunny moment in American history.
1. Ronny Chieng Runs Around in a Broken COVID Supersuit on The Daily Social Show
As previously mentioned, Trump has tested positive for the coronavirus. One must wonder, if the president had followed the recommended precautions — like, say, practicing social distancing, and I don't know, maybe not holding campaign rallies filled with thousands of people — would this even be happening right now? If only there were some sort of protective equipment or face shield or … what's the word I'm looking for … mask that Trump could have worn to prevent him from contracting the virus. Well, it's too bad he didn't watch comedian Ronny Chieng's segment on The Daily Show this week, because then he could have gotten himself a prototype of a "COVID Future Suit" (or, maybe not; he's in a hell of a lot of debt).
Chieng interviewed Miguel Risueño, a scientist and DJ (which is a totally normal combination of things to be), about his invention: an astronaut-helmet mask that has speakers, a microphone, and a lighting system. Risueño claimed that his astronaut helmet allows you to do all the things regular masks don't let you do, like go to music festivals, vape, and have sex. It's a mask tailor-made for Coachennials (millennials that go to Coachella, obviously). Chieng then hilariously ran around New York City wearing the COVID Future Suit looking like Sandy Cheeks, asking various citygoers if they would wear the absolutely ridiculous EDM-inspired astronaut helmet too. They basically all said no, which is the correct answer since the mask is not technically PPE and the filter hasn't been approved by any regulatory body, according to epidemiologist Saskia Popescu, who likened the COVID Future Suit to a child's Halloween costume. Basically, it's a breathable head condom and nothing more.
Obviously, the suit is garbage, but the crazy thing is that Trump would have probably been better off wearing the scientifically disproven Coachella-ready COVID Future Suit simply because, at the very least, it functions as a mask. But during the debate, he made fun of Joe Biden for wearing masks, and now, all of three days later, he's unable to travel or campaign 30 days out from the election because he had too much machismo to consider covering his mouth and nose. Meanwhile, Biden is COVID-free. That, my friends, is poetic justice.