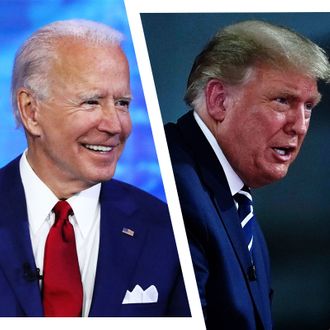 Photo-Illustration: Vulture, Getty Images and Shutterstock
A certain occupant of 1600 Pennsylvania Avenue won't like this: Joe Biden beat Donald Trump in the (ratings) battle of the Thursday night town halls. In fact, he beat him like a dog. According to Nielsen, ABC's 90-minute live event with Biden drew 15.1 million viewers from 8 to 9:30 p.m. Thursday, while NBC's one-hour sit-down with Trump (airing from 8–9 p.m.) averaged 10.9 million viewers on the NBC broadcast network. Trump's town hall was also simulcast on NBC-owned MSNBC (1.83 million) and CNBC (720,000), boosting its overall audience to 13.5 million — much closer, but still more than 1.5 million viewers behind Biden. Biden's lead was smaller in the 8–9 p.m. hour where the two men competed directly — 14.3 million vs. 13.5 million — but still sizable.
Some TV industry insiders had expected Trump would edge out Biden given Trump's super loyal fan base and because of the advantage of a multi-network simulcast, but it clearly didn't work out that way. So what happened? Leaving aside voter opinions of Trump and Biden — the former VP is easily leading national polls right now — Biden's ABC town hall had the benefit of a stronger lead-in, at least in much of the country. On most ABC-owned stations in the eastern and central time zones, the Biden town hall was preceded by the dynamic duo of Wheel of Fortune and Jeopardy!, which both regularly draw in the ballpark of 10 million viewers nightly. NBC's pre-primetime programming isn't anywhere near as strong. The Trump team's seeming insistence on doing a town hall on the same night and in the same time slot as Biden's already scheduled appearance also very likely boosted awareness of and interest in the ABC telecast.
The VP's most recent broadcast town hall on NBC last week drew just 6.7 million viewers. Last night's ABC town hall more than doubled that audience, and while ABC is a stronger platform right now, it seems reasonable to assume Biden's audience surge was the result of audiences wanting to check out the spectacle of competing events. Biden also benefited by doing an extra half-hour of TV last night: During the 9–9:30 p.m. half-hour when he had the airwaves to himself, his ABC town hall surged to 16.7 million viewers. Woof!