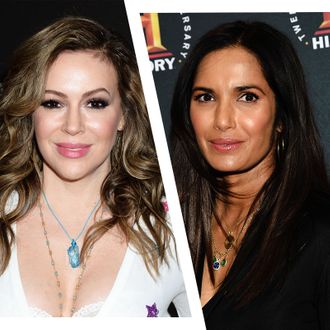 Photo-Illustration: Vulture and Shutterstock
As if you even need to get this news from an entertainment website like us, President Donald Trump has tested positive for COVID-19, he confirmed on Twitter. And speaking of Twitter, that site has been running full speed since the news — even before, when Bloomberg News reported a positive test for Hope Hicks, an aide whom Trump had been in contact with — with amateur punditry, jokes, and (the occasional) well-wishes. Like any big story this election, including news of Trump's tax returns and Tuesday night's presidential debate just this week, it's quickly become a social-media field day. Here, how celebrities have reacted to the news, starting with a quick analysis/warning from director Judd Apatow.
And we're sure similar thoughts ran through the minds of many.
Many people used the president's own downplaying of the virus, including comments that it was a "hoax," against him. (And if comedy icon Rob Reiner is doing it, well, why not?)
Comedians from Jimmy Kimmel to Whitney Cummings took the opportunity for jokes and jabs too — even if Padma Lakshmi had the best one.
It didn't take long for the comedic streams to get crossed.
Alyssa Milano, who had the virus earlier this year, took a more serious tone.
As did others, like Ava DuVernay and Patricia Arquette, hoping to drive home the political reality of the situation.
And against all odds, it even got Cardi B to finally promote her Blackpink feature. 2020 really continues to surprise us.