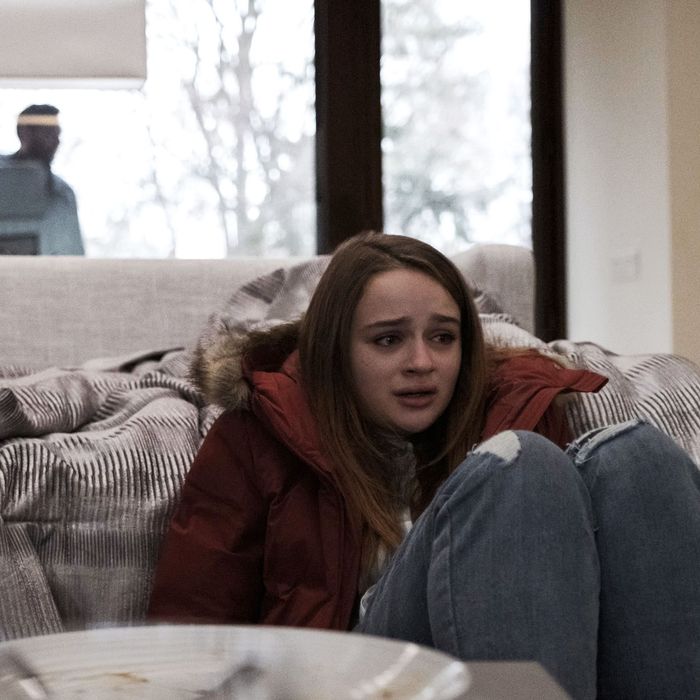 Jason Blum's horror studio is famous for keeping budgets low and top lines gimmicky, to the delight of loyal horror audiences who show up time and time again to legitimize Blumhouse's modest initial investment. Following in the long tradition of B-movie exploitation cinema, the studio's lower stakes enable more risks; if a movie can deliver the familiar jumps and twisted plot points, fans will forgive a lot of the experimentation. In fact, many of Blumhouse's blockbuster successes, like Paranormal Activity (2007) and Get Out (2017), are innovative in both form and content, uncompromising art movies lurking behind the mask of unpretentious genre schlock.
Blumhouse's new Amazon Prime anthology series, Welcome to the Blumhouse, doesn't exactly feature a tour de force like the previously mentioned two films. But it's a daring experiment nonetheless. Like the studio's Hulu series Into the Dark, Welcome to the Blumhouse features shortish (mostly 90 minute) films from young directors. The movies are released in pairs, like old drive-in double features, and all fit broadly in the horror-suspense genre, extremely suited for October releases. Even the least impressive of the movies take amusing risks, shoving genre concepts together at unusual angles or making odd stylistic choices in a pivotal moment. (Of the first four films in the series, notably zero are directed by white male filmmakers, the demographic that overwhelmingly dominates Hollywood.) The series is an exhilarating reminder that sometimes the best part of going to the movies (or, in our present case, going to the couch to stream a movie) is the thrill of not knowing what you're about to watch.
More Welcome to the Blumhouse films will be released in 2021, but until then, I've broken down the four movies released so far. Here is your guide to the new Blumhouse universe:
Evil Eye
Log Line
An Indian mother wants her daughter to find the perfect man — but when she does, he is uncannily familiar.
Notable Talent
Sarita Choudhury (Mississippi Masala, The Hunger Games: Mockingjay – Part 2), Sunita Mani (Save Yourselves!, GLOW), and Omar Maskati (Better Call Saul, Time After Time).
Our Review
You might think that a heartwarming intergenerational melodrama conflicts too starchily with a paranoid supernatural thriller. You might say, "That will never work!" And in the case of Elan and Rajeev Dassani's Evil Eye, you might be right. Compelling parent-child conflicts — like the sort you find in an early Ang Lee film — depend on both the point of view of the young and old being thoroughly represented, so neither seems too ridiculous, wrong, or wise. But in order for Evil Eye's plot to work, the controlling, matchmaking mother Usha (Sarita Choudhury) has to be right, which robs her daughter Pallavi (Sunita Mani) of the kind of character arc that might be otherwise fulfilling for an audience getting to know her. It doesn't help that Pallavi's boyfriend Sandeep — whom Usha comes to believe is possibly a reincarnated version of a man from her past — is underwritten, and that actor Omar Maskati seems to have little idea what to do with the raw part; whether he's a perfect fiancé or a spooky villain, he's got as much charisma as the film's bland soundtrack. Choudhury's expressive face, on the other hand, is a joy to watch even when she's just talking on the phone (as she is for an inordinate amount of the film's run time). And the movie's final message — about patriarchy and mother-daughter solidarity — brings a certain poetry to the story, one that's unfortunately lacking in the rest of the script.
Who Would Like This Film?
Fans of The Wedding Banquet who want more knife wounds; fans of Invisible Man who want more heartwarming mother-daughter dynamics; fans of Sunita Mani in general.
Black Box
Log Line
After an accident robs him of his wife and his memory, a man undergoes an experimental treatment which will restore him to himself — supposedly.
Notable Talent
The Phylicia Rashad, Mamoudou Athie (The Circle, The Get Down).
Our Review
Emmanuel Osei-Kuffour Jr.'s first full-length feature sounds like a less-ambitious riff on Memento, with memory loss providing an excuse and cover for plot trickery. Slowly, though, it becomes clear that while the movie certainly includes some major twists, Osei-Kuffour is more interested in characterization than puzzle-box storytelling. The lack of attention to narrative structure causes some problems; while it's fun to watch Phylicia Rashad play the mad-scientist role rarely allocated to Black women, the pulpy science-fiction elements and explanations are overly familiar and deployed with a lack of conviction. The movie would be better with half the explanation and twice the mystery. (Some of its sillier pseudoscience sits jarringly beside the movie's themes of domestic abuse.) These flaws seem minor, though, when you watch up-and-coming star Mamoudou Athie's quietly stunning performance as not one, but multiple people who misplace and find their identities, seamlessly shifting his demeanor from bewilderment to frustration to rage. Not exactly horror, not exactly melodrama, and not exactly art film, Black Box is a lyrical drama about mourning the self you've lost, and mourning the self you aren't able to lose.
Who Would Like This Film?
Fans of Angel Heart.
The Lie
Log Line
Divorced parents have to protect their child from the police after she tells them she pushed her friend from a bridge in a moment of spite.
Notable Talent
Joey King (The Kissing Booth, The Act), Peter Sarsgaard (Shattered Glass, The Killing), Mireille Enos (Big Love, The Killing).
Our Review
The Lie, first screened in 2018, is a conventional suspense thriller draped over an artsier, stylistically uncompromising drama. You can see the movie's final twist coming practically before the movie starts, and the characters — midlife-crisis-suffering, would-be-rocker dad Jay (Peter Sarsgaard), uptight lawyer mom Rebecca (Mireille Enos), needy teen Jay (pre-Emmy nomination Joey King), sexually precocious Brittany (Devery Jacobs) — are all predictably familiar. But plot and characters are mostly just there to give director Veena Sud an excuse to shoot icy winter exteriors and even icier interiors. A large segment of the film takes place in Rebecca's immaculate modernist home, inside which Sud creates a paralyzed tableaux of sharp angles, rigid bodies, and spaces emptier and colder than a vacuum. The relentless, aggressive formalism is reminiscent of Lodge Kerrigan and Amy Seimetz's work on The Girlfriend Experience television show. There, static compositions and stark surfaces symbolized the (supposed) emotional aridity of sex work. In The Lie, the isolation of the characters in the frame is about the distance of divorce, and love that dies gazing across a flat and polished floor. Every time a character giggles in the movie it feels like a stain on some looming silence. The film's visual power and conviction utterly overwhelms its slight narrative, for better and worse. The contrast between form and content almost feels like a lie in itself — as if Sud has made the entire movie to distract from some trauma she prefers to reveal only in blank, elusive glimpses.
Who Would Like This Film?
Fans of Black Mirror's "Crocodile"; fans of the first season of The Girlfriend Experience.
Nocturne
Log Line
Jules's twin, Vivian, outshines her in classical piano, until Jules discovers the occult-symbol-covered music-theory book of a brilliant student who just committed suicide.
Notable Talent
Sydney Sweeney (Euphoria), Madison Iseman (Jumanji: Welcome to the Jungle), Jacques Colimon (The Society).
Our Review
Nocturne is Zu Quirke's debut, but it doesn't feel like the work of a starting director. This story of sibling jealousy, thwarted artistic ambition, bitterness, and rage unfolds with a numb, poisoned inevitability. Ari Aster's movies are an obvious point of comparison, but in contrast to Hereditary, Quirke ratchets down the gothic imagery and focuses more on stripping her characters to the bone, so that dream visions and touches of horror are almost inextricable from sudden, startling turns toward interpersonal cruelty. Virtually everyone in the film is an open wound, but the handling of Jules by both Quirke and actor Sydney Sweeney is especially masterful. The character starts out as the quiet, good, retiring, dependable sister and only slowly reveals a genius not for music, but for ferreting out other's secrets and using them to cut people open. Whether she's corrupted by the demonic music-theory book and its disturbing illustrations, or whether it's simply a metaphor for who she was all along is nicely ambiguous, as is the question of which sister actually has the world-class talent. The real accomplishment of the film, though, is that Jules remains sympathetic, as much a victim of her mania for greatness as her sister. There are lots of movies about artistic ambition, but few that hollow out the pursuit of success with such merciless disdain. The movie's almost enough to make you give up art — if it weren't itself such a fine example of what young creators can do.
Who Would Like This Film?
Fans of The Perfection and Hereditary.