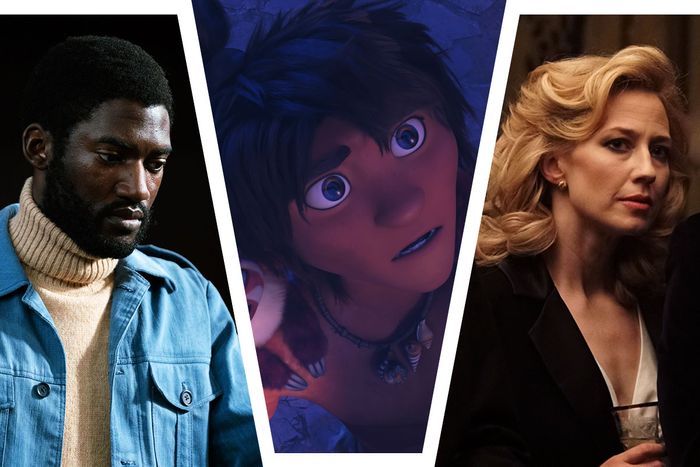 Left to Right:
Mangrove
,
The Croods: A New Age
, and
The Nest
Photo-Illustration: Vulture, Amazon Prime Video, Universal Pictures and IFC
There's never been a better year to stay home and binge-watch whatever media fills the void of missing your loved ones, or to rejoice in having an even better reason to skip on the festivities. Thankfully, ways to watch new movies safely at home are just a few clicks away, but if you are set on sitting in a dark room with a bunch of strangers in the middle of a pandemic to watch a movie on the big screen, we've got you covered, too. And for those who've got the patience to wait it out for Ammonite or Freaky to hit video on demand next week, or for Mank and Ma Rainey's Black Bottom to arrive on Netflix next month, we've got plenty of things for you to watch until then. No matter how big or small your festivities will be, you've got plenty of choices for something good to watch while the pie settles in your stomach — No, Hillbilly Elegy is not on this list.
Movies
(In
Actual
Theaters
or
On
Demand)
The Nest (HBO Max)
It's like if Monster House was a manor in the hillside, and it took a more psychological approach. Carrie Coon and Jude Law play married couple Allison and Rory, who decide to move to their family from upstate New York to the English countryside. Then, everything begins to fall apart.
The Croods: A New Age
The Crood family returns in search of a forever home. As cavepeople not particularly interested in that nomadic lifestyle, they find a sort of paradise with the folks who call themselves the Bettermans. Better-man, coming in loud and clear. The Croods then find themselves stuck between a rock and a hard place, and the Bettermans have definitely figured out how to make tools out of things much better than rocks. They must balance progress with being true to themselves, and why not see Nicholas Cage voice the caveman patriarch?
Sound of Metal (Amazon Prime)
A grunge punk Riz Ahmed, playing a drummer in a metal band? Absolutely. Much more than that though, Sound of Metal tells the story of Ruben, a metal musician who slowly begins to lose his hearing, and the fallout that happens after he's gone completely deaf. The film is a culmination of music, identity, love, and self reflection, and a definite tear-jerker.
The Climb
The Climb examines the tumultuous friendship between two men, Mike and Kyle, as they work through what it means to be grown men, and friends. Director Michael Angelo Covino layers comedy and drama to explore masculinity in what reads as a male-focused Frances Ha or Walking and Talking.
Happiest Season (Hulu)
Hulu's latest original starring Kristen Stewart and Mackenzie Davis may feel familiar to some right now, as it follows a lesbian couple as they navigate the holidays with less than approving family. With appearances by Daniel Levy, Aubrey Plaza, Alison Brie, and director Clea DuVall, a balance of familial tension and comedic relief is guaranteed. Cheers to the making the yuletide gay.
Dolly Parton's Christmas on the Square (Netflix)
Dolly Parton is an angel, literally, in her new Netflix film Christmas on the Square. Produced by Parton, she also composed all of the songs for this musical film, her mind. Starring Christine Baranski as the woman ringing in the bah humbug, Parton swoops in as an angel ready to save a town from its complete shutdown.
Mangrove (Amazon Prime)
Mangrove is the first in the Small Axe anthology series, directed by Steve McQueen, and follows a restaurant owner as he defies colonialist ideals and creates a community that organizes against racism. Once Mangrove is targeted by the police for its role in the community, the focus shifts to the Mangrove Nine, who fight to defend it. Through Small Axe, McQueen gives life to the Black British experience in the '60s, '70s and '80s, with four more features incoming.
Run (Hulu)
Sarah Paulson on any given day: "If I'm not playing someone criminally insane, I don't want the role." Enter horror mystery Run, what Hulu says is now their most streamed original film release. Paulson, who recently starred in Netflix's Ratched, as the big bad nurse herself, takes on home care in Run, tending to her sickly daughter (or is she?) in this horror thriller.
I Am Greta (Hulu)
As the title suggests, Hulu's documentary I Am Greta, follows the work of Greta Thunberg, the Swedish 17-year-old who's now one of the biggest names in the fight against climate change. Named Time's 2019 Person of the Year, Thunberg's environmental work has made waves and taken her all over the world to speak in front of those who can make a difference.
Borat Subsequent Moviefilm (Amazon Prime)
If you want to get straight to the argument-inducing political chitchat this holiday, Borat Subsequent Moviefilm is bound to start some riveting conversations. Sacha Baron Cohen returns as Borat, in the mockumentary that tackles COVID-19 and the full gamut of Trump politics in 2020.
Emma. (HBO Max)
If Queen's Gambit got you searching for more Anya Taylor-Joy content, then look no further than Autumn de Wilde's take on Jane Austen's Emma. Starring Taylor-Joy as the wide-eyed antiheroine, few things bring more comfort than a well done period piece. For fans of The Crown, Joshua O'Connor plays the intolerable Mr. Elton. For another Austen classic, watch Pride and Prejudice (2005) on Netflix and make it a marathon.
Carol (Netflix)
If you're waiting for Ammonite to reach VOD next week, kick off Christmas movie season a little early with Carol, starring Rooney Mara and Cate Blanchett as forbidden (of COURSE) lesbian lovers during yuletide.
Ratatouille (Disney Plus)
It's a rat in France with chef aspirations, what more do you need to know. He may not cook a turkey but the food cooking sequences in one of Pixar's best are plenty of inspiration for your own cooking dreams. Anyone can cook! Even you, no matter how daunting that stuffing seems.
You've Got Mail (HBO Max)
"This is a credit card machine, happy Thanksgiving." Nora Ephron was in her rom-com bag with You've Got Mail (1998), and way ahead on the "meeting your lover online" way of dating now. It's got Tom Hanks, Meg Ryan, the city of New York in the fall, and plenty of chance encounters.
For Your Consideration (Amazon Prime)
Written by Eugene Levy and Christopher Guest, For Your Consideration follows actors who've caught the Oscar bug while making their film Home for Purim, which in anticipation of Oscar nominations, gets renamed Home for Thanksgiving. Starring Catherine O'Hara, with appearances from Jane Lynch, Sandra Oh, Frank Willard and Jennifer Coolidge, it's a meta-film with mega star power.
The Great British Baking Show (Netflix)
You've still got time to catch up on all of the delectable bakes from this season's The Great British Bake Off Show before the finale arrives on Netflix this Friday. Cue visions of patisserie, an airy tent in the England countryside and Paul Hollywood's piercing blue eyes.
National Dog Show (NBC)
The show must go on! The National Dog Show that is, following the virtual Macy's Thanksgiving Day Parade at 12 p.m. ET. With 70 percent fewer dogs, but much more stricter COVID guidelines, we'll still be able to see who is "Best in Show."
Gossip Girl Thanksgiving Episodes (Netflix)
Gossip Girl here. You think your family is bad? Wait until you hear all about the conniving, selfish and downright bitchy things that go down at Blair Waldorf and Serena van der Woodsen's Thanksgivings in these five episodes. (S1E9, S2E11, S3E11, S4E10, S6E8)
Season Six of Schitt's Creek (Netflix)
If you've been sleeping under a rock all of quarantine and haven't taken the dive into Schitt's Creek, now's your chance. Full of warm fuzzy feelings, the Levy's created something that has tangible charm and can appease the entire family. For those opting to stay home this Thanksgiving, let the Levy's bring you into their family, centered around acceptance, love, and Moira's wigs. It's a quick watch, but there's no problem with just starting the series over if you want to spend more time in Schitt's Creek.
"Pangs," Buffy The Vampire Slayer (Hulu)
Willow Rosenberg said it 20 years ago, "It's a sham, it's all about death." Watch Buffy & the gang grapple with colonialism and indigenous suffering, while trying to have the perfect Thanksgiving. Xander gets cursed with syphilis, Spike is tied to a chair, Buffy says "yam sham," all good fun.
"The Mom and Pop Store," Seinfeld (Hulu)
If you want to reminisce on a bustling New York and a non-virtual Macy's Thanksgiving Parade, soak up 20 minutes of camaraderie and inflatable floats. It's also the quintessential Seinfeld episode, with Jon Voight, Jerry's sneaker collection, and Kramer inevitable making things worse for those around him.
The Undoing (HBO Max)
Wig? Wig. Buckle up for the wild ride that is Nicole Kidman's most recent psychological thriller miniseries, and to see one of her best hair moments yet. From the creator of Big Sky and Big Little Lies, Kidman plays Grace Fraser, a high-profile psychologist whose life begins to unravel following a murder. This one will have you saying, "What? Who? How?"
New Girl Thanksgiving Episodes (Netflix)
Shenanigans put on by a bunch of 30-year-olds living in L.A. are guaranteed in each of these New Girl Thanksgiving episodes. Will Zoey Deschanel quirk her way out of this interpersonal problem? She always does. (S1E6, S2E8, S3E10, S4E9, S6E7)