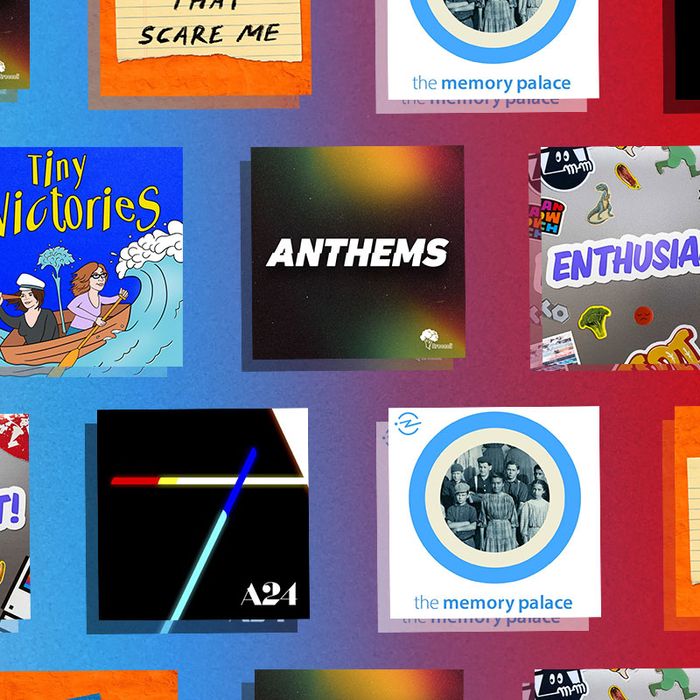 Photo-Illustration: Vulture
The first pick in today's issue is a collection of love letters to little, specific things that people can be passionate about. Me, I'm a big fan of gas station coffee. Can't really articulate why, but coffee from Valero truck stops always gets me.
Anyway, tell me about the podcasts you're enjoying. Find me on Twitter or reach me over email: nicholas.quah@vulture.com.
Enthusiast!
My brain is so burnt out from the insanity of the past week — month? year? decade? — that a simple declaration of quiet enthusiasm seems to be a revelation to my ears.
That's precisely what you get from Enthusiast!, a delightful bite-size podcast dedicated to recording various people talking about things they're personally, truly passionate about. There are about five episodes available so far, and they run an eclectic gamut: apples, concert halls, airplanes, fish sauce, and astrology. These are the little things, essentially, that happen to be prominent enough in someone's lived experience to warrant their sincere attention and study over a sustained period of time.
Episodes of Enthusiast! are short and sweet, typically clocking in at around five minutes. That's all you need, really. No reason to overstay the welcome, nor delve too deep into the weeds. Just something short, quippy, and to the point about why someone loves something in the way that they do. The speakers tend to be gentle and pleasant in their passion; which is to say, they're not militant about it, nor do they pretend to make it seem bigger than it is.
In a way, this is revealing. There seems to be a tendency among some kinds of media (generally speaking) — and certainly within podcasting — to try to universalize everything. "This might be a story about apples, but it's really a story about America," or something like that. Which, you know, is totally cool if you can actually see that conceit through, but not everything has to be about everything. Sometimes, things can be as simple as someone feeling good about a thing that brings them joy, comfort, peace. It can be hard to remember that.
The A24 Podcast
The A24 Podcast is thoroughly confusing.
On paper, it looks like yet another entry in a peculiar little category we can maybe call "Elevated Branded Content." Netflix is a fairly prominent figure in this subgenre, particularly as far as podcasts are concerned (the video-streaming service has been building something of a tiny empire within this lane). For some time now, they've been publishing podcasts like Strong Black Lead, You Can't Make This Up, and Netflix is a Daily Joke — all of which are pretty worthwhile listening experiences by themselves, even as they fundamentally remain pieces of brand marketing meant to keep Netflix's video-subscription product at the top of your mind.
The A24 Podcast is significantly weirder than that. It doesn't seem to abide by any formal publishing schedule, having published only three episodes in 2020, seemingly dropping new entries at random. And it has a conceit that's either high-wire brilliant or just plain lazy: The premise, basically, is to bring notable film or television people together in provocative pairings, give them a mic, let them go. Seeing as how A24 is a celebrated studio known for stuff like Uncut Gems, Moonlight, and Hereditary, we're talking about a seriously interesting roster to be drawn from. Past episodes have paired Barry Jenkins with Greta Gerwig, Ethan Hawke with Alia Shawkat, and Rian Johnson with Claire Denis. (There are also more straightforwardly crowd-pleasing match-ups, like reuniting Michael Cera with Jonah Hill and a Succession smashup of Nicholas Braun with Nicholas Britell.)
The resulting conversations don't always yield consistently engaging listening experiences — the freeform nature typically leads to some form of sprawl and ramble, which occasionally leads to some self-indulgence — but they're always at least some form of compelling, feeding that part of the brain that wonders what it's like when really talented people of the same cloth come together to talk shop. And sometimes, when the unexpectedness of the pairing clicks, it really clicks.
Look no further than the most recent installment, which paired Nathan Fielder with Alexa Demie. Fielder is the creator and star of the cathartically bizarre Nathan For You. Demie played the riveting Maddy Perez in Euphoria. Both are fans of each other's work. An awkward, fascinating, and pretty heart-warming conversation ensues.
Meanwhile…
Writing about Enthusiast! got me all excited about short podcasts. Here's a few more to roll into your feed:
• With each episode clocking in at around fifteen minutes, Tiny Victories is a new podcast dedicated to celebrating the minor accomplishments in life that can fill your cup. It's hosted by the author Annabelle Gurwitch and comedian Laura House, and after a big ol' week of gargantuan democratic action, this makes for a nice change of scale.
• An oldie but a goodie: don't forget The Memory Palace, which continues to pump out gorgeous little gems from the past.
• Simple idea, well executed: Anthems describes itself as a "collection of original manifestos, speeches, stories, poems, and rallying cries written and voiced by exceptional people." In practice, it's fist-pumping great.
• Finally, and this is almost an inverse of Enthusiast!, WNYC Studios' 10 Things That Scare Me is one of my favorite ideas for a podcast in a long while.
And that's a wrap for 1.5x Speed! Hope you enjoyed it. We're back next week, but in the meantime: Send podcast recommendations, feedback, or just say hello at nicholas.quah@vulture.com.