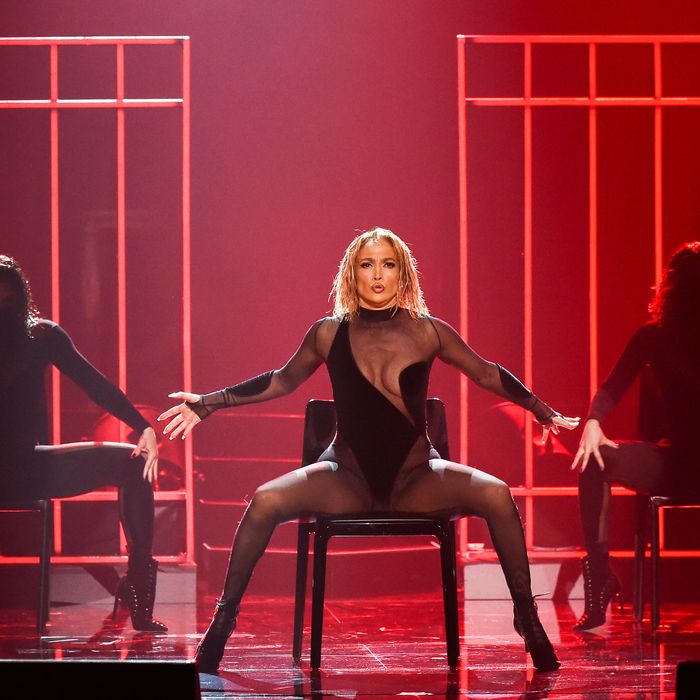 Jennifer Lopez, always a high of whatever stage she graces.
Photo: ABC/ABC via Getty Images
The American Music Awards can't promise the drama of the VMAs or the specificity of a show like the CMAs, so the awards usually amount to a dry run of the Grammys show, which takes place a little over two months after. This year, the show's experimental nature was apparent not only in the performances, but in the format itself. The AMAs took place live, in-person, and indoors, even as the state of the COVID-19 pandemic rapidly worsens. All things considered, the AMAs weren't as shocking as the CMAs — there were more masks; there was less touching. (But still, the performances were decidedly not socially distanced — clearly no one took notes during Lady Gaga's VMAs set.) Yet despite the big live performances, they couldn't quite make the case that these things need to keep happening in-person right now. Read on for our highs, lows, and mehs of last night's American Music Awards.
Low: This thing is actually happening!
COVID-19 cases continue to rise and we're poised for an even bigger spike after Thanksgiving travel and gatherings, which makes it a perfectly tone-deaf time to hold yet another in-person awards show. For the AMAs' part, they didn't pack as much of an audience (more on that below) or have droves of celebrities test positive and cancel beforehand (also more on that below), but still, we've seen some great virtual awards shows. And you mean to tell us these artists were willing to risk it for these knockoff Grammys?
Meh: Justin Bieber's opening performance was a whole moody emotional roller coaster.
We went from the brooding of "Lonely" to the relentless positivity of "Holy" in five minutes flat. The choreography felt washed up, and what says self-reflection more literally than a stage full of mirrors, anyway? "Monster" with Shawn Mendes was a tiny bit of redemption, if only because, somehow, all the emotions feel a bit more believable from him.
High: No one was more excited to be there than Taraji P. Henson.
Did you see that? That's called commitment. Fresh off her appearance in Megan Thee Stallion's "Body" video, Henson decided to learn some more choreography while she was at it and opened the show with a little "WAP" dance. The celebrity cardboard cutouts bit in her opening monologue was cute too — and almost convinced me, for a split second, that Beyoncé actually left her house in a pandemic for anything less than an Album of the Year Grammy.
Low: Is that an audience?
The floor may have been empty, but Henson explained that select fans got to watch the show from the balcony, masked, sitting with their families and quarantine pods, only after testing negative. But at that point, is it all even worth the work?
Meh: Katy Perry dueting with … Darius Rucker?
We usually don't get this odd of a coupling until the Grammys, but 2020 has been a weird year, right? Their voices didn't quite mesh, even if this stripped-down ballad showcased Perry in a way we hadn't heard a bit (and was a better song choice than Rucker's CMAs duet, a low bar to clear).
Meh: The Weeknd really is riding this bit all the way to the Super Bowl, isn't he?
Like you didn't expect to watch Abel accept an award in a full face bandage, at this point. It didn't quite make sense given the (seemingly not live) performance that followed (featuring fireworks and Kenny G, just because), but why should it? Expect him to be in a complete body cast by his Super Bowl halftime show.
High: Megan Thee Stallion giving us pure spectacle during "Body."
And we're not just talking about that knee workout! As if Megan's Good News rollout couldn't have been more glorious, she came to the AMAs stage with the looks, choreography, and production value we've been missing over the past eight months. When this is all over, you can find us first in line for the arena tour.
High: Billie Eilish, a … burst of joy?
"Therefore I Am" is the most fun Billie Eilish song in a while, which makes it perfect for a low-stakes awards show like the AMAs. Eilish is just infectious as she performs the song, and on point as always.
Low: 2020, stop trying to make Nelly happen!
First he coasts to the finals of Dancing With the Stars, now we have to see him on the AMAs stage too? Here's a reminder that this man has faced multiple allegations of sexual assault — plus, that Country Grammar medley was nothing special, either.
High: J.Lo and Maluma are hot as ever doing "Pa' Ti" and "Lonely"
We'd call this a whoa, but who are we kidding — you already knew how hot they were.
High: Dua Lipa levitating during "Levitating."
Regardless of how many more remixes of the song she has up her sleeve, Lipa's solo version remains the genuine article — just an unimpeachable bop. Watching her actually levitate at the end felt both bound to happen and like a fitting cherry on top of her great performance.
High: Bell Biv Devoe brought it!
Sure, they couldn't hit all the moves in 2020, but after watching Bell Biv Devoe perform "Poison" and "Do Me!" you'll be asking yourself, Wait, how many years has it been since those songs came out? (The answer, since you dared to ask: 30!)
Meh: A requisite Dan + Shay awards show appearance.
The country-pop duo has gotten to make quite the rounds this season thanks to their stale Justin Bieber collab "10,000 Hours." Also thanks to that song, they became one of the night's top winners (along with Bieber, the Weeknd, and Taylor Swift). They performed new hit "I Should Probably Go to Bed" at the show, which is nearly guaranteed to put you to sleep.
High: 24kGoldn and iann dior are pretty fun!
If you weren't sold on current chart-topper "Mood," this should do the trick. The Gen-Z stars gave a performance that was both totally casual and 100 percent in it and made the case that their bouncy pop-rap linkup is one of the better hits of this year.
High: Lil Baby continues his message-forward streak with "Emotionally Scarred."
After Lil Baby's "The Bigger Picture" became a breakout from the summer's Black Lives Matter protests, he focused on mental health on the AMAs stage. "Emotionally Scarred" doesn't quite rise to the level of "The Bigger Picture" (especially with all those skipped lines on national television), but it's still poignant, especially with the staged therapy session during this performance.
Meh: Doja Cat with Bebe Rexha is the definitively who-y AMAs performance.
Sorry, but someone had to say it!
High: Machine Gun Kelly's pop-punk pivot can't (and shouldn't) be stopped.
His red-carpet debut with girlfriend Megan Fox may not have risen to the whoa it could've been (and neither did her rushed introduction of his performance), but Machine Gun Kelly plus pop-punk nostalgia remains a winning formula, even if we have heard this exact medley before.
High: Taylor Swift accepting Artist of the Year from her old studio.
An American Music Award means as much as a People's Choice Award or a VMA — which is to say, not much at all — but Swift's (inevitable) win in the top category still felt special, especially after last week's news that Scooter Braun sold her masters. (Remember, her medley last year was at the center of her ongoing feud with the music mogul.) Watching her accept the award from her old studio and confirm she was re-recording her music, on top of it all? A true chef's kiss moment.
Low: BTS performed "Life Goes On," and made us grateful that it does.
"Life Goes On" is the biggest snooze of a BTS single in recent memory, and the boys sold it like so when they closed the AMAs. At least they saved the day with "Dynamite," an actual life-affirming anthem without even trying to be one.
Low: Bad Bunny catching the coronavirus and missing the awards.
The AMAs glossed over Bad Bunny's scheduled performance with Jhay Cortez, but the day after the awards, we learned it didn't take place because Benito tested positive for COVID-19. (Even while he was absent, he still took home an award, for Favorite Album — Latin.) Luckily, the reggaeton star isn't showing symptoms and already gave us another iconic performance at last week's Latin Grammys.