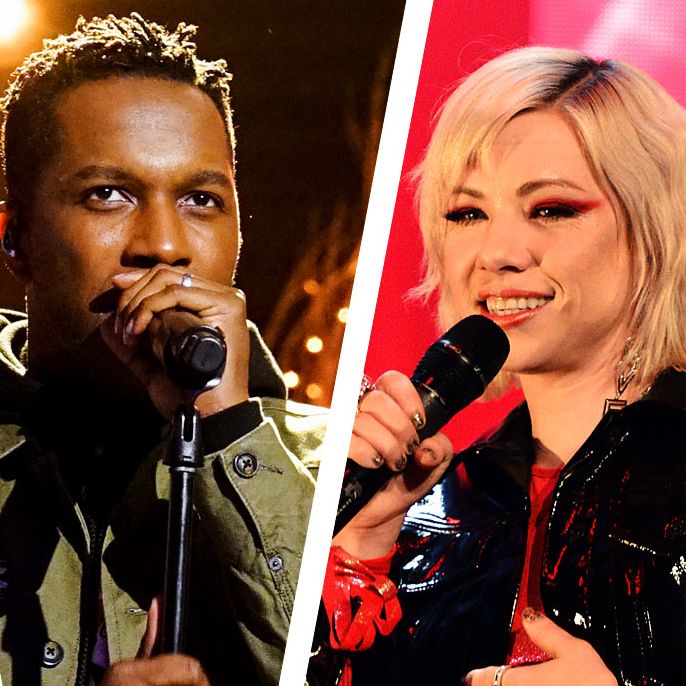 Business as usual over here.
Photo-Illustration: Vulture, Virginia Sherwood/NBCU Photo Bank/NBCUniversal via Getty Images via Getty Images, Scott Angelheart/NBC/NBCU Photo Bank via Getty Images and Michael Tullberg/Getty Images
2020 is lawless. The election has turned into a circus. Deadly hornets are multiplying. Horny-on-main levels are apocalyptic. People are blowing vape smoke into brand-new Xboxes. The rules that used to govern mankind seem bent and broken. As such, let's talk about Christmas. New holiday music has been piling up since October. It's as if everyone gave up on the prospect of a pleasant autumn all at once and started fantasizing about drinking and exchanging presents. Let's take an early peek at this year's haul.
Dolly Parton, A Holly Dolly Christmas
This month, as country-music lifer Dolly Parton prepares to premiere the holiday film Christmas on the Square, her second such foray after 2016's adorable made-for-TV special Dolly Parton's Christmas of Many Colors: Circle of Love — a must-see biopic with latent Chick-tract energy in which Parton plays a lovable, street-smart sex worker mentoring her younger self, or something … — she releases A Holly Dolly Christmas, her first album of seasonal selections since 1990's Home for Christmas. This batch of classics and originals is fun and festive, although the guest list is something of a grab bag. Willie Nelson and Parton's goddaughter, Miley Cyrus, shine alongside her, but appearances from Michael Bublé and Jimmy Fallon don't quite cut it. It's a minor quibble; a little Dolly makes everything better.
Calexico, Seasonal Shift
Tucson, Arizona, indie-rock band Calexico started as a splinter group of the veteran alt-country collective Giant Sand and, since the '90s, has explored contrasts and complements bridging southwestern roots music and the music of Mexico, fearlessly mixing aspects of folk-rock, funk, Tejano music, and whatever else is around, coming away with a sound that's both reverent to its influences and also delightfully hard to pin down. This December's Seasonal Shift is a calming meditation on the overarching holiday season and the yearning for comfort and companionship we all feel at the end of the year. Outside of covers of Tom Petty's "Christmas All Over Again," John Lennon and Yoko Ono's "Happy Xmas (War Is Over)," and the Venezuelan standard "El Burrito Sabanero," the new album mostly deals in lush, gorgeous big-band compositions looking in on people bracing themselves for the cold months, a prescient mood as the chill of an uncertain winter closes in.
Chilly Gonzales, A Very Chilly Christmas
The Bird and the Bee, Put Up the Lights
Canadian pianist and composer Chilly Gonzales has appeared on records with Daft Punk and Drake, all the while producing an unpredictable stream of projects for himself spotlighting his interests in solo piano compositions, orchestral hip-hop, indie pop, jazz, classical music, and covers of pop songs. A Very Chilly Christmas is his first holiday album, and an intimate collection of elegant piano renditions of classics like "Silver Bells" and "Good King Wenceslas," surprisingly sinister takes on "Jingle Bells" and "Auld Lang Syne," and offbeat song picks like the English carol "In the Bleak Midwinter" and the German Advent tune "Maria durch ein Dornwald ging" ("Maria walks amid the thorns"). Frequent collaborators Feist and Jarvis Cocker guest on two songs apiece, most delightfully on the joyous duet "Snow Is Falling in Manhattan." If you're looking for something that's just as stately but not as sparse, check indie-pop duo the Bird and the Bee's Put Up the Lights. Vocalist Inara George and veteran producer Greg Kurstin bounce from upbeat piano pop to electronic cocktail jazz, serving peppy originals in "You and I at Christmas Time" and "Merry Merry" and corralling Dave Grohl (who tapped Kurstin to produce the last Foo Fighters album) to play on "Little Drummer Boy."
Meghan Trainor, A Very Trainor Christmas
Leslie Odom Jr., The Christmas Album
Meghan Trainor is talented and almost unnervingly wholesome, the kind of performer who ought to make a killing on the gratuitous holiday-album circuit. Overachiever that she is, Trainor fills this year's A Very Trainor Christmas, her first Christmas album, with several original compositions, including the bubbly "My Kind of Present" and "Holidays," a collaboration with Earth, Wind & Fire that chases the legends' "Let's Groove" the same way "Uptown Funk" and "Blurred Lines" revisited '70s funk. Otherwise, it's a family affair; Trainor's brothers aid with writing and production, her father plays piano on "Have Yourself a Merry Little Christmas," and her cousins sing on "Rudolph the Red-Nosed Reindeer." At 18 songs, though, it's a little much. It's better to skip around than to slog through filler like the Seth MacFarlane duet. Contrasting this focus on family is Hamilton star Leslie Odom Jr.'s bluntly titled The Christmas Album, which covers a lot of ground in ten short songs. There are chipper originals ("Snow"), a charming duet with Cynthia Erivo (on Sara Bareilles's "Winter Song"), a Hanukkah song ("Ma'oz Tzur," featuring Odom's wife, actress Nicolette Robinson), and a guest spot from South Africa's Mzansi Youth Choir (on "Little Drummer Boy"). Odom's voice shines in every setting, especially on the triumphant "O Holy Night," although, like Trainor, it's all very … quaint.
For King & Country, A Drummer Boy Christmas
For King & Country is sort of like a late-period Coldplay for contemporary Christian music. Australian brothers Luke and Joel Smallbone make squeaky-clean, faith-based mainstream folk-pop for people who feel Imagine Dragons is a touch too edgy. A Drummer Boy Christmas, the duo's first holiday studio album, successfully reimagines beloved Christmas carols as windswept pop, adding to the drama with a handful of austere spoken-word interludes. It's a little too serious, but it's also frequently, gobstoppingly pretty.
Happiest Season OST
Make the yuletide extra-gay this season with the soundtrack for Hulu's forthcoming Happiest Season, a queer winter romance directed by Clea DuVall and starring Kristen Stewart, Mackenzie Davis, Dan Levy, and others. The soundtrack, overseen by singer-songwriter and producer Justin Tranter, spotlights LGBTQ artists across the genre spectrum: Country singer Brandy Clark contributes the lilting pop tune "Only Time of the Year"; indie-pop sister act Tegan and Sara pitch in the New Wave love song "Make You Mine This Season"; Sia (and Greg Kurstin) sends the bustling "Candy Cane Lane," a holdover from her 2017 album, Everyday Is Christmas; Bebe Rexha duets with powerhouse soul singer Shea Diamond on the rousing "Blame It on Christmas"; and Diamond steals the show again with "Mrs. Claus." Happiest Season's music is an unexpected treat. Hopefully, the accompanying film manages more of the same.
Mandy Moore, 'How Could This Be Christmas?' / 'It's the Most Wonderful Time of the Year'
Chrissy Metz, 'I'll Be Home for Christmas'
Amid the time-traveling melodrama of the latest This Is Us season, stars Mandy Moore and Chrissy Metz have both released holiday singles. Metz serves note-perfect vocals and snowy elegance in "I'll Be Home for Christmas." Moore's aching new original "How Could This Be Christmas?," a song about missing a loved one at the holidays, is one you can imagine her singing as Rebecca Pearson. After those lonesome blues, there's an upbeat, hopeful take on "It's the Most Wonderful Time of the Year."
Jonas Brothers, 'I Need You Christmas'
Carly Rae Jepsen, 'It's Not Christmas Till Somebody Cries'
Pop acts Carly Rae Jepsen and the Jonas Brothers close out the year with fresh Christmas jams after coming off of their respective tours in February and staging fun digital gatherings for fans in quarantine. Jepsen's "It's Not Christmas Till Somebody Cries" celebrates the chaos of year-end family gatherings and the crystalline synth-pop sound of the singer's best jams; the JoBros' "I Need You Christmas" exchanges the airtight funk-pop of recent hits like "Sucker" and "XV" for strings, pianos, and Old Hollywood splendor.
Florida Georgia Line, 'Lit This Year'
Dan + Shay, 'Take Me Home for Christmas'
After reuniting with Nelly for "Lil Bit," a sequel to their 2012 collaboration "Cruise," pop-country hitmakers Florida Georgia Line resume their push toward a more traditional sound with "Lit This Year," an ode to getting toasty with family at Christmastime on sips from flasks and "homemade mistletoe," while their Nashville peers Dan + Shay sing sweetly on "Take Me Home for Christmas," a new song about the joys of catching up with old friends at the end of every year.
Kelly Clarkson and Brett Eldredge, 'Under the Mistletoe'
Gwen Stefani, 'Sleigh Ride' / 'Here This Christmas'
Fans of The Voice can catch competing coaches Kelly Clarkson and Gwen Stefani on new holiday songs this year, as Clarkson joins country star Brett Eldredge for "Under the Mistletoe," and Stefani's somehow selling another deluxe edition of the deluxe edition of her 2017 album, You Make It Feel Like Christmas, adding a rendition of "Sleigh Ride" and another track, "Here This Christmas," co-written by Ryan Tedder. The Stefani release is a bit of a cold cash-in, although "Here This Christmas" restores a bit of the old "Sweet Escape" feeling. It's a joy whenever Clarkson sings, and Eldredge holds the low end down in style.