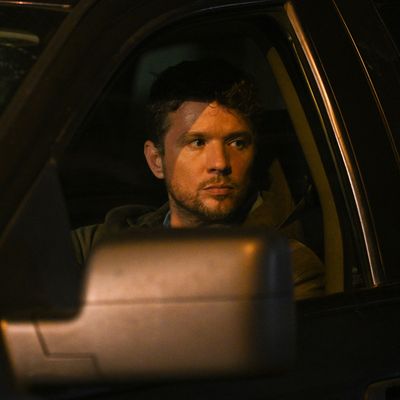 Ryan Phillippe, looking appropriately suspicious in
Big Sky
.
Photo: Courtesy of ABC
It's hard to tell whether the pilot episode of Big Sky is trying to evoke memories of Twin Peaks or doing it entirely by accident. But the initial similarities between this new ABC mystery, created by David E. Kelley and based on the Cassie Dewell novels by C.J. Box, and the groundbreaking David Lynch–Mark Frost series that the network aired in the early '90s are hard to miss.
Big Sky, set in Helena, Montana, as opposed to a fictional town in Washington, opens with a scene at the Dirty Spoon Diner, a local pie-and-coffee joint that calls to mind the Double R Diner that Agent Cooper and Audrey Horne used to frequent. A couple of teenage girls go missing in the pilot, an echo of Laura Palmer, who is considered missing in Twin Peaks until her dead body is discovered. It becomes apparent immediately that everyone in this large ensemble of characters harbors secrets. Before the first episode is over, someone even winds up [extreme Pete Martell voice] wrapped in plastic.
But while certain details overlap, Big Sky differs from Twin Peaks in some fundamental ways, the biggest one being its mood and tone. Where Peaks brimmed over with so much experimental, odd, Lynchian atmosphere that it was hard to believe it ever got on television at all, Big Sky feels very much like a broadcast-network offering. It's glossy, plot-driven, and (at least in the first two episodes made available to critics out of ten total) not wildly daring in its execution. Compared to Kelley's more recent high-profile television offerings — like Big Little Lies and The Undoing, both on HBO — Big Sky seems less sophisticated and less nuanced.
That said, there is a high likelihood that viewers will get hooked on this drama, thanks especially to the first episode's shocker of an ending, which sparks an immediate desire to watch the second. (Sorry, kids, this is ABC and you have to wait a week between installments.) With a show that contains so many ongoing puzzles and questions about the motives of its characters, it's harder than usual to gauge how good it is based on only two episodes.
What is clear is that Big Sky tries to establish a heck of a lot of background in the opening moments of its first episode, which airs Tuesday night. In the first ten minutes, more than ten characters are introduced, making it challenging to fully settle in and feel invested in a narrative that, at first, is a bit all over the place. As connections are established between various figures in this version of Montana — including private detective Cody Hoyt (Ryan Phillippe), his partner and lover, Cassie Dewell (Kylie Bunbury, star of the unfortunately cancelled Pitch), Cody's ex-wife, former cop Jenny Hoyt (Katheryn Winnick of Vikings), state trooper Rick Legarski (John Carroll Lynch), and lonely trucker Ronald Pergman (Brian Geraghty of Boardwalk Empire) — it becomes clearer why the canvas is as large as it is.
The most compelling sequences in the first episode follow two sisters, Danielle and Grace Sullivan, played respectively by Natalie Alyn Lind (The Goldbergs) and Jade Pettyjohn (Little Fires Everywhere), who travel from Colorado to Montana, Lizzo blaring from their stereo, so Danielle can visit her boyfriend, who happens to be the son of Cody and Jenny. The young women get into a confrontation with an aggressive driver during their journey and go missing, sparking Cody, Cass, and Jenny to investigate, aware that other women in the area have disappeared in recent months as well.
As written by Kelley and directed by Paul McGuigan (Push), all of this is certainly watchable — albeit a bit dark in its depictions of female victimization. The love triangle between Cody, Cass, and Jenny feels played out before we can even begin to care about it. Other aspects of the series are just plain head-scratching, especially references to the fact that Montana, presumably like the rest of the country, is grappling with a pandemic. Aside from a couple of mentions in the dialogue, there is no evidence anywhere else in the first two episodes of Big Sky that a widespread virus is affecting Americans. No one wears masks. The Sullivan sisters travel with seemingly no concern. While the show itself was shot under coronavirus protocols that no doubt had an impact on everyone making it, it is unclear why or how COVID-19 — assuming that's the pandemic being referred to here — plays into the already large scope of this narrative.
Despite all these issues, Big Sky throws just enough storytelling curveballs to pique interest and entice viewers to come back for the next installment. But if the series doesn't start to cohere after a couple more episodes, some may be inclined to move on and simply leave this mystery unsolved.