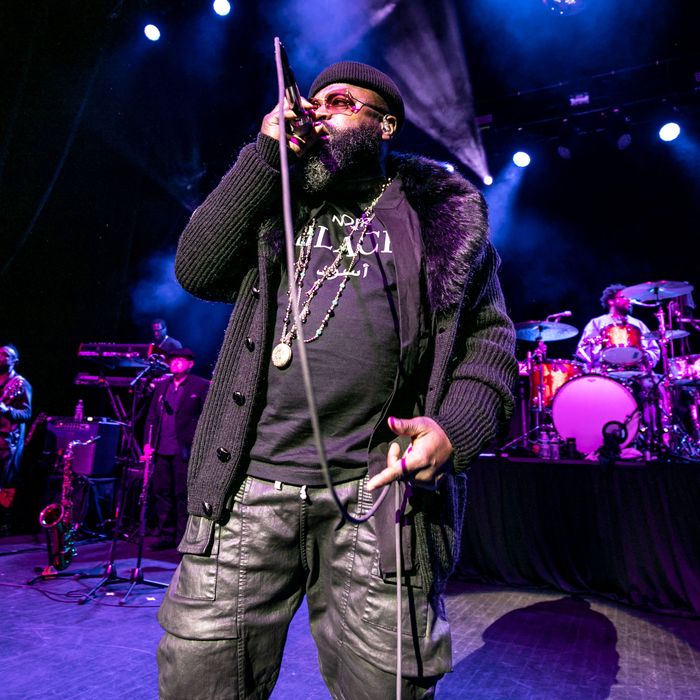 "I've always gotten that I'm 'your favorite rapper's favorite rapper.'"
Photo: Brandon Nagy/Shutterstock
Black Thought's Streams of Thought, Vol. 3: Cane & Able was supposed to drop back in July but fell victim to a delay, like much of anything going on this year, after the death of the Roots co-founder Malik B. that same month, in order to observe his memory. The next installment of the Roots front man's Streams of Thought solo series — started in 2018 as a way of pairing the Philly rap leader with a single producer for a single EP — finally arrived on October 16. The 13-track LP, this time produced by Sean C, former Loud Records and SRC Records A&R and Grammy-nominated producer (American Gangster, Capital Punishment), sounds designed for 2020. "I'm Not Crazy (First Contact)" tackles police brutality and political gaslighting; the video for "Thought vs Everybody" depicts imagery from recent protests. But the subject matter is owed to strong intuition, not recent headlines: In reality, he began recording the third EP in early 2019.
Black Thought, born Tariq Trotter and now regarded as "your favorite rapper's favorite rapper," has always possessed a keen sense for what's coming and a masterful way of reading the room, translating moods and harsh truths into visceral storytelling. "The idea with Streams of Thought has always been: What happens when one producer and I are left in the room to our own devices, and what comes from that meeting of the minds?" says Black Thought over the phone from New Jersey. "I don't want to say [the content] is a coincidence. The sad truth is just that the same shit has been going on. I've always gone into my music with the intention of speaking truth to power."
With guest appearances from Swizz Beatz, Pusha T, Killer Mike, and more, Black Thought views this as the project with "the most mainstream appeal," yet it equally presents the famed 49-year-old MC artistically in a way that his old fans have long been familiar with through his work with the Roots since the early '90s and that his new fans discovered via that instant-iconic 2017 Funkmaster Flex freestyle. Black Thought recently talked to Vulture about how Sean C's production was a perfect fit for the third installment, rolling with 2020's punches, creative writing, and some of the most iconic Roots album artwork.
Biggest difference between Streams of Thought, Vol. 3 and Vols. 1 and 2
This project has the most mainstream appeal. Songs like "Good Morning" and "Nature of the Beast," as well as "State Prisoner," are songs that I can hear on the radio or that I can hear being licensed for campaigns and stuff like that. This is also the longest Streams of Thought [at 34 minutes] that we're releasing to date — Vol. 1 and Vol. 2 were [17] minutes and [23] minutes, so they're relatively short — and I feel like we cover the most ground.
Strongest quality of Sean C's production
The thing I've always appreciated about Sean C's production is that it's efficient. He is the producer that creates in a way that allows space for the vocals and for the vocalist to be heard and understood; I never feel like there's a struggle between the musicality and the vocals. Some producers who are dope grew up being super-influenced by hip-hop, and they watched a lot of music videos, and they had some equipment [that] they became proficient [at] and then they may or may not have become excellent producers. But Sean C lived and breathed this hip-hop shit in a [different] way. He's from a time, place, and headspace that evolved as hip-hop did, so we're cut from the same cloth. He's even more so cut from that cloth because he's from New York, and his production partner, LV, created music for years. They're from Harlem and the Bronx and were there for [hip-hop's birth and growth] as it took place in real time. That's the sort of thing that you can't manufacture — it's in them. Another thing that appeals to me is the fact that he understands both sides of the coin, having been an A&R.
Most meaningful compliment you've received as a rapper
I've always gotten that I'm "your favorite rapper's favorite rapper." Depending on who it's coming from, it holds more weight, and it's more of a feeling of having accomplished what I intended to do in the beginning of my career or what I've been doing all this time. One of the most memorable compliments that I've ever received was within the last year. It was around this time in 2019, when Rakim was a guest on The Wendy Williams Show. He was promoting a book that he had come out with, and she said to him, "You're the God MC. You're many people's top one. So who's your favorite MC?" I'm not sure how she worded the question exactly, but she asked who he listened to, and he said he listened to me. I dropped the mic, like, "Fuck all y'all haters — my work is done here! Mission accomplished!" I was moved by that compliment.
Top five Roots album covers, ranked
The top five Roots album covers were all on [1999's] Things Fall Apart. These are all images that were taken quite some time ago, [but] they speak to what has been going on in this country and in this world for a long time, and will continue to do so for years to come. The most iconic image is the civil-rights-era one with a Black woman running in terror down the street and a Black man running not far behind her, looking over his shoulder at police. Some cops are more visible, some are in the shadows, but there are dozens of police behind them and they are running in terror, and one of the policemen, the one that you can see most clearly with his nightstick in his hand, almost seemed to be laughing. Out of these five album covers, it was one of the more limited options that we went with as the standard album artwork.
Then there's the one with the little girl crying. She's in tears, but the focus is on one tear falling down her cheek. This child speaks to the culture — our culture, world culture — and the almost irreversible damage that has been inflicted upon us. There's something in her eyes. There's something about this child's image that is representative of people everywhere, and I feel like what I get from looking into her eyes and at the tear that she's shedding is: Lord, forgive them — they know not what they do.
There's the post-atomic-bomb image of the baby, with everything destroyed as far as the eye can see, sitting by what looks to be train tracks covered in soot. The smoke has yet to settle, and this child is the sole survivor. This child represents all our hope isn't lost.
Then there's the image of the church that's being burned out, and you see firemen inside of the church trying to put the fire out. It speaks to what has taken place for a long time in religion and [serves as] another powerful social and political sort of commentary.
Lastly, there's the one with the dead man. He's lying in a pool of blood in a suit and cufflinks. His sleeves are covered in blood. But what's at the forefront of the image is that his hand still holds a playing card, and on that playing card is an ace of spades. [It represents] someone who seemingly had it all figured out, the whole winner-takes-all mentality. This person was probably a gangster. This is a boss who met his end while playing with a full deck. He's dead, lying on the ground in a pool of blood and still holding that ace up his sleeve.
Those five album covers from Things Fall Apart are as iconic as it gets with our music.
Most valuable method for creative writing
The best way to approach writing anything — whatever you're gonna write — when it comes to the process is you have to invest as much of yourself and your personal story as you can, because that's what's going to make it relatable. This is something that I've come to learn over time — and I've always known it — but earlier in my career, I was just a really good faker. It may have something to do with my ability as an actor, but I've been able to sell a story like "Silent Treatment" or "You Got Me," or stories where I got to flex my narrative muscle in the Roots, and I make it feel so personal, like it's about someone or something that really took place in my life. There are stories created from the ether, but over time, I've come to realize that even those stories pale in comparison to the real shit that really happened in your life. Transparency and vulnerability resonate with folks in a different way; people feel like they're able to identify with a different part of you. Those more personal stories are the stories that folks are going to remember you forever for. So as a writer, you can't be guarded.
Moment from 2020 you'll actually want to remember
This year, for me, on many levels, has been back-to-back-to-back worst-case scenarios, [but] one experience that really put me in a headspace of possibility and hope was being able to execute [the annual] Roots Picnic festival. It was scheduled to take place in June, and this year was without a doubt going to be our biggest and best one thus far. It was possibly going to be one of our last physical performances at the festival as the Roots; we've done it for many years, and this may have been our swan song as performers in the festival. We were really looking forward to it. Having to cancel the festival … it hurt for all parties involved. But then we were able to flip it and link up with Michelle Obama's camp and When We All Vote and change it into a [digital] voting initiative for young people. It served as a template for how you could still freak something in these times. This is the new normal for now, and we have to carry on and figure out how to roll with the punches. The show must go on; the Roots Picnic must go on. I'm honored to have been able to serve in that way and to motivate the people. At the end of the day, it made folks feel good, or inspired, or creative, or urgent, or whatever. And that's our currency, especially in 2020: the way you make people feel.
Album title that most accurately sums up this year
Definitely Things Fall Apart. But that book title has already been taken, so if not Things Fall Apart, then maybe Dystopia or something to that effect, because that's where we are with it.
This interview has been edited and condensed for clarity.