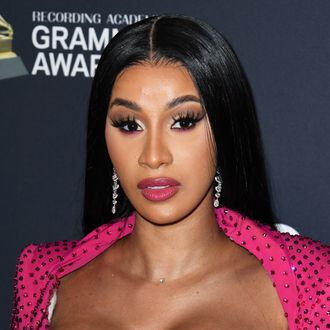 Cardi B.
Photo: Jon Kopaloff/Getty Images
Like Doja Cat and Selena Gomez before her, Cardi B has been called out for appropriating Hindu culture, this time in a new magazine cover featuring her Reebok Club C Collection. The sneakers themselves don't drop until November 13, but fans across the world are taking issue with images created for the cover of Footwear News magazine depicting Cardi B as the Hindu goddess Durga. The deity, who represents war and strength, traditionally holds weapons in her eight arms, but Cardi B is shown holding a Club C shoe. Shoes are not allowed in Hindu temples, one of several disrespectful details Hindu fans pointed out. Following complaints, the rapper removed the images from her social-media pages and responded in a video on November 11. "When I did the Reebok shoot, the creatives were telling me that I was going to represent a goddess that represents strength, femininity, and liberation, and that's something that I love and that I'm all about and I thought that it was dope, but if people think I'm offending their culture or their religion, I want to say I'm sorry," she said. "That was not my intent. I do not like disrespecting nobody's religion."
"I wasn't trying to be disrespectful," she continued. "Maybe I should've done my research. And I'm sorry I can't change the past but I'm gonna do more research for the future."
Correction: This post has been updated to reflect that the photo was shot for a magazine cover not for an ad campaign as previously reported.