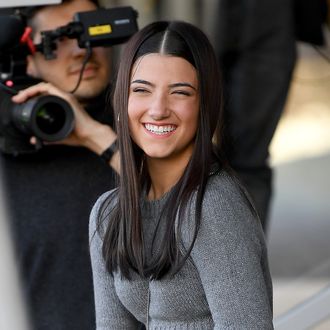 Charli D'Amelio apparently.
Photo: WireImage
Pop Crave has broken a crucial piece of national news yet again. According to the celebrity-culture account, on November 22, social-media megastar Charli D'Amelio became the first person to gain 100 million followers on TikTok. The 16-year-old influencer came perilously close to not reaching this milestone over the past week, when her and sister Dixie's behavior in a D'Amelio Family YouTube video posted November 16 lost her over a million TikTok followers. But what is a king to a god, and what is 1 million fewer followers to a Hype House member? On Saturday, November 21, D'Amelio bounced back to 99 million, and today she reached this record-setting milestone. We wonder what her thank-you TikTok will be. Happy 100 D'Amillion.
Update, November 23: On November 21, after she hit 100 million TikTok followers, D'Amelio finally woke up and reacted to the news in a ten-minute Instagram Live. In the video, she says, "I don't even know how to react, mostly because this doesn't feel real." She says, "I just want to let you know, if COVID wasn't a thing, I'd have, like, a 100 million person meet and greet right now. But that's not possible." Throughout the IG Live, D'Amelio teases a "surprise" that she can't spoil.
D'Amelio then posted to TikTok to reveal the surprise, which is that to commemorate her reaching 100,000 followers, TikTok will donate $100,000 to American Dance Movement, "an organization that is committed to increasing and improving the access to dance education in the United States." On December 1, ten different dance schools will receive $10,000 each. Good for them!