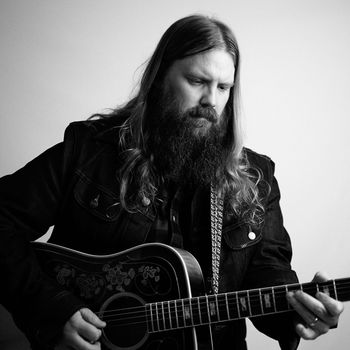 Ahead of his and his wife Morgane's mesmerizing performance at the 2020 CMAs, and ahead of his new album's release, we spoke to Stapleton about its creation and the country music "image."
Photo: Becky Fluke
In a decade, Kentucky singer-songwriter Chris Stapleton rose from renown as a writer for country stars like Kenny Chesney and Tim McGraw and the leader of his bluegrass band the SteelDrivers to platinum sales and critical acclaim thanks to his exquisite, accomplished 2015 debut solo album, Traveller. A collection of aching songs about love, loss, and blowing off stress with whiskey and weed, it was anchored by Stapleton's stellar vocals and guitar playing, a killer band of session players, including his wife, Morgane, and stately, unfussed production the singer worked on with storied Nashville engineer Dave Cobb. Traveller's perfect blend of traditional country grace and dynamic blues-rock was a hit with country fans weary of the genre's dalliances with pop and rap music; it even turned the ear of listeners who wouldn't necessarily identify as country fans. Stapleton followed with the brisk, vital two-part From a Room series, named for Nashville's venerable RCA Studio A, and toured arenas extensively alongside country and Americana stars, including Marty Stuart, Anderson East, and Margo Price. Stapleton's three-year All-American Road Show would've carried on into this fall if not for the American touring circuit screeching to a halt in spring.
This week, Chris Stapleton releases his fourth solo album, Starting Over. It's every bit the tour de force his breakthrough album was — pained, gutting moments like "Cold" and "Maggie's Song"; hard-rocking jams like "Arkansas" and "Devil Always Made Me Think Twice"; and upbeat, reflective tunes like "Joy of My Life" and the title track. Aiding Stapleton and his gifted backing band this time are Mike Campbell and Benmont Tench, the famed guitarist and keyboardist of Tom Petty and the Heartbreakers. Elegant writing and delicate musicianship combine in an album ranking among the year's best. I spoke to Chris Stapleton on the phone last week ahead of his and Morgane's mesmerizing performance at Wednesday night's 2020 CMAs, and ahead of the album's release, about its creation and the country music "image."
What made you seek out two of the Heartbreakers for this project?
They're probably my favorite band of all time, number one. Number two, I kind of have a history of doing that a little bit, [recording with my] heroes. I had Mickey Raphael on quite a few of our records; he plays in Willie Nelson's band. [I played with] Robby Turner, who played with Waylon Jennings late in his career. I like to draw that bridge a little bit musically, and if it means I can coerce some heroes into participating in music with me … why wouldn't you do that if you could?
We celebrate Tom Petty as a folk-rock artist taking after Bob Dylan and the Byrds, but I don't know if he gets enough credit as a master Americana artist. I also feel this way about Fleetwood Mac. Do people kinda miss the forest for the trees being sticklers about genre classifications?
Tom Petty and Heartbreakers — and Tom, particularly as a songwriter and as an entity — are kind of their own genre. "What kind of music is it?" "It's Tom Petty and Heartbreakers music." You could say it was rock. You could say it was folk. You could say it was Americana. I could say there's country influences. It is its own thing to me. I think that's the ultimate compliment to them and their music, that they have their own thing. Fleetwood Mac kind of have the same type of thing. A lot of really iconic bands and artists are that way. I think while they may have to be put into a category at a record store or, you know, finding a classification on digital media, ultimately a lot of those kinds of bands and people are their own category.
Is that something you want for yourself?
Of course. That's something that anybody would want as an artist, but I don't consciously think about that. I don't think about making music for awards or any other reason than trying to do something that I would like, or that I think is listenable or proper. I'm fine if I fall into one category more than another, and I'm not unaware that I jump around a little more than some people think I should, but music is music. There's two kinds of music: good music and bad music. I try to lean into the good as much as I can. We're all figuring it out. If you accidentally do something that's not so happening but felt like it was in the moment, that's just trying to find it. That's continuing the journey. That's attempting to be an artist. I don't even like to call myself an artist because I feel like that's for someone else to do. Artist is a word I feel is pretty holy. I'm an entertainer. If somebody else thinks I'm an artist, that's the highest compliment.
When you released Traveller in 2015, there were a lot of people who saw you as this torchbearer for traditional country music. Was that exhausting?
Oh, no, not at all. If part of what I do is send people looking at more traditional elements of country music, I think that's a good thing, not that anything progressive or new is necessarily bad. I'm not someone who picks some kind of standard and says, "Yeah, this is good, and this sucks." If I don't like something musically, generally, I just think it's not meant for me. There's a lot in the world that's popular that people find enjoyment and that I might not and vice versa. It doesn't annoy me if somebody thinks that I like country music, because I do.
Fair. It was wild to me that while all that traditional country talk was happening you also had a pop-country hit on a Thomas Rhett album.
I don't feel boxed in, and I don't feel in any way held back by anybody at any time, but … I look a certain way. I look how I look. I wear the shit I wear, and it puts an image and an idea in people's heads, I think, sometimes. But, I also play things that are probably extremely contrary to whatever people think I am sometimes. If something's interesting to me musically, whether as a writer or as an artist, we're going to hop in there and see what happens. That's the beauty of music.
Do you ever miss the Nashville songwriting grind, pitching songs to other artists?
Well, I never really pitched my own songs to anybody. I was the worst self-promoter on the planet, and it probably held me back. A lot of the guys and ladies in the songwriting business are very good at, for lack of a better term, the hustle. I was never a hustler. I would write my songs, go home, send them to a publisher, and they would find their way … or not. I might've pitched a song to maybe two people in my entire career. There were always much better salesmen than me.
Is there anyone that you're secretly dying to write for right now?
My wife's been listening to a lot of H.E.R. Man, what a cool artist she is. It would be fun to get into some R&B things. I think she's a brilliant artist all the way around, as a player and singer. She's phenomenal.
Your new song "Hillbilly Blood" reminds me of the song "Ghosts of Mississippi" you sang with your old band the SteelDrivers in the way it ties together history and geography. Were you touching on coming up in Kentucky in that one?
That song is kind of a fictitious story. I liked Steve Earle a lot for the storytelling elements of some of his music. There's a song called "Copperhead Road" that tells the story of this backwoods hillbilly running moonshine. If anything, "Hillbilly Blood' is a tip of the hat to songs like that and artists like Steve Earle, storytellers. Certainly there's imagery in "Hillbilly Blood" — "the choppers in the air," we had the VA helicopters in East Kentucky where I grew up. You could hear them searching on the regular. So there's some real stuff in there.
The song "Watch You Burn" addressing the Route 91 shooter is going to spark conversation. Am I wrong to think that that incident has been kind of a tipping point as far as mainstream country stars being able to speak about politics in a way that they maybe didn't do so openly before?
Well, I don't know that ["Watch You Burn"] is political as much as it is reactionary. That's a very direct song about good and evil shit, to me. It's kind of like, "What the hell, man?" I see it as a feeling and an expression of anger at the existence of senseless tragedy. I hope, I hope we did the scenario justice. I struggled with putting that song on the record because of the question you just asked. I didn't want it to be viewed as political. I wanted it to be viewed or heard maybe as therapeutic.
To be fair, I wouldn't characterize the song as political. "Watch You Burn" is more of an emotional response than a political one. I was just thinking about the change in the way that country stars have spoken up about complicated social-justice issues in the last three years. It feels like there's a directness that hasn't always been there. When you're writing a song, are you trying to share a feeling, or do you write to figure out how you feel?
It depends on the scenario. There's a lot on this record that I'm finding out, as I'm starting to talk about it a bit, was very reactionary and in the moment. On previous records, there was songwriting that probably took place in a working songwriter vacuum, that sat around for a number of years and found a purpose when it was time to make a record. On this record, "Maggie's Song" is about my dog dying. That's probably one of the most personal things. Maggie was a family member of ours, so much so that in the moment, I felt like she deserved a song. I wrote that song in a therapeutic kind of way as a tribute, not necessarily trying to write for a record. Slowly, it stuck with me. I started playing it live a little bit. Then I said, "Let's try to record it." That's a very real day out of my life in that song.
"When I'm With You" started the day I turned 40. The first line is, "I'm 40 years old, and it looks like the end of the rainbow ain't no pot of gold." Age is just an arbitrary number in some ways. The day before you turn 40 is really no different than the day you're 40, but somehow that number gets into your head. And I think it got in my head that day, and I started trying to be Merle Haggard. I was being reflective. That song took a minute to write. I had different versions of it which is not something that I do very often, taking that much time. It was probably a year before I fully got happy with that song. But it came round. That song, for me, is what I like to hear out of country music.
You caught a little flack from places like Fox News in the fall for saying "Black lives matter." I see people yell at Jason Isbell over politics on Twitter every week. Is it difficult sometimes having people in your audience who don't like when you speak out?
People are going to think what they're going to think. Everybody has the right to an opinion. That's what America is, what it's supposed to be. Do I agree with everybody? No. Does everybody have to agree with me? No. Is it hurtful when somebody says something hurtful about you? Sure. Do I have to take it to heart? No. The people that know me, and a lot of people who are fans, understand that I am for love and kindness and goodness, and I am for helping people. That's what I stand for. If you don't stand for those things, that's okay. You have that right in this country and in the world in general. I think that's important. That's all I can really say about that.
You covered two songs by the late Guy Clark on the new album, and you didn't stick to the early stuff everyone loves. I respected that. Do you worry — in a year where we've lost John Prine, Billy Joe Shaver, Justin Townes Earle, and others — that we're losing wisdom when people cross over?
I think we lose wisdom when we lose anyone, not just famous people. I lost wisdom when I lost my dad. I lost wisdom when I lost my grandparents. You lose wisdom when you lose your aunts and uncles and your friends. You're going to have questions that you would've asked those people, and you're going to have things you wish you would've heard from those people. With musicians, it's saddening for those of us who loved all their music because you wonder what else was there. Like, "Man, we're not going to get anymore music." The cool thing with musicians is that a lot of their wisdom and humor and life is recorded. I don't have that with my dad, or my aunts and my uncles, or my grandparents. I don't have recordings of them pondering the world. But we get that with musicians. So in the coolest way, while it's tragic that we lose some of these folks, musicians get to live on.
Who are your favorite songwriters?
Willie Nelson and Tom Petty.
Favorite singers?
My favorite singer of all time is Aretha Franklin.
I kind of suspected you would say that, given the soulful quality to your singing.
I would never in a million years attach myself or compare myself to Aretha Franklin, just because she, to me, is the greatest vocalist I've ever heard. It almost makes me cry to think about her.
Favorite whiskey?
It's probably E.H. Taylor, Colonel E.H. Taylor Jr. It's in the Buffalo Trace family. It's kind of small, but it's delicious.
Making a mental note. Favorite bud strain?
I'm not picky, whatever's around.
Here's one I think about a lot. Why, at the end of your first solo album, did you go with a live take for "Sometimes I Cry"?
Most records that we play, or the way that we record records, is essentially live. That track happened at the record release party. We had press there, and we had stations where they could listen to the whole record. At the end we pulled out and said, "Oh, by the way, we're going to record the last song right now." That's what we did. The applause at the end was from the record release party. They thought they were listening to the whole record, but they were going to actually be there for the recording of the last song.
I've never heard of an artist finishing the album at the release party.
Well, I hadn't either. And so maybe that was the reason we tried it. It could have gone horribly wrong. It didn't. That song, for me as a singer, was about a level ten in difficulty, as far as sticking the landing goes. It was a beautiful moment.
Are you optimistic about 2021?
I cannot imagine some of the things that people have had to endure this year. [But] we have to remain optimistic. I'm optimistic about 2021. I'm not going hungry. I've haven't had any tragedies in my personal circle, my personal life, so I'm optimistic. And I'm optimistic that less people will have [tragedies] in 2021 than they did in 2020. That's what I'm hopeful for.
This interview has been edited and condensed for clarity.