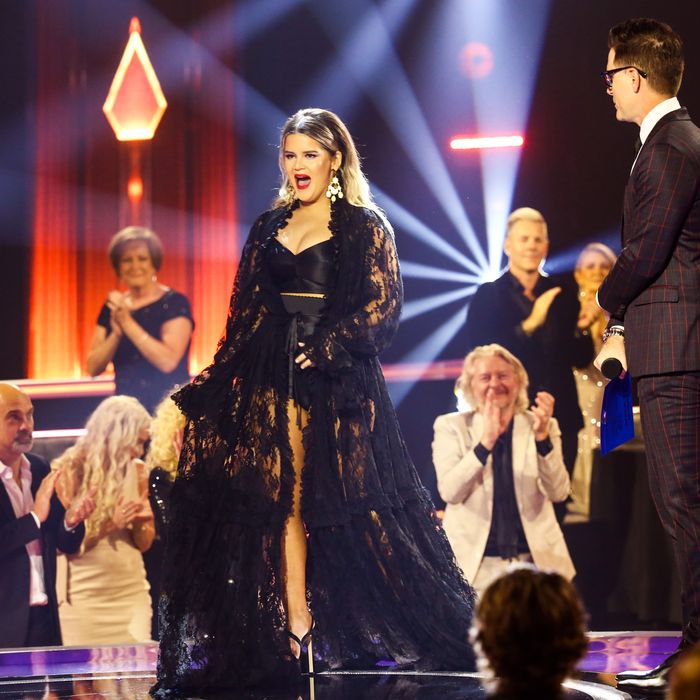 A rare high: Maren Morris.
Photo: Terry Wyatt/Getty Images for CMA
With the COVID-19 pandemic throwing off event schedules right and left this year, we saw a run of three country awards in just over two months: the Academy of Country Music Awards in September, the Country Music Television Awards in October, and the Country Music Association Awards last night. Maybe they've blurred together in your mind, but they had their major differences — most notably, the CMAs chose to take place in-person, indoors at Nashville's Music City Center in the middle of the pandemic. But don't mistake that for a full return to awards-show normalcy. Sure, the CMAs had its share of shocks and disappointments, among them a continued trend of abysmal recognition for Black people and women by the country Establishment. But the CMAs' in-person setup also gave us new causes for confusion and anger, from performers pulling out at the last minute after positive tests to largely flouted social-distancing guidelines. Needless to say, the ceremony had its highs, lows, and ohs. Read them below.
LOW: All that "drama" ahead of the show.
First it was planning an in-person, indoor ceremony. Then it was asking stars in a genre built by Black people, on the verge of a progressive moment, to make the awards "a no-drama zone" in the wake of Donald Trump's defeat in the presidential election. Then we circled back to the pandemic with performers like Lee Brice and Florida Georgia Line's Tyler Hubbard pulling out with positive tests just days before the show. (The list grew even right before the broadcast to include Rascal Flatts, Lady A, and Jenee Fleenor.) And on top of it all, the whole Associated Press shirked the ceremony after the CMA wouldn't allow it to take screenshots of audience members as part of its coverage. Talk about starting off on the wrong foot.
… OH: The opening tribute to Charlie Daniels.
Sure, Daniels, who died earlier this year, made an impact on country and southern rock. He also took a real rightward turn (or just became more vocal) in the latter half of his career and went out criticizing the summer's Black Lives Matter protests. Giving him a tribute is one thing; making that tribute a four-song opening number is another — especially after you've asked the guests to shun politics for the night.
HIGH: Ashley McBryde owning "Texas" in the Daniels tribute.
That said, let's hear it for Ashley freakin' McBryde! The reigning New Artist of the Year performed twice last night, including Daniels's lesser-known "Texas" during the tribute. (Later, she did her own song, "One Night Standards.") She brought an infectious attitude to the song, got everyone dancing, and straight-up owned the room. She was a highlight of the CMTs a few weeks ago, too, so here's to seeing a whole lot more of her.
LOW: All the social-distancing theater.
For all the CMA's promises of personal protective equipment and social distancing, very little of it was apparent at the actual ceremony. By our estimate, there seemed to be around 100 guests at four-person tables and booths, but they only had to wear masks when they weren't there, in the place where they did most of their breathing. On top of that, Reba and Rucker joked about staying six feet apart when they really didn't seem to be, nominees from different tables hugged and high-fived when they won, and the positive tests rolled in up until the night of the event. As much as people tried to joke about it, nothing felt like a laughing matter with cases rising in Nashville and across the country — and with other country ceremonies proving that you could still make a distanced show entertaining. Instead, every time the cameras panned out to that audience, it was a stark reminder of how relatively little had changed for the privileged people in this industry and across the country.
… OH: Charlie Puth is here?
One of our two requisite pop-star appearances came from Puth, duetting his sleeper hit "I Hope" with former American Idol finalist Gabby Barrett. (An additional … oh: Gabby Barrett was on American Idol?) That quarantine hair is sure a look!
LOW: And the CMA for New Artist of the Year goes to … the one white dude!
When it came down to it, Nashville was still gonna Nashville. New Artist of the Year was a worthily stacked category, with women representing a majority of the slots for the first time since 2007 and with the only Black nominee of the entire year, smooth-voiced pop-country singer Jimmie Allen. But what's the point when you're just going to give it to the one white guy anyway? That's how it felt watching Morgan Wallen win the award over any of the other nominees — especially after that SNL mess, too!
… OH: Justin Bieber performing a prerecorded "10,000 Hours" with Dan + Shay.
At least the man had the sense to skip that superspreader event.
HIGH: Luke Combs killing "Cold as You."
Luke Combs has really come into his own as one of country's brightest stars in the past few years, and if you're still not convinced, a round of his beer-soaked breakup song "Cold As You" should do it. Not only did he go on to defend his Male Vocalist of the Year title, he nabbed an additionally deserved Album of the Year award for his mighty, no-frills sophomore effort What You See Is What You Get.
HIGH: Paying tribute to Joe Diffie.
Joe Diffie was one of the genre's many losses to the COVID-19 pandemic this year. The show itself may have tried to forget the pandemic, but at least the CMA had Jon Pardi recognize Diffie with a cover of his hit "Pickup Man."
… OH: Did Charles Kelley perform live after COVID exposure?
Poor Carly Pearce. Her original "I Hope You're Happy Now" duet partner, Lee Brice, was one of the first to bow out of the show due to a positive COVID-19 test; then, the day of the event, her replacement duet partner, Charles Kelley of Lady A, announced he wouldn't be attending either after one of his band's family members tested positive as well. So it was surprising and confusing to see Pearce duetting with Kelley in the middle of the show. Turns out the segment was pretaped before Kelley found out about his possible exposure (the band members "continue to test negative," they said on Twitter), but it still looked to take place in the same room with a full crowd. That all just exposes more cracks in the CMA's in-person setup, including: Did Kelley have contact with that family member or his band before taping his performance with Pearce? Were the performers not quarantining ahead of time? Should Pearce have stayed home too?
… OH: Darius Rucker performing "In the Ghetto."
The show's tribute to country performer and Elvis hit-writer Mac Davis fell in the laps of our two hosts, meaning one of the only Black men to set foot on that stage sang a racist, incredibly stereotypical song written by one white man and made famous by another. "A Little Less Conversation" would've been more fun, anyway.
HIGH: Miranda Lambert singing a stripped-down "Settling Down."
No, Miranda Lambert didn't walk away with the award she most deserved, Entertainer of the Year. Nevertheless, she did entertain, as she always does, letting her vocals and songwriting shine in an acoustic performance of her Wildcard single "Settling Down."
… OH: Reba coughed!
During a pandemic! At this superspreader event in the making!
HIGH: Jimmie Allen duetting with Charley Pride.
Time and time again, Black people's contributions to country have been undermined, so it was high time for the CMA to recognize trailblazer Charley Pride with a Lifetime Achievement Award. Even more special was seeing Pride perform the flagship hit that netted him Entertainer of the Year nearly 50 years ago, "Kiss an Angel Good Mornin'," alongside Allen, part of a new generation of Black stars in the genre. Now maybe the 86-year-old national treasure shouldn't have been there live during a pandemic, but did his nervous acceptance speech afterward not fill your heart, too?
HIGH: Chris Stapleton performing "Starting Over."
Stapleton's new album Starting Over, out tomorrow, is already (rightfully) one of the most anticipated of the year in any genre. His back-to-basics performance title track proved once over that he deserves all the hype and more.
LOW: Awards show excess stays strong.
A lot of awards shows start to drag in the third quarter, and the CMAs were no exception. With a smaller audience, they probably could've trimmed off some of the performances and bits to make a tighter, two-and-a-half-hour show.
HIGH: Maren Morris reminding us why "The Bones" took home the hardware.
"The Bones" is just damn good country-pop crossover, so it's hard to complain that Maren Morris took home the night's top performance and songwriting awards for it. The recorded version is a banger in its own right, but Morris brought out the song's emotions in this performance by stripping back the arrangement a bit and adding a cello. Simply masterful.
HIGH: Maren Morris shouting out Black women in her Female Vocalist of the Year speech.
And was it about time. The show may have tried to distance itself from the Black Lives Matter movement, and country stars may still catch heat for saying those words, but Morris, by then the night's top winner, knew how best to use her platform. "There are so many amazing Black women that pioneered and continue to pioneer this genre, and I know they're going to come after me — they've come before me — but you've made this genre so, so beautiful," she said, shouting out Linda Martell, Yola, Mickey Guyton, Rissi Palmer, Brittney Spencer, and Rhiannon Giddens. Now, here's hoping some of them will join her in that category next year, where they so deserve to be.
HIGH: Keith Urban recognizing medical workers.
I cannot stress enough, while writing about this exorbitantly privileged awards show, that we are still in a pandemic. It took nearly three hours for one of the stars to mention it in earnest, but Keith Urban finally did, dedicating his remote performance of "God Whispered Your Name" to the medical workers who've kept the world turning this year.
LOW: No tribute to John Prine.
As the final performance came and went, it was clear the CMA wouldn't be acknowledging one of the year's biggest losses: the death of the infinitely skilled folk songwriter John Prine, who gave country music some of its most recognizable songs and influenced generations of writers and performers. "We're disappointed John won't be a part of the CMA award show tonight," his label, Oh Boy Records, tweeted. "Country music was both the inspiration and foundation for his songwriting and performing." Prine's widow, Fiona Whelan Prine, added, "I know @JohnPrineMusic was as Country as Country can get." The absence of even the smallest Prine tribute only added to the incomplete picture of the year that the CMA Awards painted.
HIGH: A new generation of country stars sits at the top.
The awards continued its streak of recognizing younger talent into this year, with the night's two top winners, Morris and Combs, having come up in the last five years. If the CMAs keep paying it forward like that — and snubbing the country bros of yore in the process — there's some hope to be had in the genre's future.
… OH: Eric Church winning Entertainer of the Year.
Was he the worst choice? No. But Garth Brooks stepped aside in the wake of controversy over Carrie Underwood's snub last year, and made way for multiple women to enter this category for the first time since 2000. Yet like the new artist award, at the end of the day, Entertainer of the Year going to another white guy performing arena country — no matter how outspoken or alternative he can get — was another reminder that there's still tons of work to be done in Nashville.