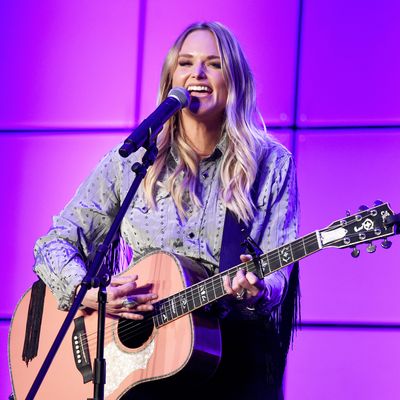 It's time for the CMAs to make it official.
Photo: AFF-USA/Shutterstock
For two and a half minutes, Miranda Lambert owned the 2005 Country Music Association Awards stage. She came into the night a nominee for the Horizon Award (later retitled New Artist of the Year) off the success of her major-label debut, Kerosene, an album as fiery as its title suggested that carried the spirit of outlaw country into the 21st century. Lambert ripped through the venomous title track (its melody accidentally lifted from Steve Earle's "Feel Alright"), demanding the attention of her audience as she sang — stomping and dancing, throwing her guitar, blazing the stage. Maybe she wanted the room full of country insiders to hear her words, not just read her lips: "Forget your high society, I'm soakin' it in kerosene!" She later told Vanity Fair of the performance, "I knew I needed to nail it." She has been nailing it ever since, for the next 15 years of her career.
Lambert didn't win the Horizon Award that night, but of the year's stacked nominee class (also including Sugarland and winner Dierks Bentley), she has left the biggest impression on country music. In the past decade and a half, she has taken home multiple CMA Awards, including a record seven wins for Female Vocalist of the Year along with trophies for Song, Single, and Album of the Year (the only woman to win the latter category twice). Entertainer of the Year — the night's top honor, previously won by peers like Keith Urban, Luke Bryan, and her ex-husband, Blake Shelton — remains her white whale. But with seven-time winner Garth Brooks (including three of the past four years) taking himself out of contention for tonight's 2020 CMAs, the race is wide open and hers for the taking. She is nominated for the first time in five years and being humble about it. "I think everyone in the category deserves to be there," she told the Los Angeles Times in September, adding that she thought her peer Carrie Underwood "should've taken it" over Brooks last year. (If anyone's a deserving competitor for Lambert, it's Underwood, who is nominated again this year — the first time in 20 years that multiple women have been in contention.) Now, Lambert returns to the category during the first time in her career when she has nothing left to prove. There'd be no more fitting time for her to win it.
It had already been a journey for Lambert to make it to the CMAs stage the first time. Throughout her teens, the Lindale native tried her luck at all the local Texas showcases and talent competitions she could find. Eventually, she found herself the youngest contestant on the first season of USA's Nashville Star, a countrified American Idol, at 19. She made it to the finale and placed third, behind two men more than twice her age. And she was ecstatic. If she was going to have a country career, she wanted it her way. She had already self-released a first album in 2001, and, if nothing else, she would keep trying that. But soon enough, Nashville Star judge and label exec Tracy Gershon helped Lambert get signed to Epic Records. There, she approached the record heads the same way she did the ending of Nashville Star. "I told everybody, 'I'd rather spend another decade in honky-tonks and do it my way than be the pretty girl for you,'" she recalled to NPR.
Lambert's early bravado set her on a career trajectory of continually waiting for her big bets to pay off to keep the industry off her back. On Kerosene, her studio debut, she wanted to show that she had the instinct to make good country music outside the usual label infrastructures. She wrote every song but one, uncommon for most country stars, and it carried her to early acclaim, including that first nod from the CMA Awards. But none of the songs took off on radio, so for her follow-up, she wanted to make a hit. 2007's Crazy Ex-Girlfriend set the standard for the revenge songs she became known for, including the undisputed Miranda Lambert Anthem, "Gunpowder & Lead," a larger-than-life barnstormer culled from the stories of abuse she would hear from her private-investigator parents. Indeed, it became her first hit, cracking the top ten on the country charts. As she raked in sales and awards, she worried about being boxed in as a scorned woman, so she cultivated a deeper collection of songs on 2009's Revolution, including her first country No. 1, the intimately relatable "The House That Built Me." She entered the '10s something of a young veteran of women's uphill battle in country music at almost every level, so while she prepped 2011's Four the Record, she also formed the supergroup Pistol Annies with friends Ashley Monroe and Angaleena Presley. Their sharpshooting debut, Hell on Heels, released that same year, challenged the industry with its uncompromising, unvarnished female perspective, often at the expense of its male characters: "This diamond ring on my hand's the only good thing that came from that man," Presley declared on the slow-burning title track. With the album, the Annies drafted a blueprint that future groups like the Highwomen would follow.
Her fifth album, 2014's Platinum, successfully set a new peak for Lambert. She wanted to make the sort of big country album that everyone else was doing at the time, from Luke Bryan on Crash My Party to Carrie Underwood on Blown Away (hence the cheeky title Lambert chose for hers). She teamed up with more writers than ever and cut songs with other hot stars like Little Big Town and Underwood. The result was a collection of polished country-radio fare refracted through Lambert's view, blunt and wiser after nearly a decade in the industry; it became her first No. 1 album and earned her a Grammy for Best Country Album. She seemed like she had really cracked the code. Then, as she was winding down a leg of her biggest tour yet, in July 2015, she announced her divorce from fellow country star Blake Shelton. By November, hours before that year's CMA Awards, Shelton's rumored relationship with fellow Voice judge Gwen Stefani was confirmed. Ten years later, all eyes were once again on Lambert as she delivered a no-holds-barred performance of her punk-gilded "Bathroom Sink." "I'm lookin' forward to the girl I wanna be," she sang. She sounded resolute.
The question on Nashville's mind became, How would one-half of country's biggest power couple rebound? Lambert took her time before answering confidently the following year with the haunting "Vice." She finally turned her pen on herself, writing her best song ever as sweet retribution. What followed was even more impressive: The Weight of These Wings, a sepia-toned 2016 double album that delivered more of those personal reflections and accountability rather than the petty jabs many had come to expect. (And some couldn't get over it — the critic Robert Christgau dismissed "Tin Man" as a "schmaltzfest" in favor of the "rude couplets" of "We Should Be Friends.") Wings remains one of the better realized musical visions of this century, the sort of ambitious, experimental project you rarely get from the Nashville Establishment. She would get her jabs in later (see the winking "Got My Name Changed Back" off the Pistol Annies' superb third album, Interstate Gospel).
The more casual side of the Annies most recent album set the stage for Lambert's latest, 2019's Wildcard. In some respects, it's the album she set out to make her whole career — finally, every song is co-written by her. It's also her loosest record yet, industry expectation no longer weighing on her shoulders. "I'm finally on the up-and-up," she opens the album. And what a joy is it to hear. On one standout, "Pretty Bitchin'," she steps back to look at her new life: Yeah, she's a big country star, but she's been through hell for most of it, so now she is just taking the days as they come. "Life's pretty weird, life's pretty great / Life's pretty good if you live it," she sings, articulating the motto that has rooted her career, just now she's taking her own advice.
Earlier this year, Lambert netted her first country radio No. 1 in eight years with Wildcard lead single, "Bluebird." This time, more than anything, it felt victorious. Here, she was on the other side, 15 years later, having beaten everyone else at their own game. Now, she's set to perform her current single, "Settling Down," at tonight's CMA Awards. So far, the 2020 ceremony has itself only become further evidence that the country Establishment is out of touch before it's even happened, between its handling of postelection politics and the COVID-19 pandemic. And while Lambert likely won't make a pointed statement with her performance, it could be one of the night's only bright spots. "Settling Down" is dedicated to her new husband, Brendan McLoughlin, the unsubtle star of its ranch-fantasy music video. Like "Pretty Bitchin'," it's another understated look at the life she's living, and trying to enjoy, now — but on "Settling Down," Lambert is also considering her future. "Is happiness on the highway?" she wonders. "Or is it parked in the driveway?" She's finally free to try on new things and see what fits as she wishes. Surely, she's heading somewhere else exciting soon. But, for once, why not recognize her for where and who she is now?