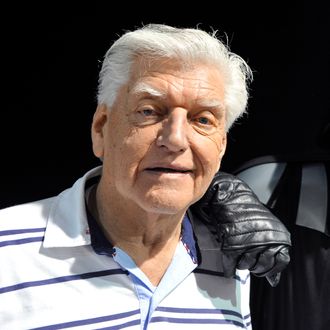 The man behind the mask.
Photo: AFP via Getty Images
Star Wars actor Dave Prowse, who played Darth Vader in the original Star Wars films, died on November 28 after a short illness," BBC reports. The British actor gave Vader's physical performance, wearing the suit and lending his imposing six-foot-five stature to the iconic film villain, while James Earl Jones provided the character's voice. Prowse, a former bodybuilder, was beloved in the United Kingdom for playing the "Green Cross Code Man," teaching children road-crossing safety. That public-service role earned him the Order of the British Empire.
On November 29, Prowse's Star Wars co-star Mark Hamill tweeted his remembrance, calling him "a kind man & much more than Darth Vader."
Prowse is remembered by legions of Star Wars fans, and survived by his wife and children.