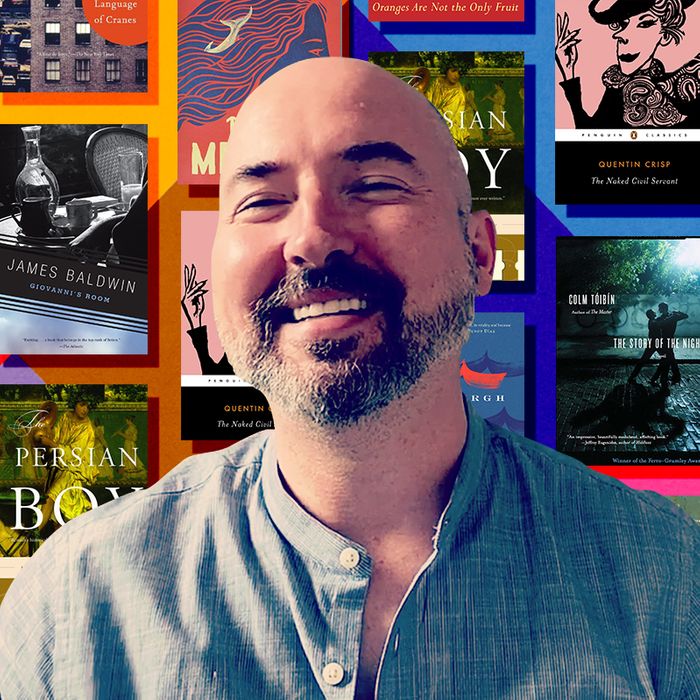 Douglas Stuart.
Photo-Illustration: Vulture, Pan Macmillan/YouTube and Publishers
Bookseller One Grand Books has asked celebrities to name the ten titles they'd take to a desert island, and they've shared the results with Vulture. Below is fashion designer turned novelist Douglas Stuart's list. "As a Scotsman, if I were stranded on a desert island, I would probably die of sunstroke before I had the opportunity to sit down to read a book," he says. "But if I did survive long enough, then I think what I would miss most would be love. I would want to re-read all the queer love stories that have shaped me over the years, all the tales that broke my big gay heart. It might even prove useful; I've cried at all of these books. The rescue party could follow the sound of my sobbing."
Photo: The Publisher
This is my favourite of Tóibín's works. Set in the early eighties, Argentina is controlled by oil-rich Americans and power-hungry Generals. A young English professor has been living in the shadow of his mother and hiding his sexual desires. When he is liberated by her death, both he and the country around him are set into a period of enlightenment and upheaval. The loss and grief in the third act left me reeling for days.
Photo: The Publisher
I love Grecian sandals, and I love to find queer representation in historical fiction. This is a reframing of the later years of Alexander the Great's life, told from the perspective of his young, gelded lover, the servant Bagoas. Renault's eye for intimacy is amazing and it's really moving to see the warrior through his lover's adoring gaze. You'll be left wishing that someone worshipped you like that.
Photo: The Publisher
This book is a little rawer and more hedonistic than Hollinghurst's later work, and I love that about it. It's really sexy. William Beckwith is a young aristocrat who spends his days cruising men at the swimming pool of a private club and writing the biography of an elderly lord. Beckwith is enormously privileged and totally unapologetic about his sexual promiscuity. It's a glimpse of queer London before the scourge of AIDS.
Photo: The Publisher
Chee's writing is captivating, and he achieves a difficult thing — to take something so ugly and despicable and craft a beautiful story out of it. Set in Maine, "Fee" is part of a group of boys who are abused by their choir leader. Young Fee struggles to cope with his abuse and survive the loss of his friends who cannot escape the trauma of it. I was blown away by the final act (no spoilers), when the past circles back around to revisit the characters many years later.
Photo: The Publisher
I've read this seven or eight times. It's a fleshy, brutal epic that reads like a Gericault painting. An immersive, 17th-century love story set at the time of the English Civil War; Jacob Cullen is a disgraced soldier, a violent and possessive man who falls in love with a fellow soldier, and when he cannot have him, destroys him instead. This is my pure pleasure read. It's sort of like my Wuthering Heights in that it really rips my bodice.
Photo: The Publisher
This is about self-love! As a boy, Quentin Crisp's flamboyant, lavender coif terrified me. Whenever he appeared on television, it made me hide away inside myself. Only as a proud gay man did I come to appreciate the bravery it took for him to be so unapologetically queer. What extraordinary courage to be gender nonconforming in 1930's Britain, in the face of such mockery and loathing. This is a wonderfully wry book, and it is so quotable. Read it for the encounter with the Australian soldier. It's totally unexpected.
Photo: The Publisher
Enough has been said about this book by better writers than me. This is Baldwin's tale of desire and the failure of that desire, set in 1950's Paris. The abandonment at the end is heart-breaking. Lingering in my mind is the beautiful quote: "If you cannot love me, I will die. Before you came, I wanted to die, I have told you many times. It is cruel to have made me want to live only to make my death more bloody."
Photo: The Publisher
Perhaps this book is a bad choice for a desert island because it's about a huge wave that kills everyone! But this is exceptionally atmospheric story that will sweep you away to Vardø, Norway, where grieving, self-reliant women, stand defiant in the shadow of religious conversion and the terror of witch hunts. It's a shining, haunting story of two women who dare to fall in love.
Photo: The Publisher
Reading this totally transported me New York in the eighties, both in sense of place and of queer visibility. Philip is trying to find the courage to come out to his parents. Meanwhile his parents are struggling with the gentrification of the city and loss of their apartment (hello, New York!). Philip's father is also hiding his own homosexuality, while he spends his weekends frequenting gay-porn cinemas. This is about the secrets we keep from the ones we love the most.
Photo: The Publisher
A real British classic. If you can find the audiobook narrated by the author, you are in for a real treat — the Lancashire dialect is really gorgeous. It's the story of a young girl growing up in Northern England after being adopted by very devout, Pentecostal parents. Jeanette is being raised into the missionary life, but she starts to develop sexual attraction towards other women. After the church finds out, they try to exorcise the demons from her. Like they perform a real-life exorcism for the gayness. It made me glad that the only homophobia I faced growing up was just a swift kicking.