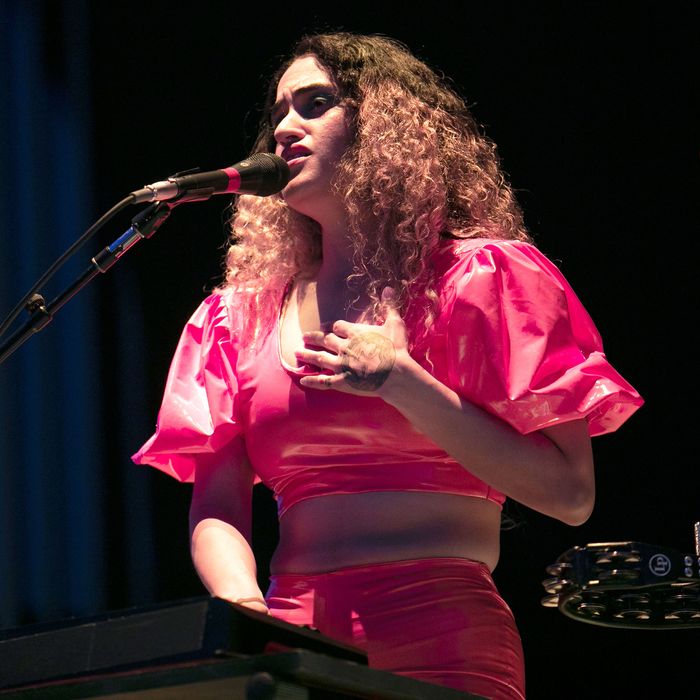 "It's so cool to start a label and put out a song that's produced by a woman and written by two women about anti-capitalism."
Photo: Jeff Hahne/Getty Images
For the first time since she began releasing music in the early 2010s, Lorely Rodriguez owns that music. The Los Angeles–based singer-songwriter, who makes polished, touching experimental synthpop as Empress Of, finished her contract with XL Recordings and Terrible Records after releasing her third album, I'm Your Empress Of, in April. She'd seen a new wave of young musicians self-releasing their music — a trend originated in rap that later caught on in electronic and pop — and wanted the same control over her own art. "I've been through the label situation," she says over the phone from California. "To just try to do something on my own feels really good."
Rodriguez, 31, is calling days after inaugurating her record label, Major Arcana — its name inspired by tarot, representing "the family that the cards live in" — with its first release, her new single, "You've Got to Feel." She thinks of the label like a "new circle where other artists can live, and I can live, and we can feed off of each other." And the song itself represents another step for her: She moves further into role of producer, bringing on R&B newcomer Amber Mark to take lead vocals. She's working on more beats for a collection of music like this, she says, after producing nearly all of I'm Your Empress Of with BJ Burton (best known for his work with Bon Iver). Just months ago, that record found Empress Of at the peak of her strengths, channeling heartbreak into an exploration of her identity as a Latinx woman that flows like a fantastic club set. "I don't think that's the end of that story with that record," she hints, though when it'll resume isn't entirely up to her. She paused plans to shoot a music video in Mexico at the beginning of the pandemic and has also, like many, scrapped her touring plans. "It feels incomplete to not be in those rooms and feel that energy," she continues. "I know that the moment [we can return] will be a huge relief for everyone and a huge moment of catharsis."
Rodriguez's attention, in the meantime, has been on her label. Major Arcana is admittedly still in the early days of development, but there's an immediate payoff in being able to release music on her own schedule now; she's equally eager to develop new artists and offer them a label experience better than hers. "It's idealistic," she says. "There's probably some record-label head who's going to read this and be like, That's not going to work. But you never know — it might."
Why start a label, and why now?
I've been wanting to do this for a while. To move in a direction of having more ownership over my music and also, creatively, to find other people that I could push and help out. Technically, I got out of my deal a couple of weeks ago. I had been planning this for after [it was final] — the name, everything came to me a while ago. It is the very beginning, so I have no idea what the future holds. I just know it feels really good to have this first release and the way it's released, the meaning behind it.
This ownership conversation has been happening in music, but it feels like it's been relegated to the biggest pop stars.
Take Kanye, for instance. Just to see his contracts, out in the open, and see like how little things changed. The wording and everything, the transparency, was pretty mind-boggling.
I feel like some people think artists on indie labels might have more ownership.
The contracts, most of the time, are the same. There hasn't been much of an effort to give the artists more ownership or favor, even though the platforms have changed. You're not selling records anymore; you're doing Spotify streams. Which is very difficult for an artist, [especially] a new artist who doesn't have a following. I think the ownership that indie artists get is more over creativity. But the splits are still the same, most of the time. Having been on indie labels for several years, I can say it was still a contract with a label, where I didn't have as much ownership over my music.
In choosing a vocalist to work with and highlight on "You've Got to Feel," how'd you land on Amber Mark?
A lot of what I've been doing during quarantine is producing, not really singing. I don't know why I'm doing that, but that's what I'm doing. I made this beat after coming home from a Black Lives Matter protest. I was going out every day for protests. It was really important to me and it still is — equality for Black people in America will always be something that I will fight for. So I came home from the protest and I was like, I just need to do something. I made this beat, I started singing the riff, "You've got to feel to let it heal." Like, the feeling of how complacent we have become, as an American society, to the murder of Black people by police. And I was like, "You have to feel this." But I couldn't come up with the verses.
I had seen on my [Instagram] Stories that Amber was going to protests every day, and I just felt like she had the words. I sent the song to her. Within a couple of days, she sent me back what she had recorded, and I was almost tearing up. I was like, This is so right, so spot on. Obviously, her songs are incredible, but that was like — to put the word capitalism in a song and rhyme it? [Laughs.] I was like, Okay, she went there!
With my label, it would be amazing to elevate other artists I feel passionate about. That's a personal goal of mine: finding the special things that don't get seen or heard and giving them a platform. And to release things that I feel excited about, like this one, [where it's] me not singing. I was very passionate about it, but I was a little nervous, because people are so used to hearing an Empress Of release with my vocals on it.
Making a song with such sobering inspiration and then making it a dance track — how does that work? How do you make them gel?
What do you mean, because they are kind of things that aren't usually put together?
I've been thinking a lot about dance music this year, and it feels like there's more of it coming out that's focused on finding equality in different ways within race and gender. Why do you think that's happening so specifically in dance?
You know what's really ironic is we are making dance music and we can't go out and dance in a club. I think of like Earth, Wind & Fire, that kind of music where dancing was a form of celebration and protest. Writing this song, I wanted to feel the energy of the streets. The energy of people coming together, the energy of change, and the energy of work. So movement — I don't know, to me, this energy isn't a ballad. [Laughs.] It is feet on the ground. Nina Simone always said an artist's duty is to reflect the times, and I think dance music is the perfect vehicle for that.
Your last album was this feat of production in how it flowed together and everything, and you were the through-line as the producer. What did working on it teach you as a producer?
I really understood where dance music lies with me emotionally and how I use it to elevate my lyrics and elevate themes. I feel very comfortable, but also confident and still challenging myself, when I make dance music. Like, "Give Me Another Chance" is just a little club song about being so heartbroken. I learned on that record that I love living in that zone.
Do you see yourself doing more songs like "You've Got to Feel," where you produce other vocalists on your work?
That's like something I'm currently working on; I have a collection of songs that I don't sing on. It's just about getting it to a place where it sounds like one of my songs. That's the thing I've been finding, when you work with other singers — you can follow their voice, and it can end up sounding like a song on their album. It's so cool to start a label and put out a song that's produced by a woman and written by two women about anti-capitalism. It's like Marxist bops. I just hope to keep doing shit that I feel passionate about. I will — not hope, I will!
This interview has been edited and condensed for clarity.