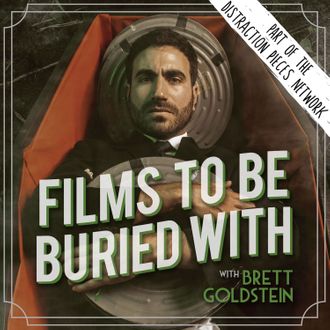 Photo: Distraction Pieces Network
As a society, we are willing to place an enormous amount of power in questions. Look no further than the response to Mandy Len Catron's 2015 New York Times' Modern Love essay, "To Fall In Love With Anyone, Do This," which popularized the phenomenon of the 36 questions. It laid bare a collective fondness for the notion that the right list of questions might grant us unfettered access to the soul of another. For a time, I was skeptical about such an idea — until the podcast Films to Be Buried With came along.
With the show, multi-hyphenate British entertainer Brett Goldstein has created something truly remarkable: a lively podcast built around a stock set of seemingly simple questions that, in application, reveal a deceptive brilliance. Few shows have been able to strike a resonant chord the way Films to Be Buried does. It is the rare celebrity interview show that sidesteps the many pitfalls of an otherwise self-indulgent genre, containing some of the most hearty laughs and honest, unguarded conversations. During this year's quarantine, the podcast's Wednesday releases have become the axis around which my days revolve.
The most concise logline of the show is that each week a celebrity guest is brought on, told that they have died, and then their life is explored through the films which meant the most to them. Past guests have included Ricky Gervais, Sharon Stone, January Jones, Jameela Jamil, and Sarah Snook, along with a hundred-odd other luminaries from the worlds of comedy and film. Format-wise, it's a bit of a cross between This Is Your Life and Desert Island Discs, but not nearly as musty as that might make it sound.
The show's success is squarely down to Goldstein (whose credits include SuperBob, and most recently, Ted Lasso), a uniquely engaging presence in the host spot. He is a generously comedic interlocutor, brimming with warmth and curiosity, unafraid to talk honestly and candidly about often dark topics in a charming and hilarious way. It also helps that he is an adherent — knowingly or otherwise — to the Starlee Kine school of interviewing, eschewing the perilous doldrums of small talk, following instead a primal desire toward delving into turbid waters to delightful results. For someone who counts School of Rock and Muppet Christmas Carol among his all-time favorite films, Goldstein wears their influences proudly, blending youthful rambunctiousness and genuine compassion. His abiding love of films has given him an encyclopedic knowledge of the medium and an infectious enthusiasm for its power to connect.
But again, it's Goldstein's questions — the same dozen or so for every guest — that are the show's X-factor. "What is the first film you remember seeing?" "What film made you cry the most?" "What is the film you most relate to?" Their seeming innocuousness disarms guests — and listeners — and elicits a sort of autonomic autobiography. One can't just name a film and move on without explaining the details surrounding their answer.
The straightforward nature of the questions also gives Goldstein license to dig deeper on topics than a traditional interview show otherwise could. A question like, "What is the film that scared you the most?" isn't asking about the particular film itself, but instead interrogates the kinds of things that each respondent deeply fears. In an early episode, comedian Nish Kumar encapsulates this perfectly in naming Inside Llewyn Davis, as the experience of watching it made him acutely feel the hopelessness of artistic endeavor against the cudgel of capitalism. Fear wears many different faces, and it's not the exclusive province of horror films.
There have been times where the show's revelations leave you reeling. Sharon Stone — in addition to getting struck by lightning in her own home — hysterically raves about her love for the movie XXX and how it led her to stalk and harass Vin Diesel at a party. Kate Berlant gushes about her arousal while imagining the ugly sex that Christopher Lloyd and Joan Cusack's characters in Addams Family Values must have had. And in perhaps the show's most shocking moment, Miranda Cosgrove talks about how going to see Pitch Perfect 3 likely saved her from being murdered.
Goldstein is on something of a professional tear at the moment as well. Currently acting and writing on Apple TV+'s Ted Lasso, easily the most pleasant show of the year, he is also the co-showrunner on Soulmates, AMC's new anthology series (with Will Bridges, Emmy-winning writer for Black Mirror, among other credits). Both series have also received renewal orders from their respective networks, with Ted Lasso getting a third season before filming of the second has even begun. Goldstein's ascendency should have the knock-on effect of netting increasingly higher profile guests for the podcast as well.
And it's a good thing, too. The more attention paid to a show like this can only help to increase its reach. During an incredibly tumultuous year, a program like this that actively endeavors to foster closeness and understanding is a balm. Much like the milieu which Goldstein and co. inhabit on Ted Lasso, the world of Films to Be Buried With is one of radical openness, positivity, and easy humanity, but also one which doesn't shy away from the complexity of life. There is a universality to the kind of things Goldstein is attempting to unpack with his questions, and it makes for a very special kind of podcast, one where both concept and execution soar.
In practice, the show acts like a pop culture matryoshka doll, each layer concealing a greater degree of intimacy. What is ostensibly a show about our love for the movies has, nested within it, a meditation on death and spirituality, which itself is concealing an exploration of our most naked fears, hopes, and desires. With the show framed around the conceit that each guest has died, it affords them a platform to have an entirely open, honest conversation about death, the afterlife, spirituality, and mental health. These days, that feels like exactly the kind of thing we all could use.