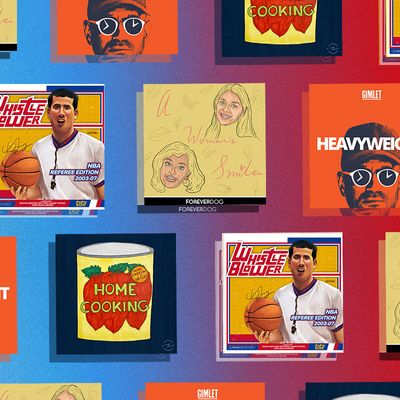 Photo-Illustration: Vulture
Hey, folks, quick programming note: We're going to take next week off on account of it being Thanksgiving Week. If you're looking at stuff to add to your queue this holiday season, check out the 1.5x Speed archives! We've recommended a bunch of stuff for ya! And we have a couple more today, so don't say we weren't here for you.
Keep safe, keep stuffed, and keep telling me what podcasts you've been piping into your earholes. Find me on Twitter or reach me over email: nicholas.quah@vulture.com.
Whistleblower
In 2007, Tim Donaghy, an NBA referee, was arrested for his part in a massive betting scandal: He was said to have bet on games that he was in charge of officiating, influenced game calls in order to create specific gambling outcomes, and provided insider information to external parties. In the end, he was sentenced to 15 months in prison.
The Donaghy scandal is rich lore for basketball fans nowadays, the kind of stuff that serves as foundational fodder for a certain conspiratorial style of thinking within professional-sports fandom more broadly. Not that manipulated or improperly conducted games don't actually happen, of course; just look at the recent Houston Astros sign-stealing scandal (which, by the way, is the focus of another nonfiction podcast series that's currently rolling out).
But the Donaghy affair has a little more crunch to its bite for the fact that it tugged on a feeling that there was something bigger happening behind the scenes that the viewing public was ultimately not privy to. There's a way in which this story played out that suggests what spilled into the public was just the briefest glimpse into a significantly darker underbelly of the NBA, which these days is largely perceived — reductively or accurately, depending on where you stand — as a shiny beacon of sports progressivism.
That sense of the underworldly is the engine that drives Whistleblower, a relatively new podcast series from Tenderfoot TV and Cadence13. Led by sports journalist Tim Livingston, the show is an Alice in Wonderland tumble into the saga, pulling together a picture that mixes details of the case with the texture of the opaque inner worlds that make up professional basketball.
One of Whistleblower's major selling points is the fact that Donaghy himself serves as an active source in Livingston's telling of the story. This isn't the first time Donaghy has tried to tell his side of the story: Among other things, he has written a whole firsthand book about it and loves to talk to the press. As such, what's typically required in an arrangement like this is some credible distance between the show's point of view and Donaghy's point of view, if only to emphasize that what you're hearing isn't just a guilty man's spin. Livingston does a decent job trying to create that distance with narrative balancing and actual reporting, but the end effect isn't completely even. I wouldn't blame you if you have a hard time with the reliability of the text.
Nevertheless, there's a lot to enjoy in Whistleblower. You do get glimpses of the remarkably insular world of a high-octane professional-sports league, and the show gives you the opportunity to really chew over the ways in which an institution engages in the work of self-preservation. The show also moves, with a melodic spring in its step. Yes, it's prohibitively bro-y at times, and some of its flashier choices — like the use of the Sopranos actor Michael Imperioli to narrate chunks describing the shadier side of the world — tend to get on my nerves, but fans of scam narratives, scandals, and/or professional-sports odysseys would want to dig into this one.
Heavyweight: "Annie"
Heavyweight wrapped up another short season last week, and it pretty much gives you everything you'd come to love from Jonathan Goldstein's ongoing exercise in therapeutic catharsis.
For the unfamiliar, the show is deceptively hard to describe, but basically: Each episode features Goldstein — a legendary Canadian radio producer whose previous work, WireTap, is essential listening for connoisseurs — helping various people come to terms with something in their histories that continues to sit heavy on their lives. (Hence the title, Heavyweight.) In one episode from this season, Goldstein works with a pair of siblings to confront the social worker responsible for their separation decades earlier. On the other side of the spectrum, another episode saw him assist a Gimlet sound mixer, Bobby Lord, to figure out the origins of a truly heinous McDonald's jingle that Lord had the misfortune of recording years ago.
The end results are often gorgeous, nourishing, and very, very funny. It also possesses a replicable style, which wasn't something I entirely expected until I heard "Annie," the penultimate entry in this latest season. The episode is premised on an ol' switcheroo. In a move to yield useful life lessons for his senior producer, Kalila Holt, Goldstein decides to have her take over hosting duties for the story. The thinking, apparently, was that it could be a fruitful exercise: Annie, the individual asking for help, is loud, bold, and comfortable with conflict. Holt, meanwhile, seems to be Annie's diametric opposite: awkward, internal, conflict-averse.
So Holt sets out on her own to assist Annie in confronting her problem, which is rooted in a feeling of being left out by her family. High jinks ensue, and what plays out is an entertaining reconstruction of the Heavyweight formula: There's the explanation of the quest, there are several stumbles, there's a point in which the host maybe exacerbates the problems, there's a breakthrough, and then there's catharsis. Slathered onto the whole package is a heaping dose of distinctly Goldsteinian humor delivered through Holt's scripting and narration, dry as a cat's tongue, sprinkled with the customary puckish lines. ("She said, to quote Billy Shakespeare, that this was much ado about nothing, and that, to quote Billy Joel, she didn't start the fire.") Even more fascinating is how Holt's narration emulates Goldstein's own cadence in uncanny fashion — somewhere between knowing and oblivious, empathetic and ironic.
Goldstein or otherwise, the formula works, and "Annie" hits the spot. This might have been a shorter than usual season for Heavyweight, but it's still firing on all cylinders — and then some.
Meanwhile…
• I hope you're keeping socially distant and physically safe this Thanksgiving season, and, acknowledging that doing so might be really lonely, consider adding Samin Nosrat and Hrishikesh Hirway's Home Cooking into your life. Come for the cooking advice; stay for the glorious companionship.
• If you enjoyed Bear Brook — New Hampshire Public Radio's smart take on the true-crime podcast genre — back in 2018, rejoice: A good portion of the team is part of a new reporting project, Document, that's focused on the problems with policing today. The first season is out now, and the second is set to follow not long from now.
• An oldie (ish?) but goodie: I'm currently working my way back through A Woman's Smile, which is a very weird and very entertaining surrealist-comedy podcast. If you haven't tried it out before and are looking for something that's really out there, this is the one for you.
And that's a wrap for 1.5x Speed! Hope you enjoyed it. We're back next week, but in the meantime: Send podcast recommendations, feedback, or just say hello at nicholas.quah@vulture.com.