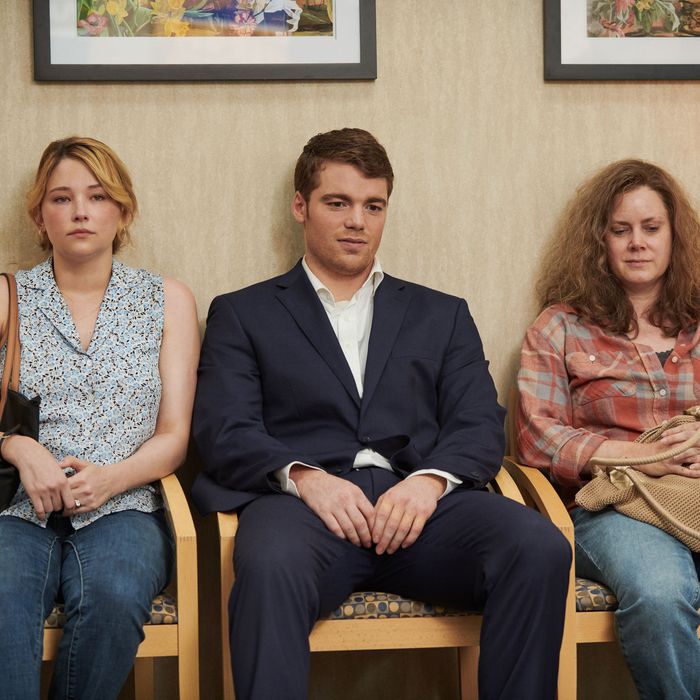 If you're curious about the region, there is a world of books and films beyond the Netflix movie and J.D. Vance's memoir.
Photo: Lacey Terrell/NETFLIX
The Hillbilly Elegy phenomenon is frustrating for many reasons. As a film, it's irresponsible, even grotesque, and the memoir the movie is based on filters author J.D. Vance's personal experiences through right-wing tropes about poverty and social collapse. Both the Netflix adaptation and the book are unnecessary; nobody needed to suddenly "understand" the Appalachian region or its problems, because Appalachian studies is a real field of scholarship. You can get degrees in it! Local activists, journalists, and artists have been writing the Appalachian point of view into the public record for decades upon decades. So here's a very brief introduction to the documentaries, dramas, nonfiction books, and podcasts that demystify and contextualize the Appalachian region and the people who live there.
Note: This list is not at all comprehensive. If I had included every title I wish Hillbilly Elegy director Ron Howard had read or every film I wish he had watched, the list would take up an entire magazine. Missing, for example, are novels by Denise Giardina, Silas House, Alison Stine, David Joy, and Lee Smith. So are some works I appreciate for pure entertainment value: I will hear no ill of FX's Justified, and I suffer an odd attachment to The Mothman Prophecies, which stars Richard Gere and an Appalachian cryptid.
Books
Uneven Ground: Appalachia Since 1945, by Ronald Eller
The real story of the Appalachian region is more about extractive capitalism and failed public policy than about hillbillies throwing punches. Eller's history, which is an accessible and absorbing read, introduces the structural explanations that are absent from Vance's best-selling memoir.
Available at Bookshop.
Ramp Hollow: The Ordeal of Appalachia, by Steven Stoll
If you want more after you've finished Eller, try Ramp Hollow: The Ordeal of Appalachia, by Steven Stoll. Or for a cultural history, try Hillbilly: A Cultural History of an American Icon, by Anthony Harkins; The United States of Appalachia, by Jeff Biggers; or What You Are Getting Wrong About Appalachia, by Elizabeth Catte.
Ramp Hollow is available at Bookshop.
Dopesick: Dealers, Doctors, and the Drug Company That Addicted America, by Beth Macy
If you're turned off by Elegy's depiction of substance abuse and are searching for a more empathetic and researched examination of the opioid crisis, try Macy. A New York Times best-selling author and longtime southwestern Virginia reporter, Macy uses her grounded and humane reporting in Dopesick to show another side of Appalachia: the one that's used to defending itself from powerful corporations. Hulu is adapting the book into a miniseries scheduled for release in 2021.
Available at Bookshop.
Death in Mud Lick: A Coal Country Fight Against the Drug Companies That Delivered the Opioid Epidemic, by Eric Eyre
Also read Death in Mud Lick, by Pulitzer Prize–winning West Virginia reporter Eric Eyre, which connects the opioid crisis to older forms of exploitation. "The coal barons no longer ruled Appalachia. Now it was the painkiller profiteers," he writes.
Available at Bookshop.
Hillbilly Nationalists, Urban Race Rebels, and Black Power, by Amy Sonnie and James Tracy
Decades ago, the so-called "hillbilly highway" dispersed people in need of work from the hills to the industrial centers, where some later suffered extreme poverty and police brutality. In Chicago, these experiences gave rise to the Young Patriots Organization: a group of hill-country workers who joined the Rainbow Coalition and organized alongside the Black Panthers and the Young Lords. Nationalists is a nonfiction account of their activism, and it's a good read before the group appears in Shaka King's new film, Judas and the Black Messiah, next year.
Available at Bookshop.
To Live Here, You Have to Fight: How Women Led Appalachian Movements for Social Justice, by Jessica Wilkerson
If you want a less exploitative story about Appalachian women, start with Wilkerson's 2018 book. Their stories and struggles are central to this account of women-led organizing for better medical care, safer mine conditions, and poverty relief in the Appalachian Mountains. Also try Fighting Back in Appalachia, a collection of essays edited by Stephen Fisher, for a broader introduction to activism in the hills.
Available at Bookshop.
Affrilachia, by Frank X. Walker
Appalachian shouldn't be shorthand for "white working class." Walker, a Kentucky-based poet, coined the term Affrilachian to emphasize the distinctive Black Appalachian experience and later co-founded the Affrilachian Poets collective. His 2000 collection of poetry, Affrilachia, is just as personal as Hillbilly Elegy; it also happens to be superior to Vance's right-wing, whitewashed version of Appalachia in every possible way. In a similar vein, read a very different kind of elegy: bell hooks's Appalachian Elegy: Poetry and Place.
Available at Bookshop.
Gone Home: Race and Roots Through Appalachia, by Karida Brown
Gone Home: Race and Roots Through Appalachia, by Karida Brown, and Black Coal Miners in America: Race, Class, and Community Conflict, 1780–1980, by Ronald Lewis, are also great choices. Brown's book collects the oral histories of Black Appalachians in Harlan County, Kentucky. Although Lewis's book isn't focused solely on the experiences of Black miners in southern and central Appalachia, it does examine their history, and it's an effective counter to the whitewashing of the region.
Gone Home is available at Bookshop.
Movies
Dark Waters
Coal isn't the only industry poisoning the Appalachian landscape. In Dark Waters, Mark Ruffalo plays real-life attorney Robert Bilott representing a West Virginia family sickened by waste from a nearby DuPont chemical plant.
Available on Vudu.
Matewan
This landmark 1987 film from John Sayles dramatizes the events surrounding the Matewan massacre, a flashpoint in the multiracial struggle to unionize West Virginia's southern coalfields. It's a powerful introduction to the Appalachian region's militant labor history.
Available via The Criterion Collection.
Documentaries
Heroin(e)
Tennessee–based filmmaker Elaine McMillion Sheldon was nominated for an Academy Award for Heroin(e), a documentary short. A marked contrast to Hillbilly Elegy, it offers quite a different perspective on the opioid crisis: Sheldon's female subjects are proactive and determined.
Available on Netflix.
Hollow
Hollow, also by Elaine McMillion Sheldon, is worth your attention as well. An interactive documentary, it personalizes life in one small West Virginia community.
You can watch it online now.
Harlan County USA
Barbara Kopple's Academy Award–winning 1976 documentary "is practically a how-to manual for conducting a strike," Paul Arthur observed in an essay for the Criterion Collection. Kopple and her cameraman were beaten by strikebreakers in the process of making the film, which scrutinizes the fight to unionize an eastern Kentucky coal mine.
Available via The Criterion Collection.
hillbilly
hillbilly is the ideal antidote to the Netflix film that now partially shares its name. The documentary complicates and ultimately humanizes an old stereotype and leaves a more complex portrait of Appalachia in its place.
Available on Amazon Prime and Hulu.
Podcasts
Black in Appalachia
Appalachia is not and has never been a monolithically white region. This program, hosted by eastern Tennessee's PBS affiliate, brings the history of Black Appalachia to life. An affiliated documentary project also "aims to raise the visibility and contributions of the Black communities of the Mountain South."
The podcast is available on the project's website.
Appodlachia
Hosted by two West Virginia natives, Appodlachia has released its own anti–Hillbilly Elegy reading guide (it's worth a look) and describes itself as "a podcast defending the greatest region in the country."
You can listen to it online now.
Trillbilly Worker's Party
Based in Whitesburg, Kentucky, Trillbilly Worker's Party offers a (profane, extremely funny) leftist perspective on the region and on politics in general. Notable recent guests include Grammy Award–winning singer-songwriter Sturgill Simpson and Jordan Camp, the author of Incarcerating the Crisis: Freedom Struggles and the Rise of the Neoliberal State. (I have also appeared on the show twice, though I am not as notable as Simpson and have not published any books.)
You can listen to it online now.
If you subscribe to a service through our links, Vulture may earn an affiliate commission.