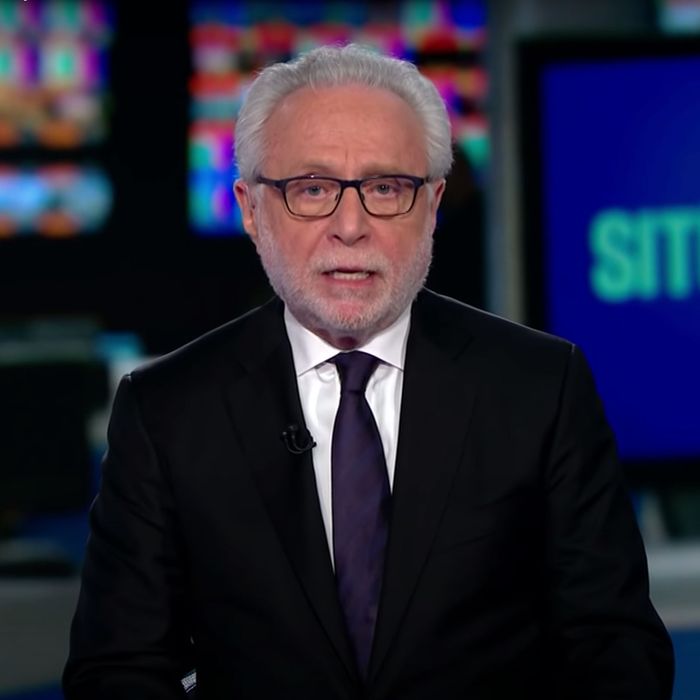 Guide us through this, O mighty Wolf.
Photo: CNN/YouTube
Looking for Election Day news coverage? Literally throw your remote at the wall and see what channel it accidentally lands on — that's how to find Election Day coverage on Tuesday, November 3, because it will be everywhere.
Oh, you want specifics? Fine, here are your specifics. Whether you're watching election returns via network, cable, streaming, or filtered through the lens of comedy, you've got options. (And if you're looking to watch anything besides election coverage tonight, we've got you covered there as well.)
TV
CBS This Morning will begin its Election Day coverage at 7 a.m. ET with Gayle King. CBS Evening News anchor Norah O'Donnell will kick off live Election Night coverage at 7 p.m. ET. CBS will be broadcasting its live election coverage from its "new, state-of-the-art" Election Night studio in Times Square. Trump's former chief of staff Reince Priebus and Obama's former senior adviser Valerie Jarrett will provide commentary and analysis, and CBS News will also have correspondents reporting live from battleground states.
NBC News Special: Decision 2020 Election Night will air on NBC from 7 p.m. ET to 11 p.m. ET.
ABC's Your Voice/Your Vote: Election Night 2020 coverage will air on ABC from 7 p.m. ET to 11 p.m. ET.
PBS will air its PBS NewsHour Special: Election 2020 live coverage beginning at 7 p.m. ET.
C-Span begins its Campaign 2020 Election Night Results at 9 p.m. ET, and it will run until 7 a.m. the following morning. This will include presidential, Senate, House, and gubernatorial election results, victory and concession speeches, and viewer reactions.
CNN will be airing Election Day coverage all day beginning at midnight, but its results-focused Election Night in America programming begins at 7 p.m. ET and will continue on through Wednesday morning.
MSNBC's Election Day: Decision 2020 coverage begins at 5 a.m. ET on Way Too Early With Kasie Hunt and runs all day and all night through to Joe Scarborough the next morning at 5 a.m.
Fox News: Nah. (Okay, fine, if you're driven by morbid curiosity to check out the Fox spin on Election Night, it begins its prime-time elections coverage at 6 p.m. ET.)
Streaming
If you're a Roku house, the Roku Channel will have a number of free offerings for live election coverage:
• NBC News NOW begins its coverage on November 3 at 7 a.m. ET and goes until 4 a.m. the following morning.
• ABC News Live will begin its election programming at 7 p.m. ET and go overnight as votes are tallied.
• If you have access to Newsy via Roku, Apple TV, FireTV, Pluto, or other cord-cutting services, it will begin its elections coverage on Monday, November 2, at 3 p.m. ET and "will remain in extended live coverage through Wednesday and will remain fluid to continue live coverage until a winner is definitively announced."
CBSN will deliver continuous coverage of the presidential and local elections beginning at 7 a.m. ET on its mobile and TV app and will have supplementary livestreaming coverage on CBSNews.com
If you don't have any of the above, Pluto TV has a number of free in-browser livestreaming options, with no sign-up required. Its live news channels include Election 2020, Pluto TV News, CBSN, CNN, NBC News Now, Sky News, Bloomberg Television, and Cheddar.
Comedy
Maybe you'd rather watch the fate of the free world unfold via the lens of comedy, like hiding a dog pill in peanut butter. If that's the case, there are a couple of interesting live options for you.
Stephen Colbert's Late Show is streaming an all-day, 12-hour, preelection lead-up special called "A LATE SHOW's Pre-Show: Hoping for the Best …" Guests will include celebrity chefs David Chang, Marcus Samuelsson, and Paola Velez, and mixologists J.M. Hirsch and Abigail Gullo. The #LateShowPreShow will stream on the Late Show's YouTube, Twitter, Facebook, and Instagram pages from 11 a.m. ET to 10:59 p.m. ET.
First of the live nighttime specials is Stephen Colbert's Election Night 2020: Democracy's Last Stand: Building Back America Great Again Better 2020. Since his move away from his same-named Colbert Report persona in 2014, Colbert's role in the late-night landscape, especially as it relates to our current political hellfire, has been that of wise, warm, level-headed paternalism. It's as though every time his hair gets a little more salt and pepper, Colbert becomes that much more of a comforting voice, delivering political monologues. None of this has curbed his wit and bite, so his special — featuring Charlamagne Tha God and lucky Canadians Arcade Fire! — might be the exact vibe you need depending on how things go. The live one-hour special airs on Showtime at 11 p.m. ET. If you don't have Showtime, you can start a 30-day free streaming trial.
Another live comedy option is Votegasm 2020: What Could Go Wrong? (Again) by the Daily Show With Trevor Noah crew. The Daily Show has been doing live Election Night specials since 2000, so it's almost a tradition at this point to tune into Comedy Central at 11 p.m. ET to see America's most trusted news desk dissect the carnage. Noah and his team of usual correspondents — including Jaboukie Young-White, Roy Wood Jr., Dulce Sloan, and Jordan Klepper — will report live on Comedy Central, and will also stream live on the show's Facebook, YouTube, and Twitter pages.