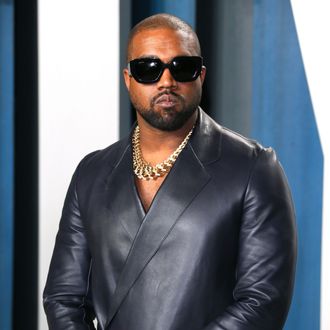 Photo: JEAN-BAPTISTE LACROIX/AFP via Getty Images
Kanye West cast his first-ever presidential vote on Election Day for, if you couldn't guess it, himself. West shared the news on Twitter, writing, "Today I am voting for the first time in my life for the President of the United States, and it's for someone I truly trust…me. 🇺🇸 🕊️." He later shared a video of him filling out his Wyoming ballot (which is not against the law in the state), where he wrote himself in since he did not make the ballot in the state — and did not vote in any other races. West's wife Kim Kardashian West, meanwhile, once again encouraged her own fans to vote on social media, without telling who she voted for. However, she did like a tweet endorsing Democratic nominee Joe Biden from Kanye's buddy Kid Cudi. And Cudi is just one of many West acolytes who didn't endorse the rapper's long-shot campaign for president, after 2 Chainz, who recently guested on a remix of West's campaign "theme music," appeared at a Biden campaign rally on November 2.
Update November 4, 2 a.m.: And thus apparently goes the Kanye 2020 campaign. In an apparent concession, Kanye West tweeted "WELP" late on November 3, along with a photo of him in front of an electoral map. (He's since deleted the first attempt at this tweet, re-posting it later without the "WELP.") West also added "KANYE 2024 🕊️," warning us that we may get to go through all this again in four years. Multiple outlets have called Wyoming, where West wrote himself in for his first-ever vote, for Donald Trump.
Update November 4, 11 a.m.: The plot has thickened. After liking tweets endorsing Biden for president, Kardashian West posted a picture of herself to Instagram and Twitter with her "I Voted" sticker, as all celebrities are wont to do. Fans quickly noticed that the shirt Kardashian West was wearing was red and began to speculate that (contrary to her Twitter likes) she voted Republican. She then deleted and re-uploaded the photo to her social media in black-and-white — and then, to make matters even more confusing, unliked the tweets supporting Biden. Which is all to say, Kim really doesn't want you to know who she voted for, and considering her family situation, maybe that's for the best.