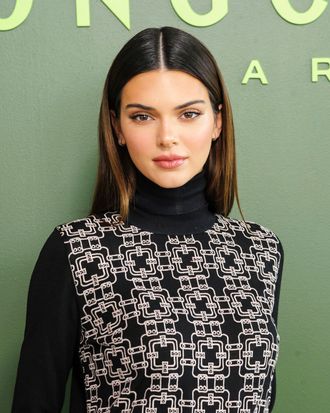 Boo you.
Photo: Christopher Smith/Invision/AP/Shutterstock/Christopher Smith/Invision/AP/Sh
We all scolded and tut-tutted when Kim Kardashian posted about her lavish private island birthday getaway, but at least she had the decency to pretend like she was deeply "humbled" by it or something. At least she mandated a pre-private island quarantine. On Saturday, October 31, Fyre Festival scamstress Kendall Jenner threw herself a 25th birthday party with reportedly 100 people in attendance on the Harriet's rooftop in West Hollywood. Photos show flyers at the event that read, "NO SOCIAL MEDIA, take all the photos you want, but please do not post on social media of any kind." Probably because Jenner is on some level aware that hosting a crowded event full of people who don't live together and travel often and could spread it to different places is … not a cute look. TMZ reports that the attendees included Justin and Hailey Bieber, Kanye and Kim, Kylie Jenner and Travis Scott, the Weeknd, Doja Cat, and Paris Hilton, who, frankly, we expected better from. Jaden Smith dressed as what could be interpreted as the protagonist from Tenet, but which definitely looked like someone on a respirator, which is terrible. Kim and Kylie posted photos to their Insta stories, in clear defiance of the flyer, showing celebrities mingling up close indoors, with masked waitstaff visible in many of the pictures.
The worst part? It wasn't even Kendall's birthday. Her birthday's November 3, which is Election Day. So instead of being the second-worst thing about November 3, she had to go ahead and be the single-worst thing about Halloween.
Update Monday 8:00 p.m.: Kendall's mom Kris Jenner defended her daughter's decision to party mid-pandemic Monday while calling in to SiriusXM's Andy Cohen Live. "We're dealing with lots of people that have different opinions, and all we can do is live our lives the best way we know how and be responsible and do the right thing," she said. "And we're doing that. And I think, I am very sensitive to what's going on. Believe me, you know, I've, I've really tried so hard. We are very lucky to work in an industry where we get tested once or twice a week."
According to Jenner, her daughter's party guests were tested prior to entry and had to wait about "a half an hour" for their results, a testing timetable we'd all like to enjoy some day in the future. "So we are really responsible and we make sure that everyone in our family and our closest friends are tested religiously," she adds. "So, you know, we do what we can, we, we try to follow the rules. And then if people are, you know, they're commenting and they're being critical, I can't control that."
Jenner also offered her reaction to Kanye's Robert Kardashian hologram, which she, too, was surprised by when West revealed it to family and a few friends in celebration of wife Kim's 40th birthday.
"We just all started to cry," she recalls. "It was, you know intense, but I looked at, watched it 20 times. It was just, it was really good. It was, he is the king of gifts and, and he worked on that for a really long time. So it was definitely one of the most incredible things I've ever seen. It was really wild."