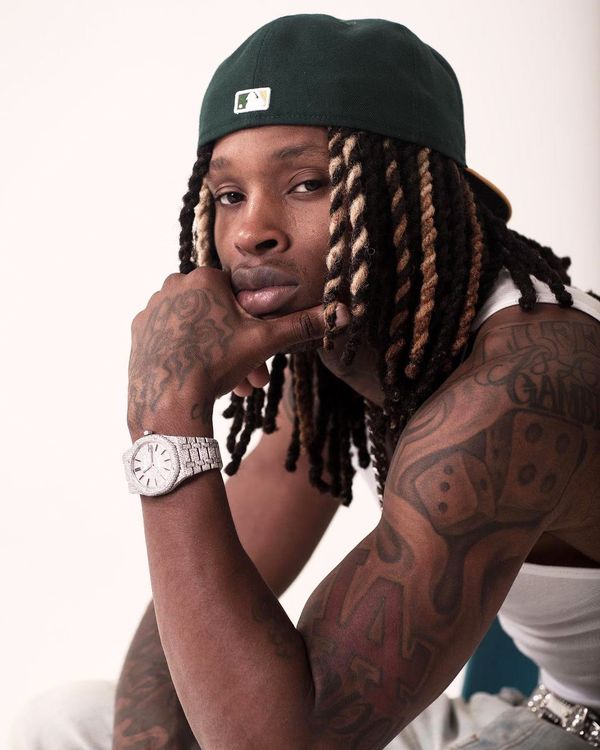 The knotty, detail-flooded narratives he'd written while incarcerated became a hallmark of his sound, and Chicago drill's latest wave.
Photo: Esdras Thelusma
In the early hours of the morning on Friday, November 6, Dayvon Daquan Bennett, better known as the rapper King Von, was one of three men shot and killed during an altercation in Atlanta outside of a local hookah lounge. A Chicago native, Von had moved to the city to further his career — Atlanta being, in some ways, the new capital of the hip-hop industry — and to avoid the harassment he said he faced in his home city from the Chicago police department and from personal enemies he accumulated over the years. Von was exactly one week removed from the release of his third album — the tense, cinematic Welcome to O'Block, set to be his breakthrough — for which there had been an album-release party on the night of his death. He was 26 and the father of two young children.
Von was born in 1994 near the Parkway Garden Homes, an area on Chicago's South Side perhaps introduced to a national audience by Chief Keef, the drill prodigy also from an area known locally as the O-Block. Von went to the same high school as G Herbo, who would emerge as one of the breakout stars when the city's drill music exploded in the early 2010s, and was childhood friends with another of that scene's key players, Lil Durk. It was Durk who would later urge Von to take rap seriously and who, like Von, would eventually move from Chicago to Atlanta in part to stay out of trouble. Von's life had long been beset by problems with the law — experiences that helped to shape him into a magnetic young artist. In the summer of 2014, he was charged with one count of murder and two counts of attempted murder in connection to a shooting that had occurred that spring in Englewood. The charges were later dropped — but in this case, "later" meant "after more than three years behind bars." Von would later say he spent his time in prison doing little aside from reading, writing, and ruminating on his past.
The knotty, detail-flooded narratives he wrote while incarcerated became his first raps. They were written a capella, without tracks in mind, a technique Von said helped mold his unique flow. (Though it may seem counterintuitive, shutting out drums and music has long been a way for talented rappers to hack through to new creative ground: Two decades before Von was scribbling his earliest rhymes, Ghostface had taken to writing much of his 2000 masterpiece Supreme Clientele in silence, while on a sojourn in West Africa.) The songs he was able to make immediately upon his release from prison, in 2017, landed Von a deal with Durk's OTF entertainment and dropped him squarely into an industry whose ears had finally been tuned to the frequencies of Chicago street rap.
When Von began retrofitting rhymes he wrote in jail to extant beats post-release, he favored heavy drums, stark piano melodies, and generally gothic tones. Those sonic cues placed Von firmly in his city's drill lineage at a point when that scene had reached such a fever pitch that it was being imitated across the country — and even throughout Europe. Durk, who had become something of a local icon before Von's incarceration, became a major star for Def Jam. Von's music in some ways represented a second (or even third) wave of the sound — one that had become more nationally popular and legible to labels, and was therefore more in conversation with other scenes. As a result, Von's music occasionally folded in warmer tones, like those from Atlanta or L.A. radio. But most of his best songs have the characteristics of drill classics from the early 2010s: a disarming frankness, skeletal melodies, drums that can bludgeon while recalling rap's roots as dance music.
Still, when Von broke through, it was by recalling a creative tradition that had fallen off trend. Story songs — self-contained tales or series, like Von's "Crazy Story" installments, that are broken out in sprawling, serialized mazes — have a rich tradition in street rap, playing like crime pulp books with a better sense of economy. But, over time, this songwriting style became less common in rap than it had been at the turn of the century. When the first "Crazy Story," released in 2018, began to spread throughout Chicago and onto rap blogs, it immediately reminded many listeners of "Tony Story," an equally-arresting 2011 story song from another then-nascent rapper: Meek Mill. Mill was a Philadelphia native who had long been a known quantity in hip-hop circles, establishing himself as a battle rapper and mixtape artist in the mid- and late-2000s, starting when he was still a teenager. But it was "Tony Story" that rounded out audiences' sense of him as a songwriter — introducing his keen observational eye, narrative control, and innate sense for where and when to deploy twists and build suspense. For Von, "Crazy Story" was a chance to grip audiences and inject his music with stakes while dotting his rhymes with colorful asides (he describes himself during a stakeout "crouching like a tiger / like Snoop off The Wire").
Von's regionality wasn't limited to the beats. His music was studded with slang and hyper-local affirmations (see: the climactic line of "Crazy Story": "From 64th and from 65th [Streets], we not from 63rd"). But Von set himself apart from his earliest drill predecessors with his vocal approach. Where many breakout hits from that scene found rappers affecting something like a monotone, Von was animated, bouncing back and forth across the Pro Tools, growling, and attacking passages with verve — even occasionally breaking into a playful sing-song. A gifted vocalist, he was fluent in a wide array of styles while wielding a distinctive point of view despite the fact that he only began recording seriously in 2017.
His relationship with Durk yielded a slew of impressive collaborations. But last summer, the two were charged together with attempted murder stemming from what prosecutors alleged was a botched robbery outside an Atlanta restaurant. The terms of their pre-trial release barred the rappers from having contact with one another outside of court dates — another stumbling block for Von's progression in the industry. (The case remains open.) Even so, Von's career was on the upswing; the outpouring of condolences from superstars like fellow Chicagoan Chance the Rapper, Compton's YG, and Meek Mill suggests what could've been.
Von's death follows those of an almost innumerable group of rappers over the past several years, many of them shockingly young: From the murders of Brooklyn's Pop Smoke, Pittsburgh's Jimmy Wopo, Los Angeles's Nipsey Hussle, and Miami's XXXTentacion to the effects of drug addiction that claimed Chicago's Juice WRLD and Fredo Santana, Long Island's Lil Peep, St. Paul's Lexii Alijai, and Pittsburgh's Mac Miller, along with too many others. It is likely that Von's music may spread further in death than it did in life — the hollowest of consolations. Beyond the human emotional toll, these deaths reverberate through the rappers' respective communities and through the music itself: There is no telling what South Los Angeles might have looked like with 20 more years of Nipsey's influence, or how the sound of drill might have been further mutated by Pop Smoke and Von, or emo by Peep and Juice. In the wake of Von and Durk's attempted murder charges, Durk scored the biggest pop-radio hit of his career, an appearance on Drake's latest single, "Laugh Now Cry Later." Where might Von's voice have popped up? His storytelling warranted a better conclusion than this.