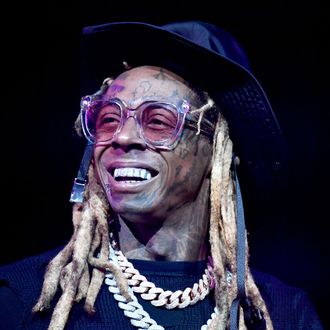 Hope his new pal sends him a sympathy card.
Photo: Frazer Harrison/Getty Images for EA Sports Bowl Music Fest
This afternoon in actions have consequences and men are a liability: Following Lil Wayne's enthusiastic endorsement of Donald Trump last week, the rapper's girlfriend has dumped him. Per gossip blogger extraordinaire Love B. Scott, Wayne's girlfriend, the model Denise Bidot, confirmed the split on her Instagram, which is now deactivated. Bidot's friends reportedly said she was disappointed in the the rapper's Trump endorsement, and it was the last straw: "She broke up with Wayne. It wasn't just his Trump support, but that was a big part." The former couple has also unfollowed each other on Instagram.
Weezy F baby, serving himself more Ls than "Lollipop."
Update, November 4: Lil Wayne has broken his silence on *gestures wildly but also lazily because who has the emotional bandwidth* all this with a single, ridiculous tweet. "I live the way I love and love the way I live," the freshly dumped rapper wrote. "I'm a lover not a lighter bekuz they burn out. I am an eternal fire and burning love, either leave with a tan, a 3rd degree burn, or stay and die in love. You're sweating. Sincerely, the fireman." Sincerely, baby, don't you have a Tinder account to fire up?