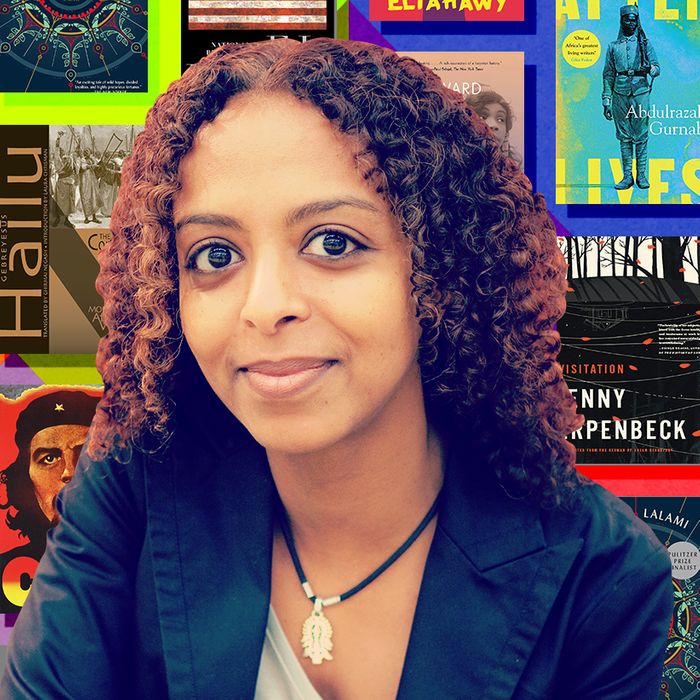 Photo-Illustration: Vulture, Leonardo Cendamo/Getty Images and Publishers
Bookseller One Grand Books has asked celebrities to name the ten titles they'd take to a desert island, and they've shared the results with Vulture. Below is novelist and essayist Maaza Mengiste's list.
Photo: Publisher
I am fascinated by what old photographs can tell us about their subjects and photographers, and Saidiya Hartman's book blew me away from the first page. She brings Black women and girls to life in a way that is deeply empathetic and fiercely intelligent. I'm enthralled by her gift for combining historical research with evocative imaginative leaps. Her writing in this book is a profound act of reclamation, and a simply stunning read.
Photo: Publisher
I no longer remember how many times I've read this, but each time, the sentences jump off the page, electrifyingly charged. Based on the real-life trial and execution of Julius and Ethel Rosenberg during the McCarthy era, the novel is told through Daniel Isaacson, an angry young man trying to piece together the truth about his parents, executed decades earlier for being Soviet spies. What Doctorow achieves in this book is symphonic, a series of a brilliant set pieces held together by Daniel's brutal, pained voice. It is a masterpiece, and a cautionary tale for our times.
Photo: Publisher
Every time I pick it up, I wonder how Laila Lalami created the magic that she did in this book. Her rendering of Mustafa al-Zamori's voice reads pitch-perfect. The historical details are astonishing for their precision and accuracy. This is a breathtaking work of the imagination. And I'm proud to call Laila Lalami my friend. We met before either of us had ever been published, in a summer writing workshop. I knew then what she continues to confirm now: She is a supremely talented writer, and in this book, she is magnificent. Perceptive, revelatory, and skillfully written, it is a must-read.
Photo: Publisher
Everyone who knows me knows how much I love and admire this transcendent book. I often like to say that the main character is a house. But it is also history, and how it unfolds as one tenant after the other calls this house a home. And it is also one character who appears through out, who barely utters a word. Erpenbeck's language: Lyrical and brutal, and conceptually heady all at once, carries us from the early days of WWII through to the reunification of Germany. Translated expertly by Susan Bernofsky, this novel is mind-blowing.
Photo: Publisher
Who says that girls should be seen and not heard? What's wrong with ambition in a woman? Mona Eltahawy's book is a clarion call for an uprising against patriarchy, giving the middle finger to those "seven sins" that girls have been taught they should never do or be: angry, ambitious, powerful, etc. It is as piercingly intelligent as it is uncompromising. Every woman should read this.
Photo: Publisher
Drndic passed away not long ago, and it is only now that she is getting the attention she deserves. I met her several years ago, after reading this book, and I was profoundly impacted by both experiences. Set in Trieste during the Nazi occupation of Italy, Drndic finds a way to meld historical documents, photographs, and fiction to create something wholly her own. The story that unfolds is kaleidoscopic and mesmerizing, while never straying far from those lives it is resurrecting through the sheer act of speaking their names. The book "pauses" midway to list every single one of the 9,000 Italian Jews killed during the Holocaust. I can hear Dasa: furious, impassioned, and compassionate in every page.
Photo: Publisher
I read this book slowly over the course of one summer; I didn't want it to end. It changed how I imagined revolutions and those flawed, complex human beings we make into heroes. Anderson's biography of Che is thorough in its research, but more than that, it's written in such a way that you are entirely, completely immersed in the Cuban revolution until the very end. I can never look at one of those over-simplified graphic representations of Guevara without thinking of this book. Spellbinding.
Photo: Publisher
This book drew me in slowly, gently, from the first sentence and didn't let go until the very last. Set in the German colony of what is now Tanzania in the early 20th century, Gurnah's novel focuses on the intimate lives of those who lived during that fraught and brutal period. The novel unwinds as the best of stories: one detail at a time, each movement so compelling that we eagerly wait for what will happen next. It lays bare the depth of violence enacted on Africans by Germans and recounts the many ways they continued to survive while never giving up on love.
Photo: Publisher
This is a slender novel, but I have always felt that it holds the depth and complexity of an epic. Written in 1927 in Tigrinya, and published only in 1950, it tells the story of an ascaro, an Eritrean fighting for Italy during the campaign to colonize Libya. It is a poignant and intimate examination of war, dignity, and justice, all of it wonderfully translated by Ghirmai Negash.
Photo: Publisher
What can I say about Morrison and this book that hasn't already been said? Reading this book was a revelation and a call to action: to pay attention, to learn more, to read more, to write it all down. I come back to this book often, each time, something new emerges. I know when I open it again, I'll confront the same truth as every other time: Those aren't words on a page, that's thunder ripping open the sky.