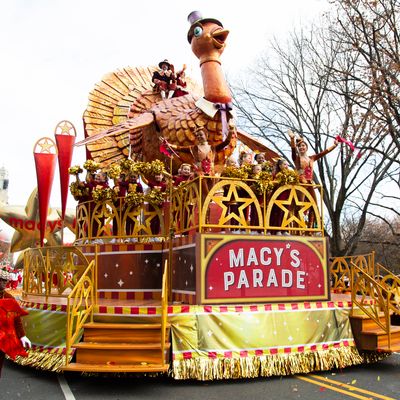 Photo: NBCU Photo Bank via Getty Images
There is no event on television quite like the Macy's Thanksgiving Day Parade. Every year, thousands of people from all over the country descend upon Herald Square in ridiculous costumes, braving the elements all in the name of unfettered capitalism televised Thanksgiving cheer. It's a massive undertaking, and I know this because I've been in the parade multiple times. In 2011, I sang in the closing number with my summer camp and rode on Santa's float, waving to the crowds and gossiping with Mrs. Claus about how cold it was along the way. But my big parade moment came in 2005 when I performed in the opening number of the parade with another theater camp (I went to a lot of theater camps), and, if you can believe it, even had a little solo about how my dad was in the army, even though he worked in business development at that time. Sure, there are other parades - the Rose Parade, the Easter Parade, and the like - but none hold quite the same space as the Macy's Parade, which has been an institution for 96 years, happening every year since 1924, save for a brief 3-year hiatus due to World War II.
This year, however, things are, well, a bit different. The parade is still happening but on an incredibly reduced scale due to the fact that we are (somehow) still living amid a rampantly surging and unchecked global pandemic. Rather than skip a year, this nearly century-old tradition has adjusted to these unprecedented times. According to a recent article in the New York Times, the two mile parade route has been shortened to a single city block, instead of approximately 2000 balloon holders there will only be about 130, and all participants have to be at least 18 years old. Yes, some version of what we've come to know as the Macy's Parade will air on NBC on Thanksgiving morning, but it will be a shell of what it usually is. And while it's absolutely necessary to scale back the proceedings this year, it's also a damn shame, because the Macy's Thanksgiving Day Parade is always one of the best pieces of live television we get all year.
This may sound like a bit of an overstatement when considering fancier and flashier fare like the Oscars or the Super Bowl, but make no mistake, I absolutely meant what I said. The Macy's Thanksgiving Day Parade is an absolute gem of an event - a messy, chaotic, three-hour hodgepodge of content that is perfectly imperfect. And that's, in part by design. Per Business Wire, the 2019 Macy's Parade had over 8,000 volunteers, a truly insane number of people to try and organize and put on national television all at once. From the weather to the performances to the balloon handlers to the literal balloons themselves, there are simply too many elements at play for things to go entirely smoothly. The Macy's Thanksgiving Day parade isn't too big to fail, it's too big not to fail. Sometimes, the blunder is spectacular: who could forget 'The Day That Barney Died' in 1997, or the errant Nutcracker balloon that took out this volunteer? But most of the screwups happen on a smaller, more-human scale, in blink-and-you-missed-it moments. A cheerleader falls out of a pyramid. A majorette drops her baton and scurries to pick it up and rejoin the formation. A dancer slips because of inclement weather. It's live TV, baby, and anything can happen.
But, it's not all about the misses, it's also about the hits too, specifically the Broadway ones. Zoomers may not know this, but before the days of YouTube, one of the only places you could see a performance from a Broadway musical without living in New York and shelling out Broadway ticket prices was in the first hour of the Macy's Thanksgiving Day Parade. Every Thanksgiving, I'd wake up and run to the television to catch the cast of Wicked or Jersey Boys or The Radio City Rockettes perform outside in the elements, absolutely gobsmacked by their talent and dedication to the craft. This year, the beloved Broadway numbers have been pre-taped so the parade won't be totally devoid of Broadway, but it simply won't be the same. The pandemic has robbed us of the opportunity to see this year's version of Laura Benanti feeding chocolate to absolute strangers in My Fair Lady or future Tony-nominee Adrienne Warren do the impossible and keep her wig on her head despite the wind while absolutely slaying a medley from Tina, and for that I will never forgive it.
Beyond putting some shine on the Great White Way, The Macy's Thanksgiving Day Parade is one of the only events that truly combines celebrities, normal people, and those in between performers of the "Who?" variety, trapped together on absurd and technicolor floats processing down Broadway. The parade is meant for everyone, so they really do try and cater to everyone offering a slate of performers that runs the gamut from Celine Dion to Kane Brown to That Girl Lay Lay. Due to the collaborative nature of the event, we often see the seemingly separate worlds of lay person and celebrity placed side-by-side. Pay attention and you can see a boy dressed as a Colonel Saunders realize that he's on national television for the first time in his entire life, and ultimately steal the spotlight from someone named Dustin Lynch by dropping a well-timed dab during his song. Watch closely and you'll see a boy riding on a Sour Patch Kid float dab his way throughout an entire Bad Bunny performance. It's a melting pot where celebrities, "who's," regular folk and their children, and you never know exactly who's going to grab your attention at any given moment.
And then there's the lip-syncing. Oh boy, the lip-syncing. The messiest and perhaps most hilarious element of the entire ordeal. As TikTok taught us in 2020, lip-syncing is an art that's hard to pull off, and the failure to do so can lead to truly thrilling moments of live television. I'll never forget where I was when Rita Ora completely missed her cue to start "Let You Love Me" during the 2018 Macy's Parade, and spent the rest of the song completely out of sync with her own song. Time seemed to stop in that moment, watching Miss Ora in a blue puffy jacket on a grandma's-house-inspired float surrounded by waving children dressed as ticket stubs, completely out of time with her own song. I struggle to imagine another television event that could provide such an absurd, captivating 3 minutes of television. Rita Ora's not the first celebrity to have trouble lip-syncing at the parade and she isn't the last. Who could forget the lip-sync faux-pas committed by American Idol's Scott McCreery, Ciara's 2018 dance heavy performance of "Level Up" (which has been suspiciously wiped from YouTube), Jimmy Fallon and The Root's unhinged "Bird Is the Word" on the Entenmann's float, or Diana Ross refusing to even pretend that she's singing live and forgoing a microphone, completely.
But the Thanksgiving Day Parade isn't just about lip-syncing mishaps, it's also about the thousands of volunteers that come from all over the country to have their 5 minutes of fame. It's a spotlight for the budding musicians from Western Carolina University Marching Band, in Cullowhee, North Carolina, and Catalina Foothills High School Falcon Band in Tucson, Arizona. It's an opportunity for the 610 Stompers, a group solely comprised of men from New Orleans who love to dance, to strut their stuff and the Capezio-clad dancers of Spirit of America to wave their neon pink pom poms to a RuPaul remix. It's a chance for stilt-walkers, uni-cyclers, clowns, and really just about anyone who decides to volunteer to potentially wear a butter costume and get into a shoving match with Al Roker and to definitely walk the parade route, waving on to the crowd of New Yorkers and tourists and 50 million people watching along on their televisions.
This Thanksgiving is going to look different for millions of Americans, and a slightly smaller scale parade is truly the least of the nation's worries in 2020. We'll get our football games and a smaller version of our Westminster Dog Show and we will also some semblance of a Macy's Parade, but it's going to be a far cry from the one's we've seen before, which is what this year demands. But let's pour one out for the Macy's Thanksgiving Day Parades of yore - an ambitious monstrosity, spontaneous spectacle, a gorgeous mess that captured the best of what live television has to offer. Hopefully by this time next year, the parade will be able to proceed as normal, with its 8000+ participants walking the two-mile route down Broadway come rain or come shine. Until then, here's to the Macy's Parade, because truly where else are you gonna watch Miss Piggy save Tony Bennett's life?