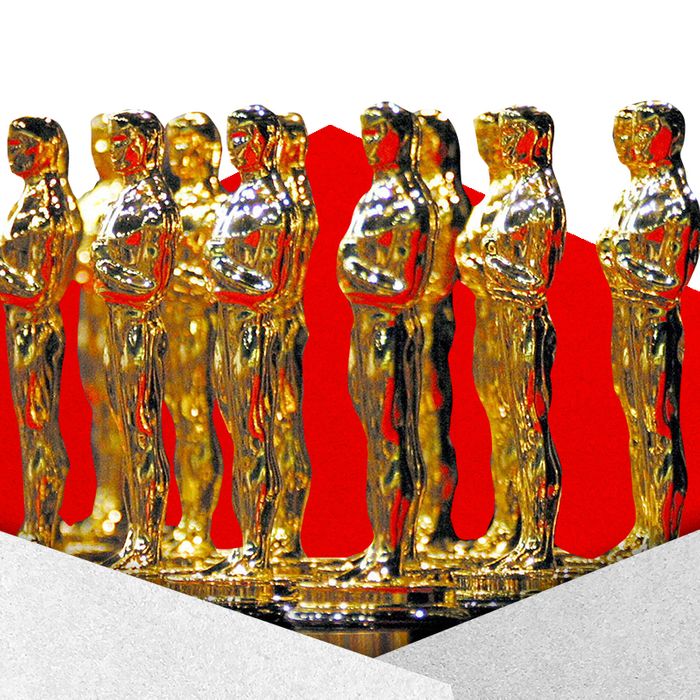 Get ready for the weirdest Oscars season ever.
Photo-Illustration: Vulture and Getty Images
It is a period of civil war. Deprived of their nourishing diet of canapés and meet and greets, the Oscar pundits have turned on each other. Hollywood Elsewhere's Jeffrey Wells, the vieux grincheux of film blogging, was apparently so incensed by Variety's hiring of writer Clayton Davis that he began dissecting Davis's columns with the focus and rigor of late-2000s Eminem. The feud escalated in late October, when Wells announced plans to secede from GoldDerby and create his own anti-"wokester" awards site called Straight Shooters — a move Davis in turn hailed as the "KKK version of Oscar predicting." The ceremony itself is still more than five months away.
But that's the point. In an ordinary year, these people would be fighting about the big Oscar movies. This year there are no big Oscar movies; not yet, anyway. Normally, the rhythms of an awards season are easy to follow. The fall festivals are the opening gun: In the packed screening rooms of Venice and Telluride, you can see which ostensible contenders pass the basic test of connecting with filmgoers. Over the course of the fall, VIP screenings give you a sense of which movies might really have juice. What are the ones that industry people can't stop talking about? Who's everyone excited to meet? Later on, you can amuse yourself by decoding the messages strategists are looking to get out there, then try to decipher which Film Twitter narratives Academy members will sign on for, and which ones they'll push back against. At the end of the race, you stack your predictions head-to-head against your rivals. Everything you get right and they get wrong is proof that you understand the movies on a level they never will. (The reverse? Never speak of such things.)
This is not an ordinary year. In fact, it's going to be the weirdest Oscars year ever. To start with, there's the schedule. In a fit of summertime optimism, the Academy decided to extend the entire calendar by two months, hoping that the coronavirus would have calmed down enough for a state of normalcy to arise in early 2021. A happy thought, but it didn't happen. Then the festivals all went virtual, and for much of the fall, the industry's attention was elsewhere. So we're left with a season that feels slightly theoretical; like it hasn't started yet, and maybe never will.
With pretty much every element of a traditional awards season a violation of current public-health guidelines, campaigns have pivoted to offering digital screening parties: a time-sensitive viewing link, often with a prerecorded Zoom Q&A afterward. (Sometimes you also get a nice little box of snacks in the mail.) I am told that these events actually have pretty good attendance, which makes sense — what else are people doing? I've also seen invites for drive-through screenings, and heard tall tales of socially distanced outdoor events in places with better weather than New York. The Academy has also set up its own streaming site for voters, though some are skeptical that less-tech-savvy members will be able to figure it out. Everyone's making the best of it, but you can't deny the communal element has been lost: everyone getting together to meet the stars and talk about the movies. Campaigning must also take a different form. No longer can charming ingenues like Brie Larson and Eddie Redmayne press the flesh of every Oscars voter they can get their hands on. And awards-season skullduggery is probably a vestige of the past: As one strategist put it to me, "You won't have that hand-to-hand combat that you'd normally have."
What this means for the race is unclear. I can imagine a scenario where narratives get cemented early, and with no real way for divergent ideas to gain traction, every result becomes a fait accompli. (Would Parasite have won Best Picture if its fans hadn't realized how much everyone else loved it, too?) But I can also envision a world where, with the Oscars noise machine dialed down, Academy members are free to let their freak flags fly. Think of it like a student council election, where voters write in whatever the hell they want without caring about what other people think. What sort of unexpected results could we get?
The Oscars race typically plays out alongside the fall release schedule, and what happens in the latter can affect the former. Academy members like to vote for winners; you can thank Ford v Ferrari's $225 million worldwide gross for vroom-vrooming it into last year's Best Picture field. That's also not a thing this year. Only a few dozen 2020 releases got to test out the theatrical market before the coronavirus hit, most of them such unlikely Oscars players that I wrote a whole post making fun of the idea. (Though I hear Universal will push for a Best Actress nod for Elisabeth Moss for The Invisible Man.) Everything else is being released into a comparative vacuum. Critics' reviews and social-media buzz will matter more than ever, though each is an unreliable narrator in their own way.
Which brings us to the streamers. Netflix has long coveted Oscars, and though the Big Red N has spent enormous sums the past two seasons to get them, its haul in that span is not exactly overwhelming: three for Roma, including Best Director, but otherwise just a Best Supporting Actress, a Documentary Feature, and a Documentary Short. That will almost certainly change this year, when streaming releases are likely to be the few players seen by a mass audience. The only Hollywood studio operating anywhere close to business as usual, Netflix could conceivably fill the entire 2021 Oscars ballot all by itself, having lured A-list filmmakers like Mank's David Fincher and Da 5 Bloods' Spike Lee into its stable, and also acquiring movies like Aaron Sorkin's Trial of the Chicago 7. Thanks to the Academy's new rules, Hulu and Disney+ releases are also now eligible, a boon for films like Palm Springs and Soul. (Amazon has previously sent its films to theaters first, but this year it is surely thankful for the ability to put its contenders straight into millions of homes.) The streamers can also operate far more nimbly than their competition. If they spy an opportunity, they can simply pull one of their many undated projects out of the hopper and into a February release date, as Netflix did this week with the Zendaya–John David Washington drama Malcolm & Marie. The only question is: How many is too many? Voters in the past have had a mental quota when it came to Netflix films — last year's Best Actor race seemed poised to feature as many as four of the streamer's leading men, but in the end only two made it in. But if theaters in New York and L.A. aren't safe to reopen by February, expect that limit to be stretched as far as it can go. (GoldDerby's Best Picture top ten currently features four Netflix titles, plus one each from Disney+ and Amazon.)
COVID aside, this awards season will also be the first one in five years not to play out under the shadow of the Trump administration. The 45th president has been the Oscars' chief boogeyman; every Best Picture win since Moonlight has been at least in part a referendum on his reign. (He has occasionally returned the favor.) Now that he's on his way out, the films most associated with his administration may feel like old news, especially as we'll be roughly 100 days into the Biden presidency by the time the Oscars roll around. The former vice-president has pitched himself as a calming force on our hyperpolarized atmosphere, and while it's certainly questionable whether he'll be able to pull it off, it's worth remembering the last awards season that took place amid the arrival of a new Democratic president, which ended with the triumph of the relatively apolitical feel-good romp Slumdog Millionaire. And if — as the rosier forecasts predict — a coronavirus vaccine is in the process of being rolled out in April, that could ensure voters will be in the mood to honor this year's sunnier contenders, whatever they turn out to be. (The vaccine timing could also provide an intriguing subplot: Does the Academy push for stars to get inoculated early in order to produce an in-person ceremony, even at the risk of the resulting public outcry taking down the Biden administration?)
And finally, you can't talk about this awards race without noting that the 2021 Oscars will also play out in the wake of this past summer's racial reckoning, which saw the Academy join so many other elite institutions in taking a long, hard look at itself. (Or at the very least, publicly stating that it was taking a long, hard look at itself.) Since then, AMPAS has continued to diversify its membership and announced a new set of diversity and inclusion standards. Reaction to the latter has been mixed: Amid the flurry of positive takes, some felt the rules went too far, some that they didn't go far enough, while others worried they would spur only tokenism. They won't go into effect for a few more years, but in the meantime, the relative lack of big studio films in this year's field has led to a preliminary field that looks more diverse than usual. The Best Picture race should feature at least two films — Chloé Zhao's Nomadland and Regina King's One Night in Miami — directed by women of color. And the acting fields have a bevy of nonwhite contenders: Viola Davis and the late Chadwick Boseman in Ma Rainey's Black Bottom; Delroy Lindo in Da 5 Bloods; Steven Yeun and Yuh-Jun Yeung in Minari; Kingsley Ben-Adair and Leslie Odom Jr. in One Night in Miami; Riz Ahmed in The Sound of Metal; and more.
Of course, it was just this year that the Oscars got in hot water for nominating only one nonwhite actor, and zero female directors. With such a diverse field of potential nominees, I suspect there will be a lot of public pressure for the Academy not to repeat that feat again. But maybe not from the Straight Shooters.