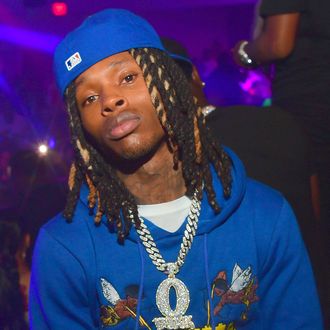 The fast-rising Chicago star was 26.
Photo: Prince Williams/WireImage
King Von, an up-and-comer in the Chicago drill scene, has died after being involved in a shooting in Atlanta on Friday morning, November 6; he was 26. The Atlanta Police Department tells Vulture that three people were killed and three injured in a shooting outside Monaco Hookah Lounge. The shooting allegedly escalated from an argument between two groups, which prompted one of two off-duty, uniformed police officers working security outside the lounge and an on-duty officer on patrol nearby to intervene. APD says "shots were fired during the encounter," but add that the officers were not injured. According to police, paramedics took three suspects to the hospital, three others went to the hospital on their own, and two more suspects were detained at the scene.
Atlanta Police Department confirms King Von, a.k.a. Dayvon Bennett, was one of the individuals killed at the shooting. "At this time, our investigators believe Mr. Bennett was shot during the initial shootout between the two groups of males, prior to police responding and attempting to stop the shooting," police said in a statement. APD also said it could not find Von at the scene; he arrived at the hospital on his own. Outlets including the No Jumper podcast speculate that the shooting involved a dispute between Von and Atlanta rapper Quando Rondo.
Atlanta Police Department confirmed to Vulture on November 8 that the APD Homicide Unit "secured arrest warrants against 22-year-old Timothy Leeks for Felony Murder in the shooting death of Dayvon Bennett. Mr. Leeks is in police custody at Grady Hospital where he is undergoing treatment for a gunshot wound." APD has now classified the case of Bennett's homicide as "closed."
Before his death, King Von was on the verge of a breakout, having released his third album, Welcome to O'Block, just last week. He began rapping when he was in jail on a murder charge at 19, he told Billboard; those charges were dropped. His childhood friend Lil Durk signed him to his label Only the Family and has frequently collaborated with Von. (The two were charged with attempted murder, among other charges, for a June 2019 incident in Atlanta.) Durk wrote of his friend on Instagram, "My twin gone." Welcome to O'Block was Von's second album of 2020, after LeVon James. In a review of Welcome, Stereogum wrote, "He's got a real shot at becoming great. It's been a long time since a rap storyteller showed this much promise."
Tributes from the rap community have poured in. "Wow. This year was so tough," Chicago's Chance the Rapper tweeted. "Rip von God bless him and his family I can't believe it." Fellow Chicago rapper and collaborator Polo G wrote on Instagram, "Was a real one💯& a good hearted n- - - - fasho🖤RIP🕊🕊🕊," along with the hashtags #chicagolegend and #kingofdrill. Another collaborator, Calboy, tweeted, "No not Cuzo! 💔." Rapper Omarion added on Twitter, "Rest in power King von. I seen the potential. I heard a few songs but more than that I seen him breaking bread with his family. I respect that. I Kinect with that." Von collaborator Chopsquad DJ posted a tribute to Instagram. "RIP my Bestfriend," he wrote. "Every moment meant something and to grow wit you made me feel like I was a real producer. I love you bro @kingvonfrmdao." Many others tweeted "RIP" messages, including YG, A$AP Mob, and Cordae.
Von's publicist also shared the following statement, confirming the news of his death:
King Von, a rising rapper known for his visceral storytelling, passed away in Atlanta on November 6. Born and raised in Chicago's O'Block neighborhood, Dayvon Bennett emerged from difficult circumstances to become one of music's most promising stars. The 26-year-old artist left us just as the world was beginning to grasp the depths of his talents. Last week, Von shared his debut album, Welcome to O'Block, offering a cinematic and vivid account of his origin story, providing an inside perspective on neighborhood life and the trauma wrought by the criminal justice system. King Von was a luminary — a natural storyteller, an artist on the verge of superstardom who had so much more to give the world. He overcame myriad unjust circumstances yet remained steadfastly dedicated to giving back to the community that raised him, O'Block. He was a devoted father, a deeply loyal friend, and a man who took care of his people before himself. We are heartbroken for his family, his friends, his team, and his fans. Long live King Von.
Reporting by Victoria Bekiempis.
This post has been updated throughout.