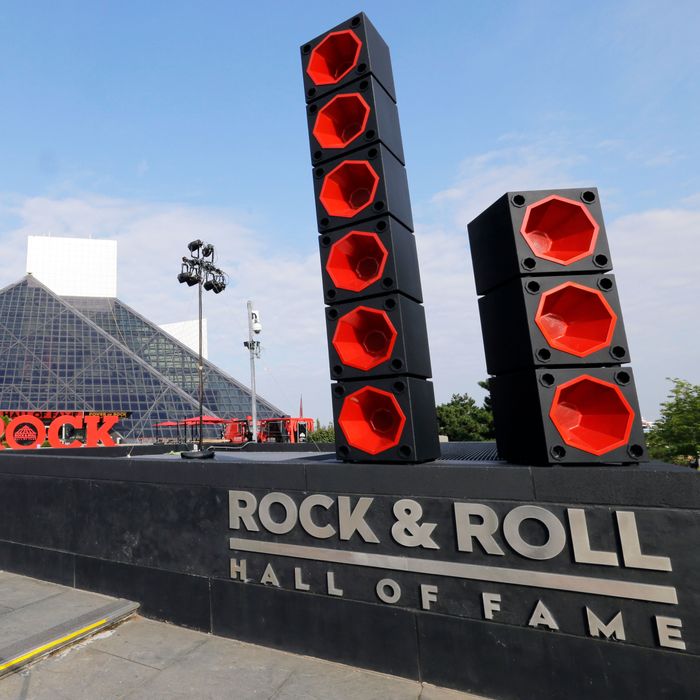 How can you celebrate rock and roll greats with no actual rock or roll?
Photo: AP/Shutterstock
This year's Rock and Roll Hall of Fame induction ceremony was supposed to take place in Cleveland back in May. Because of the coronavirus it was postponed to November with the hope it would still happen in person. Then, inevitably, it was converted into a fully virtual event, one that aired Saturday night on HBO.
The broadcast comes with a pre-established sense of loss; watching the two-hour ceremony, you feel it immediately. One of the central joys of watching the Rock and Roll Hall of Fame induction, aside from complaining loudly about which artists were inexplicably excluded — induct Duran Duran, cowards! — is seeing the live performances by the inductees themselves or others paying tribute to them (not to mention old drama occasionally revived). Last year, there wasn't as much of that as usual; inductees Radiohead and Janet Jackson didn't stage mini-concerts, nor did anyone else on their behalf. But this year, given the virtual constraints and the Hall's belief that virtual performances might have been "boring" — note: not necessarily! — the performance element has been cut entirely. That absence, as it has in other awards shows this year, is deeply felt, to the point of being unignorable. How can you celebrate rock and roll greats with no actual rock or roll?
The answer provided by the two-hour program is: with a lot of montages and some nice pre-recorded salutes and acceptance speeches. Which is … fine, just not as fun and uplifting as a Rock and Roll Hall of Fame ceremony should be. Not as fun or uplifting as it should be: that's 2020 in a nutshell.
The salute to this year's group of inductees — the Doobie Brothers, Nine Inch Nails, The Notorious B.I.G., Depeche Mode, T. Rex, Whitney Houston, legendary manager Irving Azoff, and critic-turned-producer Jon Landau — was already tinged with sadness even before the pandemic. Three of the honored artists, Biggie, Houston, and Marc Bolan, founder, frontman and the heart of T. Rex, died young, and their awards are received on their behalf by their children or other loved ones. It is particularly poignant to see Houston's 87-year-old mother, Cissy, and her sister-in-law, Pat Houston, speaking on behalf of the "Greatest Love of All" vocalist and emphasizing how much she wanted to be inducted into the Hall of Fame before she died in 2012. "If I talk too long, I'll cry," says Cissy Houston in one of the show's final moments, "but thank you."
Fans of Notorious B.I.G., who was shot and killed in 1997, may also find a tear or two in their eyes when Sean Combs inducts the friend whose career he championed at Bad Boy Records. "They say time heals all wounds," Combs says. "I kinda wait for that day. But I also think time doesn't heal all wounds. There are some things you have to live with."
Because the last ceremony was broadcast all the way back in April of 2019, the in memoriam segment is a doozy, only compounding the underlying air of grief. Artists who died last year, including Ric Ocasek of The Cars and Cream drummer Ginger Baker, are recognized along with those who passed more recently, like the legendary Little Richard and Eddie Van Halen, who receives a lengthier salute than the rest. (Slash, Kirk Hammett of Metallica, and Tom Morello of Rage Against the Machine, who calls Van Halen "the Mozart of our generation," all sing the guitar maestro's praises.)
While it's hard to overlook the persistent sense that something is missing, the ceremony still has its delightful moments. There's the one in the Doobie Brothers tribute that flashes back to the classic What's Happening episode where Rerun tried to record a bootleg copy of a Doobies concert by hiding a tape recorder the size of a tiny house in his overcoat; "You got to see the Doobie Brothers act," says filmmaker Judd Apatow, identified in the special solely as "Doobie Brothers fanatic; St. Vincent gets a chance to nerd out for Nine Inch Nails. "'Head Like a Hole' has two fucking choruses," she notes, her mind clearly still blow; Charlize Theron raves about Depeche Mode and calls their music the "soundtrack to my adolescence" while inducting the New Wave band into the Hall; and national treasure/official best Eagle Joe Walsh honors Azoff by stating: "Irving is the only manager I ever knew who said to Daivd Geffen, 'Hey David,'" at which point Walsh blows a fat, wet raspberry.
The love that so many feel for rock, pop, and hip-hop is still present in this year's unusual induction ceremony. Unfortunately, we just don't get to hear any of it to the extent or at the volume that it deserves to be heard. When so many other awards shows and virtual events were able to find ways to make musical performances work in a socially-distanced environment, it's odd that the place in America devoted expressly to celebrating music couldn't figure out a creative solution to that problem. If the Rock Hall, as an institution, is proof that rock and roll is not dead, they should have done more to make sure its ceremony kept it alive.