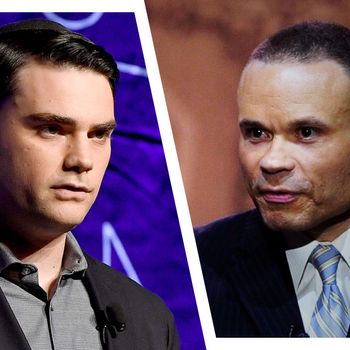 Ben Shapiro and Dan Bongino.
Photo-Illustration: Vulture, Michael S. Schwartz/Getty Images and Susan Walsh/AP/Shutterstock
I'd like to begin by articulating an assumption I know I'm not alone in holding: for a good stretch of its existence, podcasting has often come across as a distinctly liberal-leaning media space.
There are a number of reasons for this. Some of it has to do with the prominent successes that public radio and various journalistic organizations — typically thought about as liberal institutions, unfairly and otherwise — have historically had crossing over into the medium. Part of this might also have to do with the head-turning emergence of successful left-leaning and leftist presences that have used open podcasting as a foundation for their media businesses, as in the case of Crooked Media and the cluster of pods loosely known as the Dirtbag Left. I'm sure there are other reasons of note, but point is, it's an impression that has solidified into an informal identity, one that has persisted for a good while.
Now, you can attack this historical assumption from a few directions. Perhaps the biggest one lies in the fact that you could simply point to the presence of Joe Rogan and Dan Carlin — both of whom possess politics that can be fairly hard to describe, but typically run counter to the dominant strings of liberal politics — as being prominent figureheads of the medium dating far back to its earlier pre-Serial era. But for the most part, the interpretation of podcasting being distinctly liberal-leaning is more true than not, especially if you think about the majority of the successes that have broken through from within the medium over the past decade or so.
At any rate, while that reading may have held historically, we seem to be reaching a point where that interpretation may no longer necessarily stand.
This case begins with a tenuous but nevertheless significant data point. If you were to scan the Apple Podcast charts today, you'd find that a tremendous proportion of the shows occupying the Top 200 spots are explicitly right-wing podcasts. Here's a non-comprehensive list, as of Monday evening: The Dan Bongino Show, The Ben Shapiro Show, The Mark Levin Podcast, The Charlie Kirk Show, The Candace Owens Show, The Glenn Beck Program, Louder With Crowder, The Daily Wire's Enough, The Sean Hannity Show, The Rush Limbaugh Show, The Michael Knowles Show, The Rubin Report, and whatever that Bill O'Reilly podcast is called. That accounting doesn't even include shows by sitting Republican politicians, like Verdict With Ted Cruz and Hold These Truths With Dan Crenshaw, which are technically counterparts in the politician pod trend I wrote about a few weeks ago.
(Additionally, you could theoretically sort the so-called "Intellectual Dark Web" libertarian types into this mix: the Joe Rogans and Jordan Petersons and so on. But I'm inclined to bracket them out as a separate species of show, since they collectively make up a significantly different kind of political phenomenon at this point in time.)
Anyway, this data point is tenuous because it's always important to point out the deep imperfections of using the Apple Podcast charts as a representation of the podcast ecosystem. As we've banged the drum several times before, performance on the Apple Podcast charts shouldn't be read as an indicator of a given show's listenership relative to each other, but as a kind of "heat" indicator that prizes what some in the business call "subscriber velocity" — that is, the novel engagements that a podcast experiences on the platform. (There's a way you can think about the charts as being somewhat similar to YouTube and social media platforms, in the sense that they reward fresh engagement as the leading metric. In any case, like many algorithmically-driven artifacts, how Apple determines placement on its podcast charts is largely a black box affair, subject to long and voluminous debate.) Put simply, a show can rank highly on the Apple Podcast charts across a considerable number of weeks but ultimately reaches fewer people compared to a show that's larger and older but is currently sitting somewhere in the basement of the charts.
It's also worth noting that the Apple Podcast chart is also vulnerable to scam campaigns, in that it's possible for certain bad actors to engage in pay-for-placements schemes where automated scripts are used to simulate engagement with specific podcasts at high volumes. Such schemes are meant to help drive newer shows up the charts, where their high placement gets them exponentially greater visibility, which in turns leads them to potentially generate organic growth. (We ran an experiment to illustrate such a bot campaign a few years ago.)
All of this is really wonky discussion, I know, but I'm setting all this foundation down to push the point: while the Apple Podcast charts shouldn't be taken at their word, I think the sheer volume and consistency of right-wing shows that currently populates the charts tells us something quite real. Furthermore, according to data made available by Chartable, a podcast analytics and attribution company that tracks Apple Podcast chart positions as part of its services, some of those shows have been charting effectively for the past two years or so. An even smaller number has been charting effectively since the start of the Trump presidency.
Even more curious, digging through the data a little further, is the fact that many of these shows  have noticeably improved their chart standings over the past few months, and significantly so in the weeks since Election Day. (The fine folks at Chartable also noted that there doesn't seem to be any red flags suggesting that paid-for-placements scams were involved in the chart performance of these shows.)
Here are three examples to illustrate the finding. The Mark Levin Show has spent much of the past year charting between the 70-100 and 100-150 range, depending on the month. About a week after Election Day, the show's positioning markedly improved, and it currently hovers fairly consistently around tenth spot. The Ben Shapiro Show, which started out as a podcast before being simultaneously repackaged as a radio broadcast in 2018, has always charted fairly well, rarely dropping below the tenth spot throughout 2020. Over the past few months, it's averaged placements around the 4-7 spot. Meanwhile, The Dan Bongino Show, which features a host that's become confoundingly prominent enough on digital spheres to warrant his own inquiring New York Times profile by Kevin Roose, largely fluttered back and forth within the 20-40 spots for much of the year. Since Election Day, however, the podcast broke into the top ten spots, and currently averages at the top two spots.
Again, performance on the Apple Podcast charts is a wildly imperfect metric, and it shouldn't be taken as materially equivalent to, say, box office returns or the New York Times Best Seller List. (Though, my understanding is that the latter is also controversial in some circles.) Nevertheless, the Apple Podcast charts is one of the most visible and powerful real estates in all podcasting, and the consistency of their chart placements does represent the existence of a trend. Placement is power, and I believe that, very quietly and then seemingly all at once, right-wing podcasts have carved out a strong presence in the ecosystem.
So, I picked The Mark Levin Show, The Ben Shapiro Show, and The Dan Bongino Show as representative examples for another reason: all three podcasts are repped for sales and distribution by Westwood One, the Cumulus Media-owned radio group that's been working to build out a podcast business over the past few years. (Further context for more specificity: The Ben Shapiro Show is officially listed as being distributed by The Daily Wire, but The Daily Wire is repped for sales by Westwood One.)
You can find network-wide download numbers for Westwood One's portfolio on the Podtrac rankers, which, similarly, should be understood as imperfect representations of the podcast space themselves. (See here and here.) But they do give us a decent shot at some understanding of reach. The numbers for Westwood One's portfolio are fairly hard to parse out: it's officially listed at reaching 6,236,000 unique monthly US listeners through its whopping 132 show portfolio. Somewhere in that spread is The Dan Bongino Show and The Mark Levin Show. However, The Daily Wire is spun out as its own publisher in the ranker, and the official number there is objectively sizable: the network is said to reach 5,546,000 unique monthly listeners off only five shows, one of which is, of course, The Ben Shapiro Show. It's safe to assume, then, that The Ben Shapiro Show reaches well above a million unique US monthly listeners a month at the very least.
Let's now turn to the explanatory question: how did these right-wing shows break through the podcast ecosystem? Any meaningful answer requires serious appraisal of multiple overlapping factors, but my impression is that it can largely be pegged to two things. Firstly, these shows work with insane volume. They often publish new episodes every weekday, occasionally on the weekends, and they rarely miss beat. Secondly, I think a big, big part of this has to do with how right-wing podcasting nowadays seems purposefully integrated with the broader right-wing infrastructures, and are themselves individual assets of much larger multi-platform presences. This notion was pushed forward prominently in a conversation I had recently with a senior figure at Westwood One, who pointed to the way someone like Dan Bongino consistently shepherds attention between his multiple media outputs, from his broadcast radio show to his social media feeds to his podcasts to his various media appearances. It's an aggressive flood the zone approach, where gains from each individual piece directly pipes into supporting another. This approach extends down the line: in 2018, Westwood One started repackaging The Ben Shapiro Show for broadcast radio distribution, while The Mark Levin Show podcast is a repackage of a broadcast radio program.
There is also the matter of how the content itself tends to simply be fuel for fiery responses, amplified and in service to a charged polarized environment, like a snake that eats its tail to only grow eternally fatter. During that conversation, I also took the opportunity to ask about the company's stance on the speech of the shows it represents. After all, in the wake of the elections, The Dan Bongino Show was hyperactive in promoting several baseless allegations and debunked conspiracy theories claiming election fraud. The response was a minor dodge. "We have a very, very strong policy on content," came the reply. "We feel strongly that we have the ability to uphold the truth."
Ultimately, this feels like an expression of the inevitable endgame for all emergent technologies. Something new comes around, catches fire, attention, and then investment, eventually leading to a place where the old guard comes in and synthesizes the whole thing. In this case, it's old right-wing talk radio making its way into new podcasting, finding new blood as a foothold, building a bridge between the two sides. We've seen it with news organizations like the New York Times and NPR, and so it's unsurprising that we're seeing it with ever-present conservative talk radio. One wonders what this foretells for the explicitly left-leaning types — what would such a synthesis look like for Crooked Media?
Quick thing… Apple Podcasts has rolled out a new web embed player feature, which has been a long time coming for the dominant podcast distribution platform.
iHeartMedia strikes multiyear creative partnership with Cloud10, the Los Angeles-based podcast network and production studio founded by Sim Sarna. Cloud10 is known for building out a portfolio of distinctly celebrity-driven shows like Work in Progress with Sophia Bush, Minor Adventures with Topher Grace, and Busy Phillips is Doing Her Best, and the studio itself comes out of Sarna's success in being part of creating the popular Anna Faris is Unqualified podcast.
There can be a bit of variation when it comes to deals like this, so I thought it might be useful to unpack it a little further. This deal, which spans two years, primarily revolves around iHeartMedia funding and distributing new shows from Cloud10, often with minimum guarantees. (Not unlike how book contracts are structured, revenues would go to iHeartMedia until it recoups the guarantee and production budget before switching to an agreed upon rev split.) Cloud10 will maintain its existing sales team than handles direct response advertising, but this partnership will also see iHeartMedia supporting the network's sales efforts around brand and programmatic marketplace-based advertising.
As part of the deal, existing Cloud10 shows will become part of the iHeartMedia portfolio, and can be subject to measurement by Podtrac. Those shows will also be privy to being promoted on iHeartMedia's unsold inventory.
The two companies will also be closely collaborating on that future program development process, and while specific details on upcoming projects will only be announced early next year, I'm told that the deal will likely result in ten or more new shows through the end of 2021.
This Cloud10 partnership is the latest addition to iHeartMedia's recent flurry of dealmaking activities in the podcast space. Last week, the broadcast radio incumbent announced a sales and production partnership with Pushkin Industries, a deal that comes not long after news that it's launching a new podcast network with Charlamagne Tha God, called Black Effect. In late October, the corporation made official its intent to acquire the Voxnest platform, thought to be part of its push into programming podcast advertising.
These podcast activities also come as iHeartMedia continues its waves of layoffs chiefly targeting its broadcast radio markets, and as the FCC approves the company's petition to increase its foreign ownership cap such that it's able to take on more non-American capital as part of its efforts to navigate its state of post-bankruptcy.
Podfund changes hands. Podfund, the slightly-hard-to-explain company that invests in podcast creators with creator-friendly terms, is now managed by TechNexus, a significantly more straightforward tech investment firm.
According to a Medium post by Andrew Annacone, who now takes over as President of Podfund, the intent is to build on Podfund's original model while expanding out to tackle investments that are deeper into the "intersection of content and technology." We'll see what that shakes out to be.
Podfund was founded last summer by Jake Shapiro, who was already serving as the CEO and co-founder of RadioPublic. Shapiro left both teams when he joined the Apple Podcasts team as the Head of Creative Partnerships in September. Nicola Korzenko, the general manager of Podfund, also left the company in September to rejoin Amazon, where she now works in content acquisition for Prime Video channels.
In tomorrow's Servant of Pod… Lauren Shippen is on the show this week.
Back in 2015, she created a fiction podcast called The Bright Sessions, which went on to carve out a strong following and community online, and several years later, she would become one of the busiest creators in the podcast business, in large part owing to the strength of that original production that she worked to pull together on her own dime.
In many ways, Lauren's career so far is the kind of stuff that podcasting should be able to offer a wide number of people — coming out of nowhere, with no real credits to their name — if the ecosystem is working the way it should. It's unclear to me whether we've drifted away from that kind of possibility now, and part of why I wanted to interview Lauren about her arc to this point is get a better sense of this question. We also talk about a bunch of other stuff as well, like Stephen Sondheim and her dream to make a queer cowboy rom-com, which would rule.
You can find Servant of Pod on Apple Podcasts, Spotify, or the great assortment of third-party podcast apps that are hooked up to the open publishing ecosystem. Desktop listening is also recommended. Share, leave a review, so on.
Who Are Audiograms For?
By Caroline Crampton
Last week, my eye was caught by a press release about a newly formed partnership between Bitcast, an iOS podcast clip sharing app Bitcast, and Podcast Notes, a website that summarizes podcasts. The story used phrases like "a new paradigm in social audio" and "podcast clips emerge as an incredibly powerful new medium" — market cliches that were pompous, and still yet largely unproven.
Now, I don't think this development is especially significant in and of itself: such peripheral startup activity has become the norm in the audio world. What gave me pause, though, was the fact that the press release made me realise that I hadn't ever seriously interrogated the idea of whether "audio clips" have a meaningful role to play in the way that podcasts are discovered and disseminated in the first place.
Over the years, I've seen podcasters sharing short sections of podcast episodes on social media, whether via a clip feature within a podcatcher or as a custom made subtitled video. I've participated in this practice myself, having even installed WNYC's audiogram generator from 2016 on my PC when I worked as an in house producer at a magazine in a previous life.
That tool dated from an earlier era — post Serial, pre consolidation — when the so-called "podcast discovery problem" was high up the agenda for shows big and small. It was also the time of the wider media's (ultimately disastrous) pivot to video, something that was expressed in the documentation for that WNYC tool, which promised to turn audio into video, the "first-class citizen of social media." At that time, it felt to me like everyone was on the hunt for that silver bullet, one easy implementation that would send download numbers rocketing upwards. The idea of making a longer piece of audio easily visible and shareable seemed perfect for that moment.
Where do things stand today, then, now that the promised land of video has dematerialised and there are so many more big players spending money in podcasting? Some podcatchers, such as Overcast, Castro, and Listen Notes, have inbuilt podcast clip sharing features nowadays, meaning that listeners are able to pick a short moment and publicise it on their accounts. There are also other established services like Headliner and Wavve, explicitly aimed at podcasters wanting to create their own clip assets for marketing purposes. And then there are "social audio" apps like the aforementioned Bitcast that seek to build a brand around the exchange of clips specifically.
Of these three approaches to the audio clip space, it's the second one that feels to me like it has the most mileage for podcasters. When researching this piece, I found it very difficult to find any independent data on whether the subtitled audio-as-video clips created by tools like Headliner or Wavve actually led to positive impacts on a podcast's listenership — it's just seems not to be information that anyone is collecting in a comprehensive way. There are some slight indicators out there, though, which seem to show at least that social networks' algorithms react positively to the posting of clips.
Back in 2016, Delaney Simmons, then the director of social media at WNYC, revealed that the "audiogram" clip tool was showing some very positive results for their shows. "On Twitter, the average engagement for an audiogram is 8x higher than a non-audiogram tweet and on Facebook some of our shows are seeing audiogram reach outperform photos and links by 58% and 83% respectively," she wrote in an August 2016 Medium post about the tool. Obviously, that's just from one publisher's perspective and impossible to verify externally, but it does seem to track with the way social networks handled posts including video at the time.
For a more contemporary view of this question, I spoke to Oliver Wellington, founder of Headliner, over email. His team does some A/B testing of different clip formats and styles and share their results on their blog. Perhaps unsurprisingly for in-house research, the results come back pretty positive. "In some of the tests, video has outperformed static images by five times," Wellington said. "We also ran a survey asking users to report how much Headliner videos have increased their listenership. We got 415 responses, with over 70 per cent of respondents saying Headliner-made videos had helped increase listenership by between one and two times."
Since WNYC's tool launched in 2016, Twitter has rolled out the ability to share audio in a post to some iOS users — the "voice tweets" feature was launched in June 2020 and enabled for more users in September. As a podcast marketing option, though, it has yet to take off, and Facebook remains in much the same place regarding adding audio to posts. This is why video clips are necessary, Wellington argued. As a medium, podcasting is at a disadvantage on social media," he said.  "With a video clip, podcasters are now able to level the playing field and meet listeners where they are, on any social network."
Both when I was making podcasts for a big magazine and now that I do it by myself, I've personally always found that the time investment necessary to make decent-sounding audio clips never seemed to match up with the return. In other words, "make clips" is always on my production to do list, but it almost never gets crossed off.
This is a common problem, according to Wellington, who has apparently seen plenty of podcasters "trying video once or twice and giving up because the initial video or two didn't perform well." He added: "Social media is a constant stream of information and posts, you need to put a bunch of stuff out there to figure out what will work, and this can take time." He recommends trying lots of different clip styles and formats to see what works for your audience.
Lisa Jozi, a producer who has been responsible for making audio clips at big publishers like the Guardian and Al Jazeera as well as for her own podcast, told me that she remains somewhat sceptical of the power of these assets to translate into actual downloads. "To be honest, I've never seen them push traffic from social to the actual piece of content in any meaningful way," she said over email. "Even if the clips did well on social, the click through to the actual piece was tiny.  For brands that are conscious of numbers/reach, you could collect easy views on these shorter clips to make your overall audience look bigger."
They're better viewed as a brand awareness option, she felt, rather than something that directly translates into more listeners. Which "should make you think carefully about why you want them and how much time you're willing to spend doing it." Another producer who got in touch with me about this issue, Charles Commins of the Northampton Town FC podcast It's All Cobblers To Me expressed a similar view, although he sees a value in the clips he makes beyond just as a means to push downloads.
"I'm a big fan of repurposing as a way of reaching as many people as possible. I use audiograms to create a kind of trailer for each individual episode," he said. "While I can't say that the audiograms definitely increase my download stats, they do get the podcast more visibility on social media. The idea is that if more people see it, more people will listen."
While I was looking into this topic, it didn't escape my notice that it's often podcasters with smaller shows that are preoccupied with the efficacy of these clips. Or, to put it another way: there are some pretty big shows out there that, to my knowledge, have never posted one. Publishers with social media teams may like them as an additional social marketing tool, and if smaller operations enjoy having them, then it's up to them to decide whether they're worth the resources. I felt Lisa Jozi summed this up well:
If you want them as a part of a look and feel for your podcast brand online, fantastic. They can make you look more professional as a part of a cohesive social media strategy. If you're labouring over them in the hope that people will click through to the episode and listen to the whole thing, give them a miss.
As with many of the marketing techniques pushed at podcasters with smaller audiences, social audio clips can suck up a not inconsiderable time that could have been spent on the show itself. After all, sometimes the best podcast marketing tool is making a really good episode in the first place.
Another Local-National Bundle to Watch
Here's a technical experiment that caught my attention recently. For about a week and a half starting on Election Day, the Washington Post ran automated AI-powered audio updates reporting local and national election results at the top of episodes from three of its podcasts: Post Reports, Can He Do That?, and The Daily 202's Big Idea.
Think of these updates as a kind of audio ticker tape that came bundled with episodes of those podcasts as they were downloaded during the immediate post-election period. As a listener, you essentially experience them as a variation on the pre-roll spot, in which a mechanical — though female — voice reads out the latest real-time results from both the presidential race as well as races that were local to your area. The spots were short and punchy, typically clocking in at around a minute or so.
This dynamically-inserted election update project was the latest effort from the Post's Strategic Initiatives team, which focuses on using emerging technologies to explore experimental storytelling approaches in order to reach more people. Past projects have included efforts around virtual reality, augmented reality, and artificially intelligent automation.
Audio was always an area they were interested in, as Elite Truong, the recently-appointed director of strategic initiatives who oversaw the project, told me last week. "The main question for us was: how do we provide more of a service through audio — whether it's through podcasts or audio embeds on web pages?" she said. "How do we make that more accessible?"
The project was primarily powered by an in-house product called Heliograf which Truong describes as a cluster of machine-learning algorithms built to process high volumes of data from various APIs and convert them into information-rich scripts that can be edited down into publishable journalism. When the tech was used to cover DC-area high school football games every week back in 2017, Jeremy Gilbert, Truong's predecessor, said that the technology was "creating a new model for hyperlocal coverage."
This isn't the first presidential cycle in which Heliograf was used to automate the Post's local race coverage. In 2016, the Post tested it out to track results for 500 races around the country, and in this cycle, that number of covered races was greatly expanded. The idea to try delivering those race results through the Post's existing podcast products, Truong tells me, came out of an impulse to serve those results to audiences where they already are.
The actual deployment of those audio updates depended on a mix of new and old technology. The new being the combination of Heliograf-generated results with text-to-speech automation tools, and the old being the manipulation of dynamic ad insertion solutions to deliver those generated audio update reads to listeners based on their geographic location. There's a touch of the familiar to this particular composition of tools and ideas: between the bundling of local content with fundamentally national products, the general thinking of meeting audiences where they are, and the use of ad tech as means to those ends, this Washington Post experiment sounds like NPR's recent announcement that it will start shipping episodes of its daily afternoon podcasts, Consider This, with dynamically-inserted local news segments from select cities.
Two doesn't necessarily make a trend, but it's a start, and I really do hope to see more podcast teams dip their toes into this whole local-national bundle thing. There's a ton of service (and entrepreneurial!) potential in this lane. I'd also be curious to see what other audio experiments that the Post will come up with once the dust settles around this election project.
But that might have to wait. The automated audio update only ended last Friday, and Truong's team has yet to fully debrief on the findings. That said, she notes that, at this point, there seemed to be very few reports of failed local results deliveries, which is a very encouraging data point. It might be enough to greatly expand the program.
"I want to put this everywhere," she said.