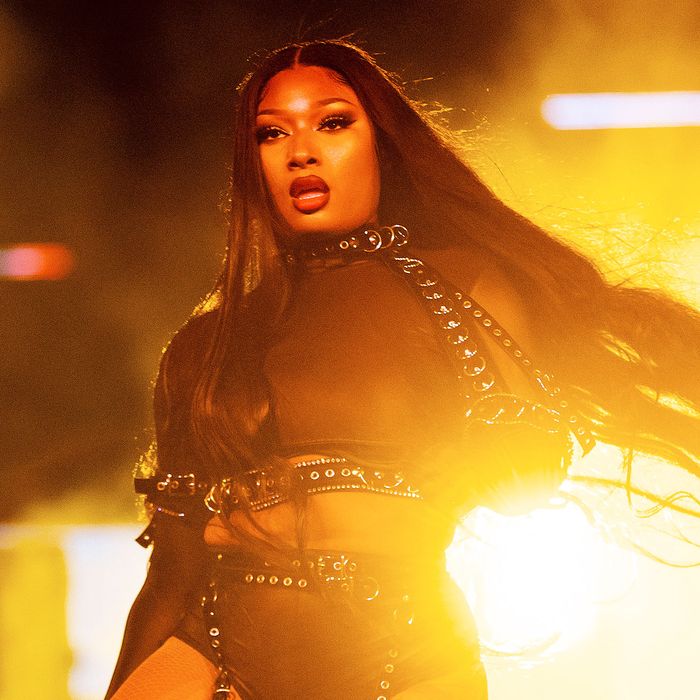 It took Megan just one song, not even three minutes long, to respond.
Photo: Rich Fury/Getty Images for Visible
Megan Thee Stallion's debut album was bound to be a victory lap. "Big Ole Freak," her first hit, came out over two years ago and charted in April 2019; the mixtape that followed a month later, Fever, had all the hype of a formal debut. By the time she followed it with the one-off "Hot Girl Summer," the world couldn't look away — and she continued to hold its attention with follow-up EP Suga and a chart-topping, Beyoncé-assisted remix of "Savage." Nothing could stop her, not even getting shot in both feet this past July, an act of violence she later attributed to rapper Tory Lanez, who has since been charged with felony assault in the case and pleaded not guilty earlier this week. No, instead she dropped the biggest song of 2020, her Cardi B collab "WAP," just weeks after, and continued her run with more music and a showstopping Saturday Night Live appearance. She'd said everything she needed to about Lanez on Instagram Lives and in cover stories. When he tried to siphon the attention away from her, he knew it'd take a whole damn album — but even that didn't work.
It took Megan just one song, not even three minutes long, to respond. In fact, on Good News opener "Shots Fired," she's not really responding to Lanez in the first place, or even mentioning his name. There's no narrative to take back — she's already done that. "Shots Fired" is her putting the whole thing to bed, and getting the last laugh while doing it. It's a perfect reminder, at the top of Good News, that she's past the point of having to prove herself, or anything, to anyone.
Gangsta rap had always been Megan's chief influence, from her late mother Holly-Wood to Houston hero Pimp C. Usually, she'd channel that confidence into her audaciously sexual lyrics. But "Shots Fired" is a diss track in line with a long lineage of greats. She builds it off one of the form's most infamous, sampling Notorious B.I.G.'s 1995 hit "Who Shot Ya." It's a similar trick to what she did on her hard-hitting single "Girls in the Hood," which flipped the misogynistic violence of Eazy-E's "Boyz-n-the-Hood" into one of her strongest empowerment anthems yet. She flips the script on "Shots Fired," too — while Biggie addressed rumors that he set up a 1994 shooting on Tupac, Megan is the one who got shot here. Yet she's also warning that she's the one not to be fucked with, returning the fire a more sophisticated way: "Next n- - - - send a shot, I'ma send it right back," she closes the song. Just like when she raps about sex, what she's really interested in here is power — specifically, taking it back from men who've more than proven they don't deserve it. And that reaches past Lanez on "Shots Fired," as she indicts everyone from the internet trolls who didn't believe her accusations to the system that let police officers get away with shooting and killing Breonna Taylor.
At the same time, like all good diss tracks, "Shots Fired" is a show. Meg talks legendary smack right out the gate: "Imagine me givin' a fuck it was your fuckin' birthday," she raps, addressing the day she accused Lanez. "You in your feelings, I just thought it was another Thursday." She brings the receipts as she raps about her physical wounds and the hush money she alleges Lanez offered. But she never gets bogged down by literalism — really, her best jabs write themselves. "I told him you're not poppin', you just on the remix" is one for the ages.
Between verses on "Shots Fired," Meg laughs. "Imagine me entertaining you fuckin' goofy-ass n- - - -s and you fuckin' goofy-ass bitches," she says. She's not doing this for Lanez, or the internet trolls, or us — only for her. And the fact that she's able to have a good time while doing it might be the biggest fuck-you in a song full of them.