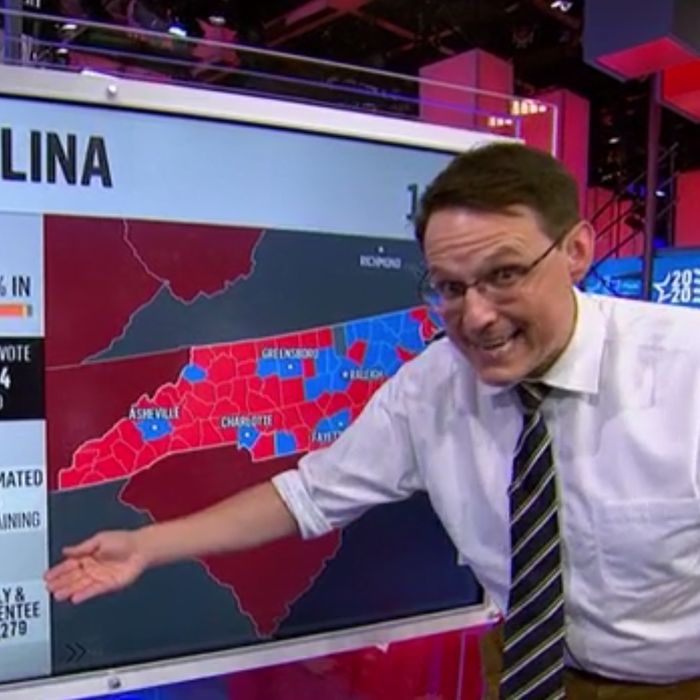 Steve
Photo: MSNBC/Youtube
Election Night 2020 is an acutely stressful time. Sure, maybe John King is having fun, but for the rest of us, watching live TV to see whether President Donald Trump will have a second term or whether Joe Biden will be elected is a harrowing experience. For anyone who hasn't opted out of watching news coverage altogether, there is one saving grace: MSNBC's political correspondent Steve Kornacki. Like Tony Hawk or Keith Emerson, the guy's the King of the Board. Kornacki plays that touchscreen electoral map smart-board like it's an extension of his brain, zooming, dragging, drawing, and analyzing to walk us through votes in key counties as they come in. Unlike so much of cable news, Kornacki is level headed, intelligent, a good communicator, thorough … and pretty cute. MSNBC clearly knows it has a good thing going with Kornacki, so much so that during commercial breaks it keeps eyes on him with the "Kornacki Cam," making him the wonk equivalent of a camgirl. We also get a lot of shots of him with his back to the camera, facing the board, and either his butt looks especially good or we're just slowly being driven mad by tonight, this election, and the past four years. Anyway, here are some GIFs of Steve Kornacki being cute.
When he brought back that "wipe it down" TikTok trend from a few months ago with his signature "Kornacki swoosh."
When he drew a 9 on the board but forgot to turn on the marker feature and the whole math class laughed at him.
When he didn't realize he was on air.
When the numbers didn't make sense and he broke composure and laughed.
When he circled some crucial counties on the map, but it looked like he was drawing a very hungry caterpillar and his big, huge apple.
When Kornacki Cam caught him textin'.
When he didn't realize he was on air … again.