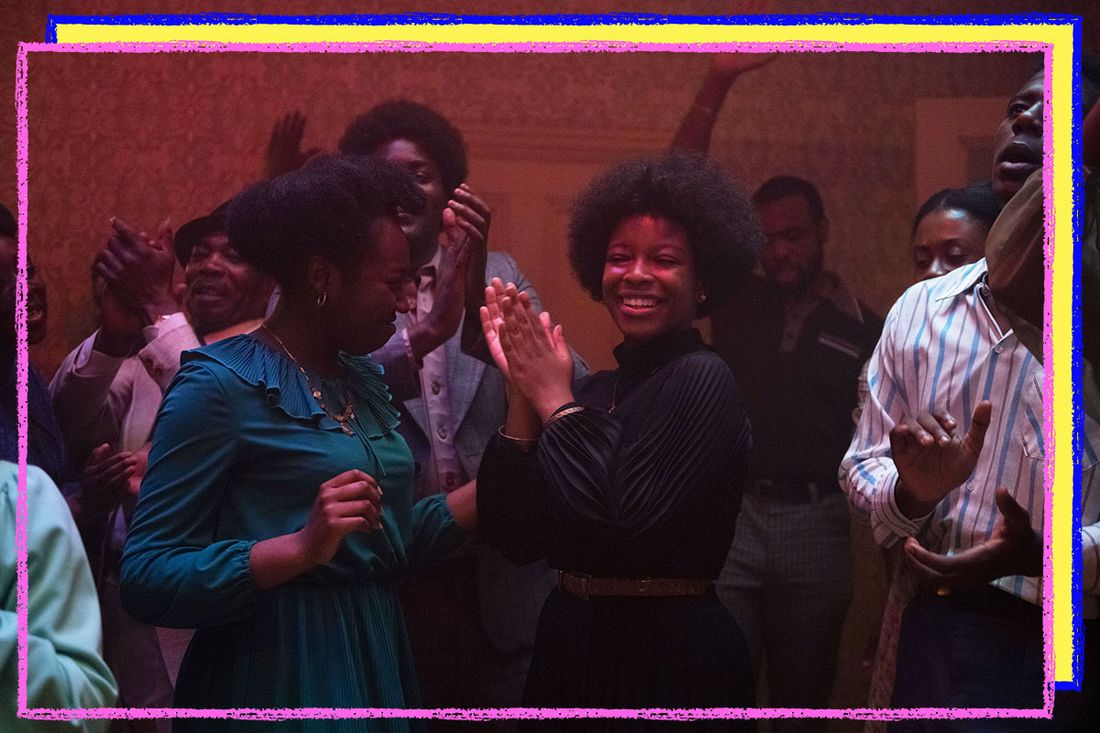 "Don't forget, in those days, people used to work for the weekend," Steve McQueen says of the era he depicts in
Lovers Rock
. "With this racism and oppression people had to deal with in the week — people lived for that Saturday."
Photo-Illustration: Vulture and Parisa Taghizedeh/Amazon Prime Video
Some nights just unfurl before you. There's the getting-ready phase, face crooked in the mirror, smearing on eye shadow or blush. Should I wear this shoe or that shoe? There's the last-minute adjustment, a nervous fretting and fussing over the glittering look, and a rushing out the door. Who all's gonna be there? The loose energy of a crowded party draws you in with the anticipation of shimmying up close to someone's ear or sipping something pleasantly strong. There's a momentum to this type of night out, the way one song pushes into the next, pulls you to the center of the room. There's an amorous mood, like anything could happen, like something good certainly will. Remember going out? Remember nights so radiant, so alive with wanting, you could float home on their afterglow?
Lovers Rock, the second installment in Steve McQueen's Small Axe film anthology, is about one such night in 1980, when a few dozen Black Londoners congregate at a house party to hold each other close and sway and thrash and grind. On paper, the film is a dreamy series of party scenes; onscreen, it's a passionate, restless achievement. Love, frustration, togetherness are communicated in small gestures and details — a gently horny ass-grab, a yearning gaze from across the room, a delightfully chaotic line for the bathroom. The rest of the Small Axe films feature racist cops, racist bosses, racist courts. Lovers Rock shows what happens when white people aren't looking — the rapture in Black joy, experienced privately.
And it climaxes with what may very well be the year's greatest scene: The party moves from rollicking to romantic, couples moving in languid, sexy sways to the reggae love tune "Silly Games." The moment glistens with sweat from all the full-bodied desire in the room. But as the music begins to fade, the packed space makes a wordless agreement to extend this feeling: People sing, a cappella, the opening verse again: "I've been wanting you / For so long, it's a shame / Oh, baby." The party feels alive, its dancers buzzing with the thrill of the ordinary. "Every time I hear your name / Oh, the pain / Boy, how it hurts me inside." McQueen's camera drifts from the main couple to the other faces, the other waists, the other elbows. We're privy not to a crowd but to a congregation. They're singing like it's a hymn.
The Inspiration
The Lovers Rock gathering was inspired by McQueen's own memories, hearing about the "blues parties" — house parties hosted by Black Londoners — that his Aunt Molly wasn't allowed to attend. Turned away from white nightclubs, members of the city's West Indian community planned their own evenings out, where they could dance to their own music, eat their own food. The first scenes of the movie are all about the preparation: Young men run around the house, putting together a sound system and doing a rudimentary sound check; grandmas and aunties move between the sink and the stove, taking care to season the food just so. "My grandmother would not allow my aunt to go to these parties," McQueen says. "She would lock the door, but my uncle would leave the back door open for [Molly to sneak out]. For me, it was almost like hearing a 'Cinderella' story: She went out to these parties, and came back, and had to go to church the next morning." That memory became the film's outline: Martha (Amarah-Jae St. Aubyn) slips out of her family's home to go to a blues party, where she meets Franklyn (Micheal Ward), and they flirt and dance all night. "Don't forget, in those days, people used to work for the weekend," McQueen says. "With this racism and oppression people had to deal with in the week — people lived for that Saturday."
The Setup
The night's music swings through genres before arriving at Janet Kay's "Silly Games," which was specified in McQueen and co-writer Courttia Newland's script. "I always wanted it," McQueen says. "It's the anthem of lovers rock." The track defines the romantic, hyperfeminine subcategory of reggae from which the movie takes its title. Before it, there's some general reggae and rocksteady choices, music supervisor Ed Bailie says, "and then you have the big pop tracks of the era as the crowd starts moving." The dance floor shakes itself loose to Carl Douglas's "Kung Fu Fighting," playfully dancing out the song's instructions. Bailie wanted to chart the night's progression — from the daylight preparation, to the twilight treks to the city, to the first breaths of the night, to the swell of excitement in the late hours — so that when the DJs land on "Silly Games," the whole room is primed for it. "You can just kind of feel that youthful love blooming in the room," Bailie says, "that comes from the Louisa Marks and the Janet Kays."
On set, McQueen had the night's songs played through speakers so his cast could dance and react to real music. The actors learned from choreographer Coral Messam how to whine and grind as couples would have at that time. "The movement is very grounded in your feet. It's about being connected to the earth and being rooted," says St. Aubyn, whose Martha dances close to Franklyn for the duration of "Silly Games." "As soon as [Messam] said this, it clicked for me in terms of the whining of the hips for men and women: They move in the figure of eight, the unity of life. People from these parties, they fall in love, they have babies, they go off, get married."
The Perfect Scene
Four minutes is never long enough for the perfect song. "Silly Games" is so special, the dance floor is so delighted — we start to mourn this dreamy dance moment even as it's continuing before us. Just when the sequence becomes so wild with romance and desire and catharsis, it happens: A woman throws back her head and starts to sing. The camera glides between couples that look suspended in amber. The song has faded out; the choir of voices is backed by their own footsteps and the rustle of a few dresses. The room, together, stretches out the song, keeps the music moving. They miss some words and miss some notes, but there's such an aliveness to their effort. The words become a plea and a celebration in one: I've got no time to play your silly games.
"I'm not too sure what it was, but there was a spiritual element to it," McQueen says. "I can't put my finger on it. It was beautiful." His job in the moment, he felt, was to point the camera, find shots, move out of the way. Directing the actors simply meant creating an environment where he was an observer of every blushing face, every small drama, the sweating walls, the singing chorus. "To see Black women looking at other Black women and feeling acknowledgment. It's a very strange thing, that: to feel safe and to feel secure and to feel appreciated and to feel beautiful. That is what happened."
McQueen compares the movement of the scene to whirling dervishes: "They spin to get closer to God." In Lovers Rock, he could spin and spin and spin his characters and watch how Black people, in a Black home, had fellowship. "Basically, here, you spin them and then you step back and you see what can occur. Because I don't know what's going to happen! I'm not interested in what happens. I'm interested in what occurs. That's different." The "Silly Games" moment would have happened whether or not he was there, whether or not the camera was there, he explains. It was a moment that couldn't be scripted or planned. "As an artist, you can never even hope for it. You never even think of it. But the idea of being invited to that situation is what you kind of hope for."
The Subtle Cameo
As the camera glides through the party's chorus, it finds an older man, whose deep voice anchors the women singers. "Silly Games" is an impossibly high song, but his steady baritone rounds out the scene, making it feel more real. He holds his hands up, as moved by the music as his younger dance partner: "You're as much to blame / 'Cause I know you feel the same / I can see it in your eyes / But I've got no time to live this lie / No, I've got no time to play your silly games."
Bailie happened to know the writer of "Silly Games," and one of the fathers of the ­lovers-rock genre, Dennis Bovell. Over the years, while the Small Axe anthology was in development, McQueen and his team met with the musician and eventually coaxed him into making a cameo. Bovell had acted before but admits to having been a little nervous about getting back in front of a camera. "After having not done it for quite some time, I wasn't sure I could do it for a longer time than one word. And so when he presented me with what I had to do, I said, 'Oh, that's not too much. I'll remember that,' " Bovell says. When he arrived on set, it felt like the blues parties he went to in their heyday, as the king of lovers rock.
Written in the late '70s, "Silly Games" was always meant to be a hit. "Men are always saying 'Oooh, let's get together,' " Bovell says. He wanted "Silly Games" to say something different and more tender. "Here was a turning of the tables, where this young lady was saying to this young man, 'Now come on. Let's not play around here. I know you like me, you know I like you, let's get it on,' " he says. He wrote in the extremely high notes for little girls singing at home into hairbrushes. The much younger actors didn't realize he was behind the song at first; Bovell was tasked with keeping them to the right words: "It really kind of made the hairs on my arms stand up to think that there are some youngsters whose parents weren't born when that song was popular but they know it verbatim."
On set, McQueen suggested to Bovell that the song, in the moment, has dual meanings: The "Silly Games" of courting a lover feels just as real, and as frustrating, as the silly games of cops, of courts, of neighbors, of everything outside the walls of the blues parties' self-constructed safety, when all you want to be is free. "I hadn't thought about it in the protest mode where suddenly the people are tired of the silly games, governmental silly games," Bovell says. "I hadn't thought about that. When Steve proposed that, I was like, 'Oh my God. Yes.' "
Eventually, Martha and Franklyn make their way outside to kiss in the moonlight. The party's DJs prepare the next track. The chorus of voices moves from ecstatic to moody and solemn: Silly gaaaaaaaames, they sing, dragging out the second word's vowel so much that you can feel the frustration. McQueen's eye turns to another story, another room. But Bovell got to hear his 40-year-old song from new voices with fresh ears: "I had to restrain myself from becoming emotional with these young kids belting it out." Even on the second, third, fourth takes, Bovell says, it felt powerful and moving each time.
*This article appears in the November 23, 2020, issue of New York Magazine. Subscribe Now!