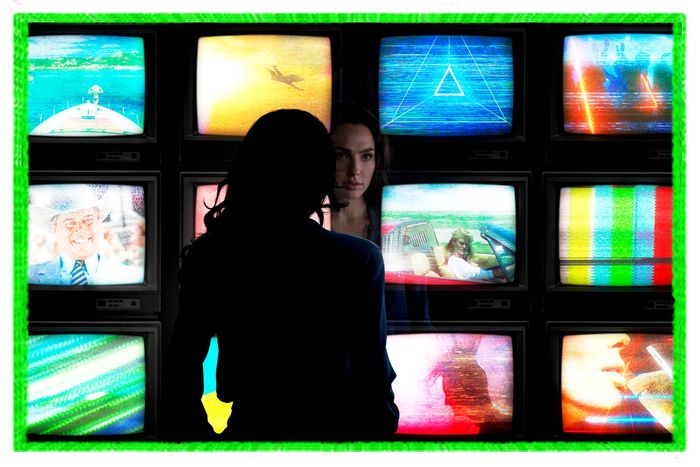 Gal Gadot in
Wonder Woman 1984
.
Photo-Illustration: Vulture and Warner Bros.
In Vulture's Fall Movies Fantasy League, contestants stake their pride, and the respect of their peers, on their ability to predict the tumultuous next few months of cinematic releases.
The fate of the Fall Movies Fantasy League hangs in the balance.
As we discussed last week, with both Free Guy and Death on the Nile pushed from the calendar, the only blockbuster standing between now and spring 2021 is Wonder Woman 1984, which remains officially scheduled for a wide release on Christmas. But, like a comedian who's started to land movie roles, that "officially" is looking thinner and thinner these days. Variety reports that Warner Bros. is mulling delaying the film to summer 2021, or else giving it a "cursory" theatrical release before sending it out on HBO Max to boost the ailing streamer. With cases surging around the country, I know which course public-health experts would probably advise. But with the release five weeks away, the studio seems not to have come to any conclusion just yet. A hard decision looms, and considering the financial implications, Warner seems to be waiting to make a choice until it absolutely has to. WW84's owners will just have to wait along with them.
In actual-release news, the horror-comedy Freaky won the box office this week, but as it wasn't given a date until after the league launched, it was not included in this game. Sorry! (If you're curious, it would have scored 11 points, the same as Come Play.) The other releases were somewhat less than thrilling. The top official new score went to the buddy comedy The Climb, a onetime festival favorite that rode to a seven-point debut on the back of its encouraging reviews in limited release. Also opening in a few hundred screens was the queer period romance Ammonite, an ostensible Oscar player whose muted reviews at the fall festivals carried over here. (Though Anthony Lane liked it.) And on VOD, the Malin Akerman underground-boxing comedy Chick Fight barely escaped entering the Antebellum Wing of the Fall Movies Fantasy League Hall of Shame, with critics hailing it as "repetitive, cheap, and lazy." Congratulations Chick Fight!
Here is the update for the staff league:
Week 11 Results
Jackson McHenry
Chick Fight: November VOD release (2) + Hitting scheduled release date (1) = 3 points
Total: 3 points
Alison Willmore
The Climb: November limited release (4) + Hitting scheduled release date (1) + RT score above 80 (2) = 7 points
Total: 7 points
Current Standings
1. Katy Brooks: 59 points (8 movies)
2. Rachel Handler: 58 points (8 movies)
3. Neil Janowitz: 43 points (7 movies)
4. Hunter Harris: 37 points (7 movies)
t-5. Tolly Wright: 32 points (6 movies); Alison Willmore: 32 points (8 movies)
7. Jen Chaney: 30 points (6 movies)
8. Chris Murphy: 26 points (6 movies)
9. Justin Curto: 25 points (6 movies)
10: Jackson McHenry: 20 points (6 movies)
Staff fantasy-league teams are listed in full here.
Vulture's Fall Movies Fantasy League is open to all readers. Enter and you can look forward to an exciting autumn of endlessly refreshing Box Office Mojo and Rotten Tomatoes and quibbling over the precise definition of "wide release."