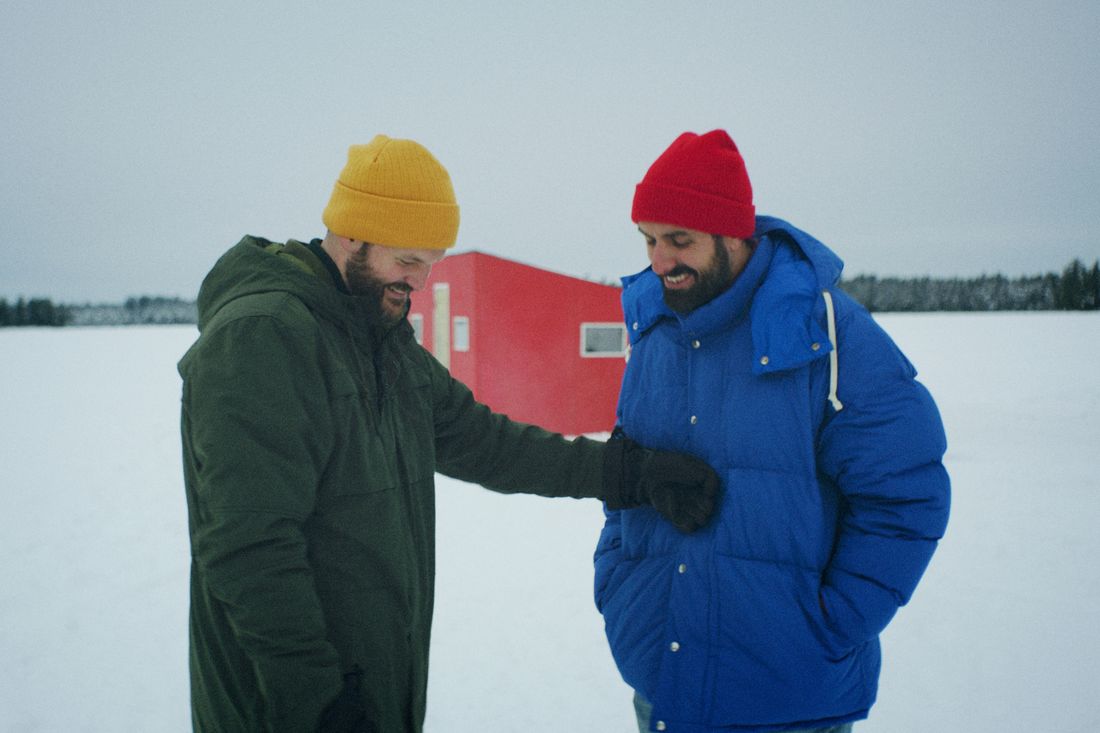 Kyle Marvin and Michael Angelo Covino in
The Climb
.
Photo: Sony Pictures Classics
A decade ago, an ad guy named Kyle Marvin was making a commercial for something called ShareBill, which was sort of like Venmo except less successful. The conceit was that, instead of making a proper commercial, the ad team would simply take the $10,000 budget and distribute it to strangers on the streets of New York City. Giving the money away was a friend of a friend, an aspiring filmmaker named Michael Angelo Covino. Here's how Covino remembers their first meeting:
"I was like, That guy's jolly. I thought he was a really friendly guy. A bit full of shit, but that's okay. All ad creatives are."
A safe six feet away in the downtown office the pair now shares, Marvin offered his own assessment: "My first impression of him was he's just so charismatic. Instantly playful and fun, with no real inhibitions. That's who I want around me in life."
"Now I feel like an asshole for insulting you," said Covino.
"No, it's perfect," said Marvin. "It's exactly who I am."
It's a beat that could have come out of the duo's new comedy, The Climb, where their friendship is on display both in front of and behind the camera. The film was directed by Covino and written by both of them, with Marvin pinch-hitting as a production designer. It's the story of a toxic bromance between the virile and volatile Mike (Covino) and his best friend, Kyle (Marvin), who's soft and accommodating, like human putty. The guys aren't playing themselves, exactly, but they admit to a certain resemblance. "We liked the idea of taking these specific traits that we have, dialing them up, then blurring the lines by keeping the names the same," said Covino.
In the film's opening sequence, the pair take a bike ride through the French Alps, which Mike decides is the perfect time to reveal that he has been sleeping with Kyle's fiancée. An expansion of a short that earned raves at Sundance, the scene plays out in a single shot, eight hilariously uncomfortable minutes long. So does nearly every other scene in the film, charting the ups and downs of the friendship through a wedding, a funeral, multiple holidays, and one extended lip sync to Shawn Mullins's "Lullaby."
"We wanted to keep the immediacy of living with these characters for seven to ten minutes at a time," Covino said. But there was a deeper philosophical issue at play, too. "I wanted to make something that was celebratory [toward] the technique of cinema," he explained. "We had no illusions that we were breaking ground with the subject matter, so we were really conscious that there needed to be a cinematic point of view." As a result, The Climb is the rare modern comedy that feels directed — its roving camera is always sneaking away to catch some tiny absurdity or delicious bit of gossip or tracking back from someone when they start to get boring.
"It can be so simple," Covino said. "You can not move the camera. You can set a frame. You can have people walk back and forth in the frame and, with no dialogue whatsoever, set up the most basic concept. People will be on the edge of their seat, waiting: Oh boy, here it comes."
Although the film is Covino's directorial debut, it comes after years of laboring with Marvin in the mines of corporate videos and branded content. "You think, Oh, I'm going to do commercials on the side," Marvin said. "And then two years pass, and you're like, Have we ever stopped working?" The ad business was all-consuming, but it gave them experience working on their craft. It also gave them money, some of which they poured into short films that developed their comic sensibility: stories of "buffoons with real pain." Once they made the difficult decision to step away from commercials, they dipped their toes into features, producing well-regarded indies like Kicks and Hunter Gatherer.
And once they decided to make their own movie, the guys realized, to their slight surprise, that they actually did know what they were doing. "I felt way more comfortable making my first film now when I'm in my 30s than when I was first trying to do it in my 20s," Covino said. "It's almost a blessing I didn't get to make my first film when I was 26."
Still, they knew they weren't exactly movie stars. "When we started talking about 'Do we cast someone else? Do we not?' It was like, 'I don't even want to risk it.'" Covino said. Some of this, he admitted, was for selfish reasons. "But even from an objective standpoint, it was more of a risk to try to cast someone and see if they'd be able to develop the shorthand we knew that we'd be able to bring. We felt confident that we could hang on. It was just about selling a financier on the idea that we could carry the movie."
That they were able to is thanks to the success of the short. "It put us on the trajectory to make the movie very quickly, which I don't know that we fully expected," Covino said. They turned in a first draft of the script in May 2018 and were shooting in August. They rehearsed endlessly, workshopping each scene until it was watertight. "By the time we got to the day, we could be like, 'Listen, there's no coverage, there's no cuts. There's no way out of this except performance, and it's going to work,'" said Marvin.
At the same time, they also had to transform themselves physically. Though the film takes place over the course of a decade, Mike and Kyle don't visibly age. Instead, we track the passage of time through shifts in their midsections. The duo originally planned on shooting the film in chunks, allowing them to gradually accommodate their characters' seesawing weights. But an accelerated shooting schedule meant it all had to happen in an incredibly tight frame. Covino gained as much as he could in the time available, which turned out to be 25 pounds. Marvin gained 15 for the opening scene, then dropped 34 in six weeks on a "very hard-line" diet of eggs, spinach, and intermittent fasting. "We had someone advising us so I didn't die," he said.
As the film took shape, so did their confidence in the finished product. Having been influenced by the giants of European cinema, they decided to take a big swing and submit it to the Cannes Film Festival. "I mean, I had my hopes up," Covino said. "I didn't tell anyone, but let's be clear: We shot the opening scene 30 minutes from Cannes. We put Judith Godrèche in the film for a reason."
The first time I spoke to Covino and Marvin was one of those memories that make you hate yourself in retrospect. It was May 2019, in the middle of Cannes, where The Climb had just premiered to an enthusiastic reception in the Un Certain Regard sidebar. They had scrambled to finish the film in time, shooting the final scenes in March, only weeks before the submission deadline. "When we got there, it was, Go! Go! Go!," Covino recalled. Once the film actually played, they let loose, burning off months of tension in one night. Afterward, in a lounge near the top of the Palais des Festivals, with wide windows overlooking the Mediterranean, it was clear they were running on fumes. Covino was a zombie; with barely enough energy to sit up, he conducted the interview at a half-recline, like an exhausted Roman.
They had arrived without distribution and without much advance buzz. "No one was ready for it," Marvin said. Unless they're directed by established filmmakers like Noah Baumbach or Jim Jarmusch, American comedies don't typically premiere at Cannes, which prefers its U.S. indies in the form of kitchen-sink dramas. Having been caught by surprise, sales agents had to check back in with their bosses to get permission to bid on a funny movie from a couple of no-names. "It was this weird stutter step in the selling process," Marvin said. "Everyone got really excited at Cannes, then they had to call home and be like, 'Hey, there's an American comedy …'"
Ultimately, the pair went with Sony Pictures Classics, which guaranteed a theatrical release. "We were like, this is how comedies are supposed to be experienced: laughing out loud with a group of people," Covino said. SPC stuck with that plan even after the coronavirus shutdown put the release in jeopardy. The Climb was originally set to come out in March; when that proved a nonstarter, it was pushed to July, then finally to November. "To their credit, if we were with another distributor, we probably would be on VOD right now," Covino said. Instead, after multiple delays, the film is opening on over 400 screens — possibly a wider release than it would have been given in pre-pandemic times, when theater space was at a premium.
It's a strange experience, finally releasing your debut film after a year and a half in limbo. (Covino is doing press in a sling, having had the shoulder surgery he'd scheduled when he assumed the film would get pushed again.) The filmmakers have already had the experience of seeing The Climb bring down the house in packed screening rooms. Its actual release will feel different. "The theater will probably be at about 25 percent capacity," said Covino. "But hopefully every screening is at 25 percent capacity. Maybe even 26, if they're willing to look the other way."
But the bittersweet vibe happens to fit this film, in which we keep checking in with Mike and Kyle after gaps of several years to see how much they've changed and how much they haven't. "There's a sadness to seeing these guys just sort of continuing," Covino said back at Cannes. "But that's kind of the point: That's how life works. We open our eyes one day and we find ourselves in this place and we go, How did we get here? Time goes by and you're there and you're like, Okay, I guess this is the new life."