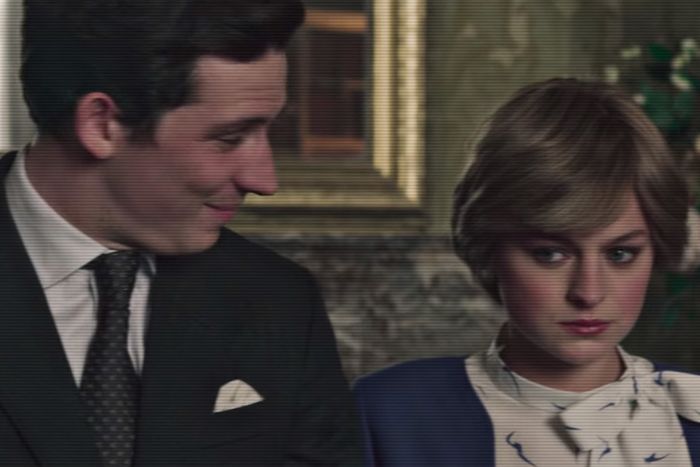 I looked it up: High treason is punishable by life imprisonment in the United Kingdom. So lest you think this is an actual threat on the real Prince Charles and, therefore, the British line of succession, note that it's not. We're merely here to marvel at the sheer punchability actor Josh O'Connor manages to convey as the fictional Prince of Wales on Peter Morgan's work of fiction, The Crown. No one in The Crown can adequately respond to the many sniveling, self-important, and often cruel remarks the future king throws around, least of all his wife, Diana, Princess of Wales. The horror of watching this season, even as it dives into the real embarrassments and cruelties Diana faced from the royal family, is knowing that not once does Charles get what he deserves: a swift knuckle to the jaw. We know that after Diana's untimely death in season five (1997), his life will continue, he'll eventually marry Camilla Parker Bowles, and all of Diana's revenge will have to come in the form of lawsuits by the Duke and Duchess of Sussex. If Peter Morgan can fantasize about a friendship between Margaret Thatcher and Queen Elizabeth, we can certainly fantasize about the squabbles that should've been going on, future king or no.
There are probably moments you wanted to punch Prince Charles that are not on this list. (Consider the infamous "Whatever love means" remark a bonus square!) There are countless times Josh O'Connor brilliantly contorts his face or lowers his voice that make for something utterly punchable. But we simply had to rein it in. We did, however, factor in Josh O'Connor's unavoidable attractiveness, as well as how young he looks compared to the real Prince Charles. We've ranked Prince Charles's most punchable moments in season four of The Crown and, yes, this emotional attachment will be discussed in therapy.
10. Telling Lady Sarah that Diana spoke to him (Episode 1)


Immediately after meeting Diana, Prince Charles betrays her trust for the first time. A then-16-year-old Lady Diana practically begs Charles not to tell her sister, Lady Sarah, that he saw, let alone interacted with her, but it's the first thing he does. The act itself is punchable, but the blow is best delivered after Lady Sarah tells him Diana is "obsessed with the idea of meeting him." She's trying to turn him off of Diana, but the idea of marrying an impressionable young girl he can easily control is too intriguing.
Punchability Score: 10
Josh O'Connor Cuteness Factor: -9
Prince Charles Was a Grown Man Who Should've Known Better Bonus: +2
Total: 3
9. Mocking Diana's Phantom of the Opera performance (Episode 9)


Prince Charles deserves very little credit for barely managing to keep a straight face while watching Diana's performance of "All I Ask of You" from Phantom of the Opera, but I'm giving it to him anyway, because I'm the benevolent ruler of this post. Where he gets no sympathy is when he mocks it to Princess Anne, being openly disrespectful to the wife who is clearly trying so hard to make this work. Even Anne is like "No one wants your marriage to end," but it's still not enough to knock some sense into Charles.
Punchability: 3
Josh O'Connor Cuteness Factor: -1
Prince Charles Was a Grown Man Who Should've Known Better Bonus: +2
Total: 4
8. Calling his siblings "fringe" royals (Episode 8)
Prince Charles's contempt is not just for his wife, but for any other member of the royal family who threatens his own idea of his importance. Each unsure of their worth outside the monarchy (which is dwindling in worth itself), the royals tend to fixate on their tabloid coverage and take it out on each other when they can. In this scene, Prince Andrew is pissed at his mom, you know, the Queen, for "thoughtlessly" taking up headlines with apartheid negotiations, when they should be filled with items about his wedding to Sarah Ferguson. "You can hardly blame the newspapers for wanting to write about something other than the wedding of a fringe member of the family who will never be king," Prince Charles declares, reminding Anne, Andrew, and Edward that his baby has more claim to the throne than them. Both princes are taken aback by their "impressively cunty" older brother, who dips out like he merely rattled off a fact.
Punchability: 5
Josh O'Connor Cuteness Factor: 0
Total: 5
7. Forcing Diana to leave Prince William on the other side of Australia (Episode 6)
After Diana refuses to come to Australia without Prince William, Prince Charles has the baby boy left in New South Wales for the first two weeks of their journey. When Diana finds out, she's irate, but they continue on the trip for another five days before she's at her limit. Charles sits back and allows his staff to bear the brunt of Diana's frustration, losing points with Diana and adding to his score here.
Punchability: 9
Josh O'Connor Cuteness Factor: -2
Total: 7
6. Yelling at Diana after her "Uptown Girl" performance (Episode 9)
I thought the royal family was all about manners. Children learn to smile politely and thank guests profusely when they receive a gift, no matter how much they hate it, at a very young age. Perhaps basic decorum is for plebeians? After Diana's surprise performance of "Uptown Girl" by Billy Joel (a real thing that really happened), Prince Charles berates her, accusing her of using her fame for her own personal gain (a likely fictional thing, though Diana's official biography notes Charles's dislike of the performance). I can't say that punching Prince Charles is the right solution for this interaction, one of his most verbally violent of the season, but we can all agree that it's such an overblown reaction that it warrants a physical interruption.
Punchability: 9
Josh O'Connor Cuteness Factor: 0
Total: 9
5. Going to Australia the day after announcing their engagement and telling Diana to hang out with his mistress (Episode 3)
Diana herself has clarified the infamous photos of her crying while saying good-bye to Charles the day after they announced their engagement is not because she was going to miss her fiancé. As The Crown suggests, she had just found out about Prince Charles's enduring relationship with Camilla Parker Bowles. As they part, he suggests that she go to lunch with Camilla, and the talented Emma Corrin tries to hide how much a of slap in the face that is to Diana.
Punchability: 11
Josh O'Connor Cuteness Factor: -1
Total: 10
4. Having his bodyguards spy on Diana (Episode 9)
Okay, if your mistress is taken aback by your disdain for your wife, you need to calm down. Following the referendum on his marriage with his parents and Princess Diana, Charles declares war on his wife. "I won't let this go. I've spoke to my protection officers. They'll know what she gets up to. And if anything happens, if Diana puts even the slightest foot wrong, if she even thinks about straying, then they'll let me know," he tells Camilla in person, because hypocrisy is half the fun. He then ignores his wife, setting her up for failure. Charles thinks his anger is directed at Diana, who spoke up in their meeting and pledged her devotion to the marriage, but it's really at himself for his own inability to stand up to his parents. Yes, this is a post about the trauma he inflicted, but we can't deny the many ways in which Prince Charles is a victim himself. (See: season three). Okay, enough of that, because a hopeful Diana still thinks this marriage could work.
Punchability: 40
Josh O'Connor Cuteness Factor: 0
Prince Charles Was a Grown Man Who Should've Known Better Bonus: +2
Total: 42
3. Calling Diana's mental health into question before her solo trip to New York (Episode 10)
Knowing Diana's excitement for her trip to New York, Charles does what any supportive husband would do and gets his private secretary to sabotage her. At a meeting discussing the itinerary, Charles's team suggests Diana's schedule is too full for her to manage. "I'm sure no one here would wish to see the Princess of Wales overstretched, certainly not at a risk to her own health," he says, clarifying, "mental health." Charles can't stop … having that face. It destabilizes her, naturally. "He tells everyone I'm mad, they treat me like I'm mad, and I'm starting to feel mad," she cries later. Despite it all, she does so well on the trip Charles ends up upset anyway.
Punchability: 75
Josh O'Connor Cuteness Factor: -1
Prince Charles Was a Grown Man Who Should've Known Better Bonus: +2
Total: 76
2. Taking Diana's popularity out on her in Australia (Episode 6)
It's not Diana's fault the public adores her. Prince Charles knows this, but he takes his insecurities out on her anyway. The final straw isn't the adoring crowds or even the boos, it's when Diana's facial expression distracts the entire room while he's giving a speech. "Thanks to you, people are laughing in my face," he storms off. "Booing the heir to the thrown, booing the crown." He can't accept her power, so he'll whittle it down instead.
Punchability: 90
Josh O'Connor Cuteness Factor: -5
Prince Charles Was a Grown Man Who Should've Known Better Bonus: +2
Total: 87
1. Laughing at Diana when she forgets to curtsy (Episode 3)
Just days after making a 19-year-old girl his fiancée, the future Queen of the United Kingdom, Prince Charles openly mocks her, hahahaha. At this point, Diana is still woefully in love with Charles and when she walks into the room, her eyes are only on him. So she walks right by Princess Margaret and Princess Anne and even the Queen herself, prompting a swift, stern lesson in the line of succession. Diana takes this with grace. Charles laughs at her, exhibiting no trace of empathy for the young girl he's locking into an archaic institution. Diana learns of this lack of empathy for her, especially in comparison to his feelings for Camilla, much later. So it's right in this moment that I wish Diana threw love, threw respect, threw "the crown" out the window and popped Prince Charles right in the nose.
Punchability: 2,000
Josh O'Connor Cuteness Factor: -10
Prince Charles Was a Grown Man Who Should've Known Better Bonus: +2
Total: 1,092